On June 30, Sakinform news agency published an article headlined "It slipped of the U.S. Congressman's tongue that Georgia is ruled by the U.S. Ambassador." The article itself differs from its headline and it notes that U.S. Congressman Adam Kinzinger congratulated the Georgian Parliament on the approval of constitutional amendments. The article refers to Kinzinger's tweets, where the Congressman calls on all parties to fully implement the March 8 agreement. Furthermore, Kinzinger thanks U.S. Ambassador Kelly Degnan for "continuing hard work and essential role."
Sakinform's headline is nothing but interpretation by the news agency and Adam Kinzinger has actually made no such remarks. The Myth Defector offers an original version of Kinzinger's post on his Twitter page.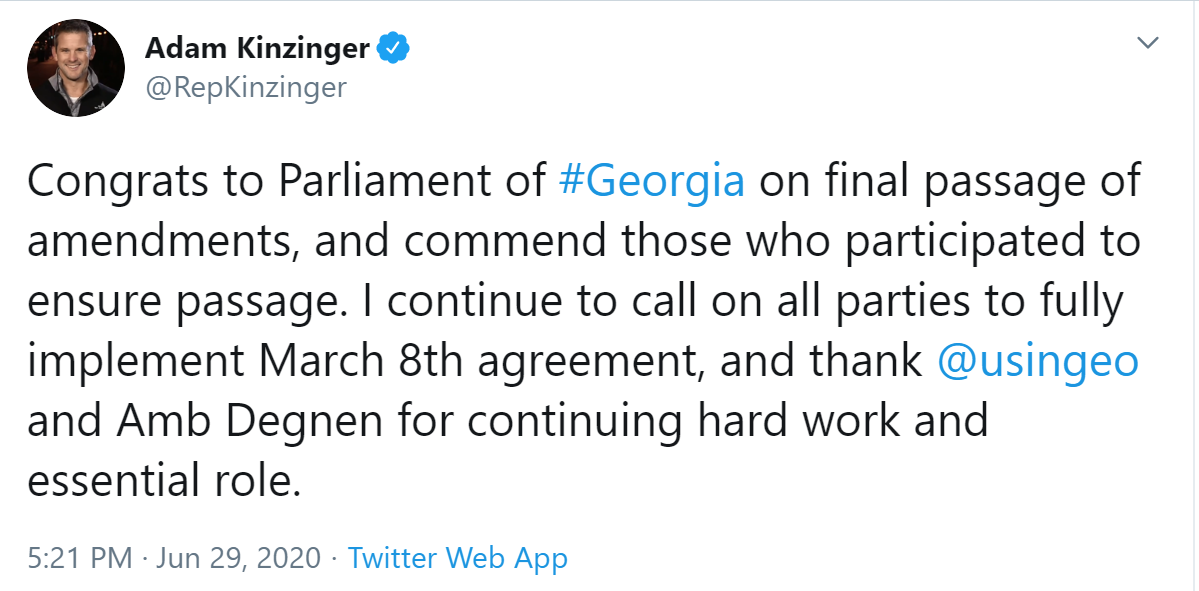 About Sakinform
Arno Khidirbegishvili, editor-in-chief of Sakinform since 2013, is a 100% shareholder of the news agency. The domain of Sakinform is registered in the name of Taras Gagnidze, head of pro-Russian organization Historical Heritage, who also owns Georgia and World. This is not the first time Sakinform either publishes an article containing fake quotes, or spreads a news story with a misleading headline.
The materials verified by the Myth Detector regarding Sakinform's manipulative articles and disinformation are provided below: