On December 6, Facebook user Nino Gaprindashvili published a Latvian Feldsher's video address on her account. In the video, the medic criticizes drugs used in the treatment of COVID-19 and doesn't agree with restrictions imposed because of the pandemic. According to Feldsher, remdesivir, and nimbex that relax muscles cause the death of patients. Moreover, he also notes that the vaccine against poliomyelitis causes autism in children, and states that coronavirus vaccination will be compulsory.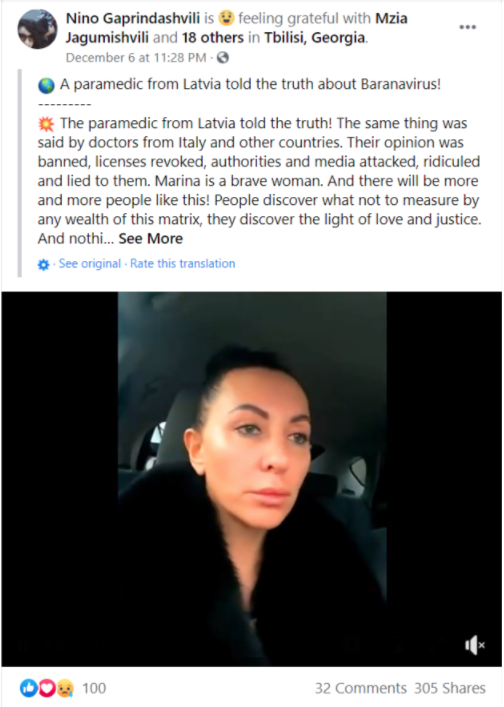 According to data from Crowdtangle, the aforesaid video has been disseminated in various Ukrainian and Russian groups for the past month and can be found in 52 public posts. In Georgia mentioned video was shared in the group "ერთად დავამარცხოთ covid-19" (Let's Defeat COVID-19 Together) from Георгий Пламадеала Facebook account. The latter has more than 48 thousand shares as of 12:00, December 10.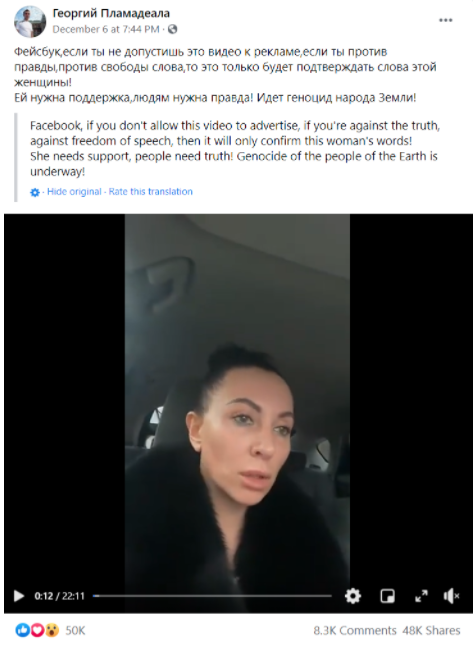 The disseminated video comprises 3 pieces of disinformation: 1. Nimbex is used for the treatment of COVID-19 and does not have any significant adverse effects, whereas remdesivir was approved for a certain group of patients by U.S. Food and Drug Administration 2. European countries haven't considered compulsory vaccination for now; 3. Conducted studies don't showcase any link between vaccination and autism.
Disinformation 1. COVID-19 death is the result of remdesivir and nimbex that relax muscles
According to the Pharmaceutical Journal of the U.K Royal Pharmaceutical Society, nimbex i.e., cisatracurium, a muscle relaxant, together with atracurium is listed as the "first line" drugs in the management of COVID-19 patients. Per information published on the National Center for Biotechnology Information webpage, adverse effects are uncommon with the use of cisatracurium. And occurred at a rate of less than 1%.
As for the remdesivir, also known as veklury, according to the U.S. Food and Drug Administration, it's an approved medicine used for coronavirus-infected adults and children 12 years of age and older, weighing at least 40 kg, who require hospitalization.
It's worth mentioning that on November 20, the World Health Organization issued a recommendation against the use of remdesivir in COVID-19 patients including the severe cases of patients. Mentioned was due to the fact that studies on the effectiveness of remdesivir are still ongoing. In the framework of the WHO "Solidarity Trial" data from over 7000 patients across the 4 trials were studied. The evidence suggested no important effect on mortality, while the trial outcomes don't mention that remdesivir causes death in patients
It's worth mentioning that the U.S Food and Drug Administration approved remdesivir for treatment of a certain group of hospitalized COVID-19 patients. Moreover, according to a study of the National Institute of Health, remdesivir shortened recovery time by a few days for patients.
Disinformation 2: Children will be obliged to take vaccination
It's noteworthy that as of now there's no regulation or state decision to make vaccination against COVID-19 compulsory. In the U.K, where they've started to use German company "Pfizer" and U.S. "BioNtech's" vaccines, the world's first person to receive vaccine voluntarily was 91 years old woman.
In the article titled "Will any countries in Europe make the COVID vaccine compulsory", Euronews notes that in Spain it might be compulsory only if health authorities will deem it necessary due to the pandemic. Albeit, no official decision has been made as of now. Italian Prime minister notes that there is no directive to make the vaccine obligatory, but it's recommended. The French president and German chancellor mentioned that vaccination won't be compulsory, but voluntary.
Disinformation 3: Vaccination against poliomyelitis causes autism in children
It should be mentioned that statement as if vaccination causes autism in children lacks evidence. Myth Detector has previously fact-checked information about it. According to the 2019 article, "the studies have already shown that vaccination does not cause autism and even the case of children at greatest risk confirm this evidence". Mentioned is also confirmed by the information and documents published by the Center for Disease Control and Prevention and the World Health Organization. What's more, according to the latest studies, the symptoms of autism may not be obvious until a child is a toddler, but the disorder itself appears to begin well before birth and therefore, isn't linked to vaccination.
---
Regional network of Myth Detector Lab
---
The article has been written in the framework of Facebook's fact-checking program. You can read more about the restrictions that Facebook may impose based on this article via this link. You can find information about appealing or editing our assessment via this link.
Read detailed instructions for editing the article.
Read detailed appeal instructions.