Reports were spread in social networks on October 4-6 about Azerbaijani aircraft IL-76 flying over Georgia from Turkey to Baku. Some posts claimed that the aircraft was transporting military cargo. The posts containing this information were mainly published on Facebook and Telegram in English, Russian and Armenian languages.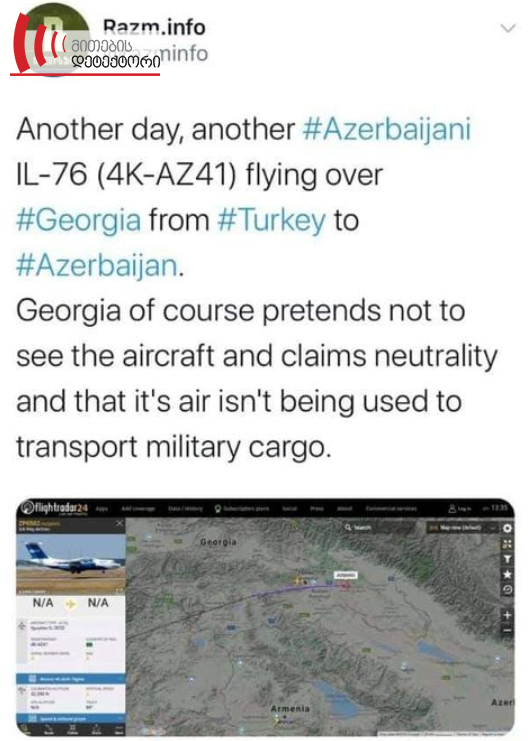 The reports on alleged air transportation of military cargo through Georgia to Azerbaijan lack evidence. IL-76TD belongs to Silk Way Airlines, an Azerbaijani private cargo airline, and it is a civilian aircraft. 
What do we know about the aircraft's route and purpose?
The posts are mainly accompanied by the photos from flightradar24.com, a global flight tracking service providing real-time information about aircrafts. The website also provides information about the completed and planned flights. The photos from flightradar24.com show that Ilyushin IL-76TD really conducted a flight on October 4 and October 6, with a registration number 4K-AZ41. However, no takeoff and landing locations have been specified. The website reports that part of this flight track was out of its coverage. Thus, it is impossible to prove that the plane really landed in Baku. Moreover, the map shows that the plane's route ends on the territory of Georgia.
Besides the fact that IL-76TD belongs to Silk Way Airlines, it is not a military aircraft. Long-range cargo plane IL-76TD is a civilian version of heavy military plane IL-76MD. IL-76TD is used for transporting heavy cargo, though it is exclusively civilian.
Disinformation has been spreading widely in recent days about arms transit to Azerbaijan through Georgia, by air and land. The Georgian Foreign Ministry even released a statement on the issue, noting that Georgia decided to temporarily suspend the issuance of permits on transiting military cargo through its territory by air or land in the direction of both Armenia and Azerbaijan. Noteworthy that transportation of civil cargo will continue. Earlier on October 2, the Armenian Embassy to Georgia slammed the reports on alleged transportation of military cargo from Borjomi to Azerbaijan, calling them disinformation.