Georgian tabloid Asaval-Dasavali released in its April 15-21 issue an interview with Georgian-based American journalist, Jeffrey Silverman, where he talks about the risks of losing Adjara. Silverman repeats the conspiracy theories around the Treaty of Kars and notes that under the Treaty, Turkey will take control of Adjara.
Anti-Turkish messages were also voiced by Davit Tarkhan-Mouravi, leader of the Alliance of Patriots party, in the interview with Obieqtivi TV on April 15. He said that along with Adjara, Turkey's expansion is also underway in Akhaltsikhe and Ozurgeti.
The Treaty of Kars and its "validity"
According to the most enduring conspiracy theory about the Treaty of Kars, the validity period for the Treaty of Kars will expire in 2021. Various groups link the expiration of this period to Georgia's Euro-Atlantic aspirations and convince us that due to Georgia's pro-Western policy course, Russia will reject its role as a guarantor in 2021 and Adjara will become part of Turkey.
The treaty, whose original text is available online, does not contain a provision that would create any legal base for its expiration in 2021. In addition, the agreement on friendship, cooperation and good neighborly relations between the Republic of Georgia and the Republic of Turkey signed on March 25, 1993 reads that the parties "shall observe the treaties and agreements signed by them, among others the October 13, 1921 Treaty of Kars."
Sources of disinformation
Openly pro-Russian or nationalistic groups have been spreading disinformation about the Treaty of Kars for years. Most frequently, disinformation about the Treaty of Kars is spread by Obieqtivi TV, Asaval-Dasavali newspaper and Sakinformi news agency. In recent years, conspiracy theories about the Treaty of Kars were also disseminated by the opposition Alliance of Patriots party and political analyst, Tamar Kiknadze. Now, Jeffrey Silverman, one of the sources frequently referred to by Russian pro-governmental media outlets against the Lugar Laboratory, has been added to the list.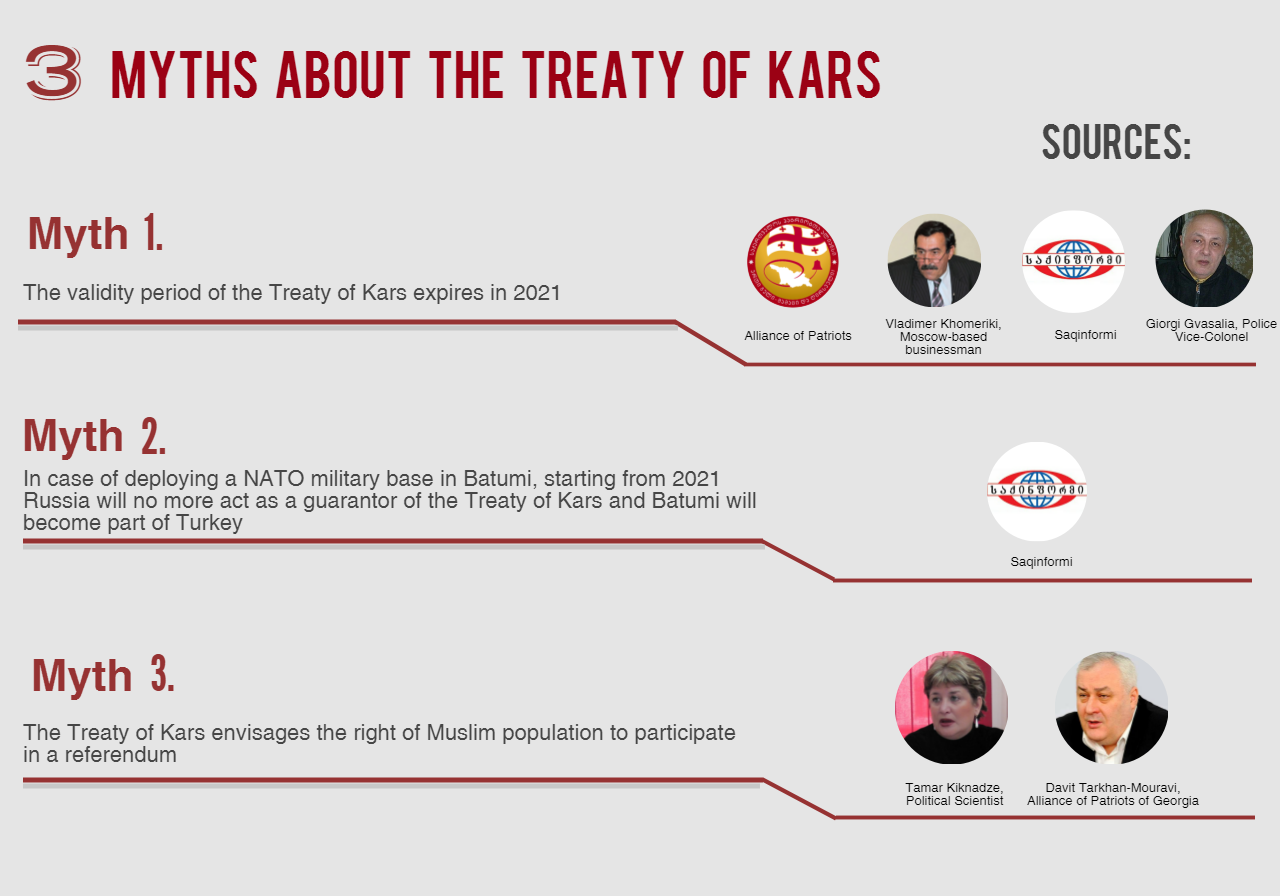 Why does Russian propaganda target Turkey?
Today, Turkey is the largest strategic partner of Georgia in the region almost in all spheres and it recognizes Georgia's sovereignty and territorial integrity. On July 19, 2016, Georgia and Turkey signed the Ankara Statement on the Establishment of High Level Strategic Cooperation Council between the two countries. The Ankara Statement outlines all basic directions of bilateral relations and reaffirms adherence to the universally recognized principles of international law, in particular respect for sovereignty and territorial integrity.
As for economic relations, Turkish private sector is one of the largest investors in Georgian economy, whereas the Free Trade Agreement enables Georgia to boost exports to Turkey.
It is worth noting that the two countries are implementing joint projects in the energy sector, among them Baku-Tbilisi-Ceyhan oil pipeline, Baku-Tbilisi-Erzurum gas pipeline, Baku–Tbilisi–Kars railway, Akhaltsikhe-Borchka power transmission line that further increases Georgia's energy security guarantees.
On 9 September, 2014, the Ministry of National Education of Turkey approved learning program "Teaching Georgian language in Turkey's public and private schools for 2014-2016 years", offered by the initiative group of Georgian Diaspora in Turkey. The program provides 244-hour course of Georgian language in Turkey's secondary schools, if there are ten and more students willing to attend the course.
---
About Treaty of Kars
The Treaty of Kars was signed between Turkey, on one side, and Armenian, Azerbaijan and Georgian Soviet Socialist Republics, on the other, on 13 October 1921 in Kars. According to the treaty, Turkey transferred a part of Adjara, including Batumi, as well as Gyumri, to the Soviet Union, in exchange for Kars, Artvin and Ardahan.
---
Myth Detector lab