The pro-Russian Alliance of Patriots party has joined Georgia's major opposition parties in boycotting the new Parliament and demanding repeat elections. However, four MPs from the party's proportional list   – businessmen Avtandil Enukidze, David Zilpimiani, Pridon Injia and Zaza Mikadze – decided to take up their mandates; later, on January 9, they set up a new European Socialists party.
The ruling Georgian Dream party – the only force present in the Parliament due to the opposition's boycott – welcomed the businessmen's decision. Irakli Kobakhidze, one of the leaders of the ruling party, hailed the step as the entry of opposition MPs in the Parliament and noted that pro-Russian members of the Alliance of Patriots decided to stay outside, adding that openly pro-Russian parties will not be represented in the 10th convocation of the Georgian Parliament.
Contrary to the facts about pro-Russian affiliations of the Alliance of Patriots party, on January 5, shortly before the former lawmakers from the party officially registered a new party, Georgian media outlets reported that Georgian Dream sent an information bulletin to international partners, noting that the first opposition party European Socialists that entered the Parliament is a pro-Western force respecting European values.
How pro-Western is the new party?
According to Sputnik-Georgia, Tamar Kiknadze, Giorgi Maglakelidze, Victor Tsaava and Irakli Ubilava, who are frequently featuring in Media Development Foundation's Anti-Western Propaganda reports, were elected as members of the European Socialists political council. Moreover, they have links with pro-Kremlin media outlets and Tamar Kiknadze is affiliated with Russian government foundations in Georgia.
Myth Detector offers a review of anti-Western and xenophobic messages voiced by the members of the new party's political council, as well as information about their affiliations with pro-Kremlin organizations.
Tamar Kiknadze, one of the political council members, is affiliated with the Primakov Georgian-Russian Public Center established in 2013 by the Gorchakov Public Diplomacy Support Fund, launched by order of the President of Russia, and the Georgian Institute of International Relations.
Kiknadze frequently participates in various events organized by the Center, along with representatives of the Eurasian Institute and other Kremlin-affiliated actors. Among such events were an expert meeting about Georgian-Russian relations; Archil Sikharulidze's public lecture "Georgian-Russian relations in the context of the United States and Europe;" Primakov anniversary evening, etc.
Besides her links with the Primakov Center, Tamar Kiknadze is a frequent respondent of Kremlin's propaganda platform Sputnik-Georgia. In her interviews in late 2019 and January 2021, she predicted the improvement of Russian-Georgian relations.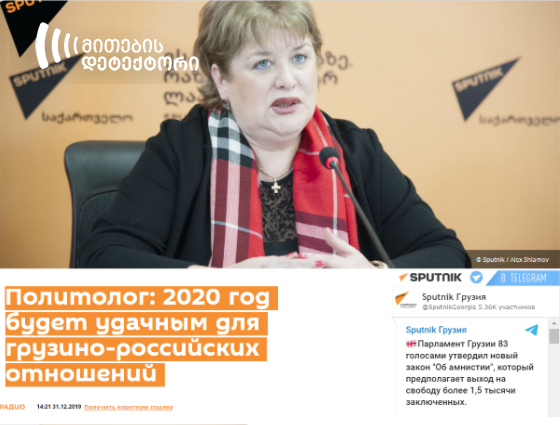 Like Tamar Kiknadze, other members of the European Socialists political council – Giorgi Maglakelidze, Irakli Ubilava and Victor Tsaava, a blogger of a pro-Kremlin media outlet Georgia and World, were frequently making anti-Western and pro-Kremlin statements during previous years. Below, we offer their remarks:
The West imposes unfamiliar values on us.

Tamar Kiknadze: "This tolerance that has overgrown into kind of absurdity; human rights, when the European Parliament is, for example, seriously discussing the issue that children should receive sex education from the age of three years."
Obieqtivi, Gamis Studia, December 23

Tamar Kiknadze: "The Americans are not in favor of close relations between China and Russia, but Russia finds it easier to have relations with China, because the latter does not set the same conditions as the West. I mean the protection of gays and lesbians; moreover, it [China] does not raise the Crimean problem."
Georgia and World, July 5

When Europeans were running in the forests, Georgians were creating civilization

Tamar Kiknadze: "You [Georgians] are representatives of greater civilization; when Europeans were running in the forests, you had the oldest civilization and why are you feeling inferior to others?"
Obieqtivi, Gamis Studia, 18 December, 2018

Georgia is a colony of Europe and America

Victor Tsaava, Alliance of Patriots: "We voluntarily signed the Association Agreement, which has further bound small Georgia. Georgia signed the Association Agreement with Europe, but, unfortunately, our country is a colony of not only Europe, but America as well. Georgia is a slave of two patrons."
Georgia and World, September 9

The Treaty of Kars poses a threat to our territorial integrity

Tamar Kiknadze: "Economic and demographic expansion is underway. If we look at the Treaty of Kars, it reads that in case of violation, Turkey and Russia will act as guarantors of this treaty. If Muslim population faces any problem, it will be able to hold a referendum."
Obieqtivi, 24 April, 2017

Gigi Maglakelidze: "The Treaty of Kars will expire quite soon. Turkey is capturing Georgia's territories without use of force; you will arrive in Batumi and actually see Turkish streets there."
Obieqtivi, Gamis Studia, February 1

The West uses Georgia/Ukraine for confrontation with Russia

Tamar Kiknadze: "There was no war between Georgia and Russia; it was the war between the West and Russia that happened on our territory and we simply got crushed."
Georgia and World, April 20

Tamar Kiknadze: "Russia and the West confronted each other in Georgia in 2008… The Russian-Ukrainian conflict also is a confrontation between the West and Russia."
Georgia and World, November 29

Irakli Ubilava: "Georgia has become Russia's enemy after making friends with Russia's enemy. In my opinion, the West will try to destabilize the situation inside the country and therefore, it announced about the March 21 rally through the National Movement."
Sakinformi, March 18

NATO =a threat

Tamar Kiknadze, political analyst: "I need NATO as a guarantor of my security and on the contrary, NATO became a guarantor of my threat."
Obieqtivi, Gamis Studia,  23 July, 2018

American base = a threat

Giorgi Maglakelidze, Alliance of Patriots: "If a military base is deployed in Georgia, God forbid, if even one missile is dropped, a nuclear weapon is so strong that… I think that Georgia should not boast about muscles, javelins and demonstrate its force, especially in view of the country's security concept."
Obieqtivi, Gamis Studia, May 11

The United States creates terrorist groups in Syria and supplies them with weapons

Giorgi Maglakelidze, Alliance of Patriots of Georgia: "This slaughterhouse, this terrible situation in Syria… when all cards were shown and it became clear to everyone that actually the United States and the developed countries were behind those terrorist groups, because such weapons do not grow on trees and you know, how much arms supplies cost."  Obieqtivi, 11 April, 2018

It is not good to call Russia an occupier; Georgia should change its foreign policy

Tamar Kiknadze: "Screaming with excitement that [German Chancellor Angela] Merkel said "Russia is an occupier" is not good. The German Chancellor knows well that negotiations with Russia have no alternative… Georgia should revise its current policy and change its course."
Georgia and World, 6 September, 2018

Direct dialogue with the Abkhaz and South Ossetians without the West and through Russia's mediation

Tamar Kiknadze: "It causes Russia's irritation when we talk to them with the involvement of the West…By the way, Lavrov and Putin have noted on multiple occasions that 'go and talk to the Abkhaz and Ossetians and we will act as mediators.'"
Obieqtivi, Akhali Ambebi, July 19

Victor Tsaava, Alliance of Patriots: "As for the involvement of the United States and Europe in conflict resolution issues, I believe that Georgia has a potential to sit down at the table of negotiations with Russia, without the United States and the EU, and defend its own interests. We have a centuries-old experience of relations with Russia."
Georgia and World, October 20

The Lugar Lab is doubtful and can pose a threat

Tamar Kiknadze: "When there is a lab like Lugar's in the country, the fact is that you are somehow dealing with viruses … Unfortunately, nobody knows what is happening at the Lugar Lab that is very bad. I think, it is necessary that a competent delegation visits it… The Lugar Lab will always remain the reason of tense relations between Russia and Georgia."Georgia and World, June 3