A Facebook page "რურუა გმირია" (Rurua is a hero) using a photo of Giorgi Rurua, one of the shareholders of pro-opposition Mtavari Arkhi TV, was created on October 13, 2020. The page involves only one sponsored post depicting Giorgi Rurua and Merab Kostava, Georgian dissident and one of the leaders of the National-Liberation Movement in Georgia. The post has a caption "18 days left until freedom!" that leaves an impression that Rurua will be released following the October 31 parliamentary elections. The infographics focusing on similarities between Kostava and Rurua is accompanied by a caption: "You can see no difference only because Giorgi is alive."
"რურუა გმირია" (Rurua is a hero) is a fake Facebook account and Rurua himself, who is serving his prison term, denied any links to it through his Facebook post. Pro-government media outlets and Facebook accounts spread the post on social media without verification, in a coordinated manner and negative context, focusing on the unacceptability of comparing the national hero with Giorgi Rurua.
The post initially appeared as a sponsored post and triggered strong outcry due to comparing Giorgi Rurua with the national hero, Merab Kostava. Rurua himself denied any links to the page through his Facebook post.
Later the same day, the Facebook post was spread by pro-government pages targeting opponents, among them სირცხვილის კორიდორი,შუბლის ძარღვ გაწყვეტილები,  antiliberal page მამული, ენა, სარწმუნოება, Facebook groups პროტესტი! Protest! Протест!, პოლიტიკა, გასამართლდეს ნაციონალური მოძრაობა!, ქვეყნის მტრების წინააღმდეგ, კახი კალაძე ქალაქის მერი, ყველაფერი ქალებისთვის.
It was stressed when sharing the post that "it insults the national government and spits in the soul of the nation!!!" (სირცვილის კორიდორი – Shame Corridor).
Several pro-government media outlets, among them Marshalpress, Prime Time, Exclusive News, Progressnews and Alia also responded to the post with respective articles. The headlines of these articles focused on the fact of heroizing Rurua and comparing him with the national hero, as well as on negative reactions accompanying the post.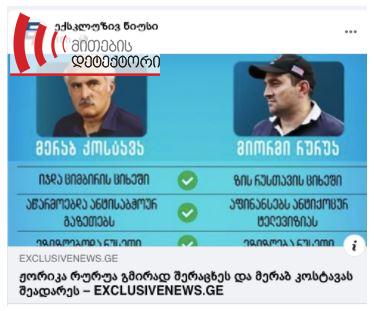 On July 30, Tbilisi City Court found Giorgi Rurua, who owns 2.5% of Mtavari Arkhi's shares, guilty of illegal purchase, storage and carrying of firearms, as well as disobedience to court ruling, and sentenced him to four years in jail.
In early June, the opposition parties condemned Rurua's imprisonment as politically motivated and stated that his release would be a precondition for them to endorse the constitutional amendments on electoral reform.