On January 14, 2018, the news agency "Primetime" published the material entitled "The man raped a fish: the fish did not say no, and it was completely naked." According to Primetime, a fisherman who raped a fish in Florida, was accused of zoophilia and was fined $ 5,000. The article is provided with the link to www.8satire.com.
The story of a fisherman raping a fish is satire and no trustworthy. The source provided in the article is a satire and humor website. Nor the title of the publication, neither the text makes it clear that the information is satire. Thus, the readers are given an impression as if the case of zoophilia actually happened in Florida.
    1. The story of a raped fish is made up by satire website of 8satire.
The story of a fisherman from Florida, raping a fish was published by the satire website of 8satire on January 8, 2018.  In the "About Us" section, the website declares that their content is satirically and humorously made up stories.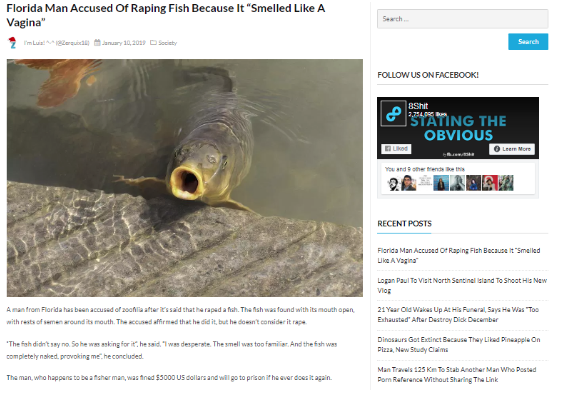 2. Presenting Satire as a Real Story
Presenting satirical invented stories as real ones is one of the propaganda methods. Using this method propagandistic and tabloid outlets try to demonstrate that the developments described in these stories, such as zoophilia and necrophilia, are the rule of life typical for western societies.
Myth Detector has been reporting on this issue earlier.
---
Elmeddin Mamedov
Regional Network of Media Literacy Lab