On September 25, 2019, a Facebook page აზიმუტი (Azimuth) disseminated a letter by the Rector of Moscow State Institute of International Relations (MGIMO) who stated that one of the leaders of European Georgia, Elene Khoshtaria, defended her dissertation under the supervision of Sergey Viktorovich Gavrilov in the mentioned university. Azimuth published the document and captioned it "Turns Out Gavrilov Was Khoshtaria's Lecturer".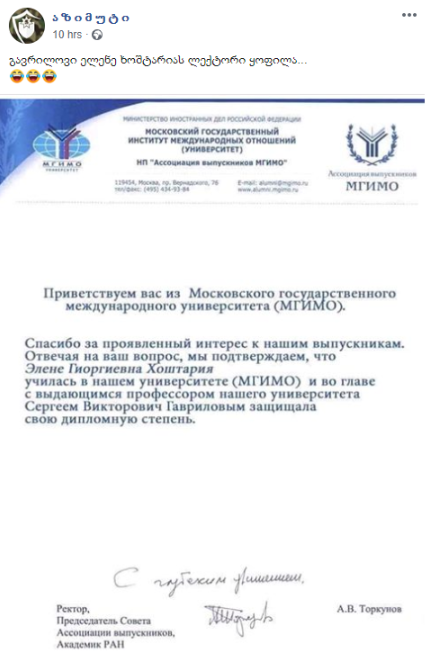 The disseminated letter creates a false perception among the readers that Elene Khoshtaria was a student of a Russian Duma deputy – Sergey Gavrilov. In fact, the Russian deputy's name is Sergey Anatolyevich Gavrilov, whereas the lecturer's name in the letter is Sergey Viktorovich Gavrilov. Moreover, the letter does not have an addressee, a sending date or an identification number, while searches reveal no results when searching Sergey Viktorovich Gavrilov, a MGIMO professor. Elene Khoshtaria denied the information herself. The dissemination of such materials aims to discredit political opponents of the Georgian Government and the activists of anti-government manifestations "სირცხვილია" ("Shame").
Myth Detector contacted Elene Khoshtaria for a comment. She denied the information.
"This is a complete lie. He was not my supervisor. I have not even heard that he was teaching there" – said Khoshtaria.
The communist MP's name is Sergey Anatolyevich Gavrilov.
According to information on the official webpage of the Communist Party of the Russian Federation, Sergey Gavrilov's patronymic is Anatoly (Сергей Анатольевич Гаврилов), while the letter published by Azimuth concerns Sergey Viktorovich Gavrilov (Сергей Викторович Гаврилов).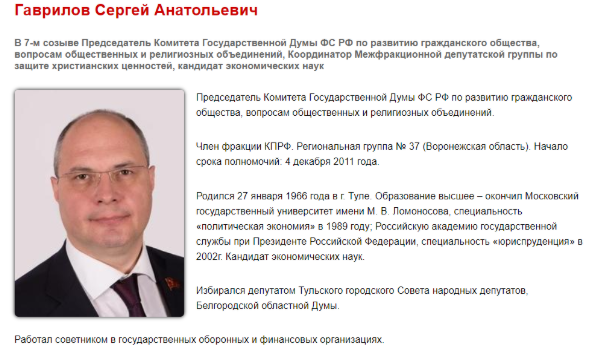 Suspicious circumstances
The letter does not have an addressee
The letter published by Azimuth starts with words "I would like to thank you for expressing your interest towards our graduates" and ends with "With respect", indicating that the document in question is a reply to another letter, however, the addressee is not mentioned.
The letter does not have an identification number or a sending date
Although the letter is printed on a MGIMO form and is signed by Torkunov, the Rector of the university, it is not dated or assigned an identification number.
Sergey Viktorovich Gavrilov, a MGIMO professor, cannot be found via search engines
The person mentioned in the MGIMO letter, Sergey Viktorovich Gavrilov, cannot be found in open sources. However, there is information available on a Docent of the First Electrotechnical University, Sergey Viktorovich Gavrilov and an OB-GYN, Sergey Viktorovich Gavrilov.
Azimuth
"The Facebook page Azimuth was created on December 19, 2017. In its "About the organization" section, the page notes that it is involved in military-analytical activities and informs the population on security issues. According to Facebook, the page is administered from Georgia, France and Russia.