A pro-Kremlin edition News Front, which also has a Georgian version that appeared in October 2019, is apparently managed by Shota Apkhaidze, a Moscow-based pro-Russian activist, associated with "Georgian March".
The information became public following a February 10, 2020 publication by News Front. The edition published an article and a video titled "a Georgian Flag is Weaving in the Center of Moscow". The description of the material indicates that the video had been sent to News Front by the Editor-in-Chief, Shota Apkhaidze and a journalist, Beka Kvitsiani.
Who are Shota Apkhaidze and Beka Kvitsiani?
Shota Apkhaidze joined the Eurasian Institute after he was released from custody as a political prisoner following the change of the government in 2012. He was convicted for bursting into the studio of Kavkasia TV in 2010, together with the representatives of Orthodox Parents' Union and People's Orthodox Movement, and committing a hate crime. In 2015, Apkhaidze founded the Caucasus Center for Islamic Studies. Prior to his detention, Apkhaidze served as a publicist for Malkhaz Gulashvili's media holding Georgian Times. In 2013, he took part in the event organized by Caucasian Cooperation, involving a tour to North Ossetia, Kabardino-Balkaria and Dagestan. Presently, Apkhaidze lives in Moscow and frequently appears in various media outlets, among them Sputnik, Tsargrad TV, Новостной Фронт, etc. Shota Apkhaidze was positioned in Russian propagandistic media as one of the organizers of xenophobic and anti-migration march held in July 2017 upon the initiative of an ultranationalist movement, Georgian March.
Shota Apkhaidze has stood out with openly pro-Russian and anti-Western messages in various interviews:
Shota Apkhaidze: "Russo-Georgian friendship – something that has always been the cornerstone of stability in the Caucasus region, goes strongly against the interests of someone. 'They' facilitated the dissolution of the USSR, broke up Yugoslavia, then Serbia, then instigated Georgia, as well as other post-Soviet republics to self-destructive actions and want to weaken, and, ultimately, dissolve Russia. Their task is to divide and fragment, while ours is to remember our famous ancestors and strictly follow the path of alignment, friendship, and strong ties, despite the fact that the recent past of Russo-Georgian relations is dark, even shameful" (Apkhaidze's address at a youth forum "Volga-2013").
Shota Apkhaidze: "We do not have any experience of tackling this problem. We should cooperate with our neighbours – Iran, Russia, Turkey – those who have worked on this problem for a while now. Why is America silent on the problems we have in Georgia? Because it is not in the interest of the Americans to talk about them, as they know they are a part of it."

Shota Apkhaidze (second from the left) together with other members of Popular Orthodox Movement
In November 2019, Shota Apkhaidze appeared on air at TV Zvezda, a Russian Defense Ministry-owned TV channel, as a journalist. The TV program "On air" ("Открытый эфир") was devoted to a TV report prepared by Apkhaidze that reiterated Kremlin's propagandist conspiracies on organ sale in Eastern Ukraine during the hostilities. You can read in more detail about this topic in an article by Myth Detector.
Beka Kvitsiani manages the Historical Figures secion on News Front Georgia. The edition announced this on November 22, 2019. Currently, seven articles, authored by Beka Kvitsiani, can be found on News Front Georgia.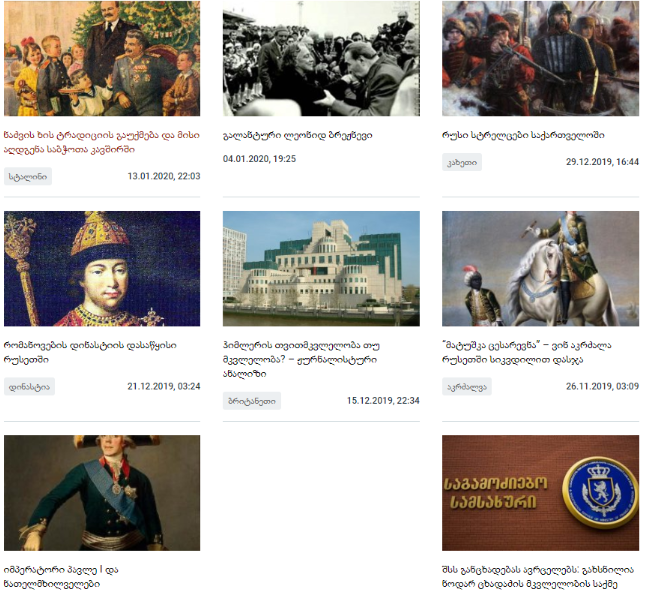 Beka Kvitsiani, like Shota Apkhaidze, lives in Russia. He uses two Facebook profiles – Beka Kvitsiani and Бека Волжский. In 2017-2018, Kvitsiani published several photos with members of the "Georgian March".
About News Front Georgia
Pro-Kremlin media News Front Georgia emerged on Georgia's media market in October 2019.  News Front Georgia's Facebook page is administered by Konstantine Chikviladze, who simultaneously is the author of articles published by Georgia and World as well as the admin of its Facebook page. Georgia and World's founder Alexandre Chachia was awarded by Vladimir Putin with the Order of Honor for his great contribution to strengthening friendship and cooperation with the Russian Federation.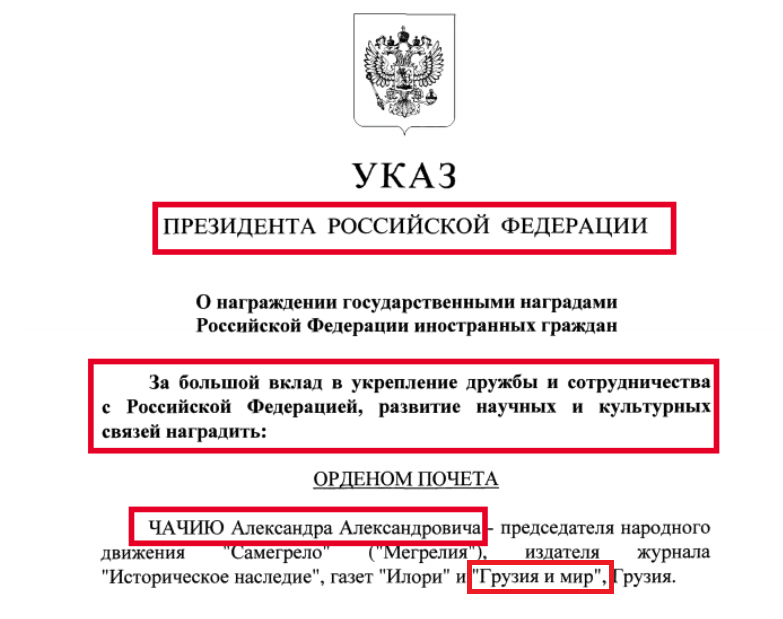 Simultaneously, News Front's Facebook page administers a public group "Россия и Грузия- дружба навеки!" (Russia and Georgia – Friendship Forever). The group was created on September 11, 2014 and it changed its name three times since then. On February 4, 2019, the group changed its name twice – initially it was named Kidobani and then Kidobani News. The group chose the name "Россия и Грузия- дружба навеки!" on August 4, 2019. Besides News Front Georgia's page, the group has six other admins. News Front Georgia's page also has six admins.
For more information about News Front read Myth detector's publication.