Facebook users Nino Bregadze and Gocha Chumashvili shared identical texts on the social networking website on February 20-21, 2021. According to their post, there is a food additive called HEK-293 that consists of kidney cells of an aborted embryo and large food-producing companies such as Nestle, Kraft, and PepsiCo use it in their products. The post claimed that the "natural flavors", indicated in various food products as an ingredient, means precisely the embryonic cells. The post also claims that HEK-293, or the cells obtained from an aborted embryo, are also used to manufacture vaccines.
Both Gocha Chumashvili and Nino Bregadze cite a video, published by a Russian YouTube user "Сон Разума" (Dream of the mind) in 2019. The video repeats the main claims of the post, and it also mentions a food additives company Senomyx, which allegedly manufactures food flavors using the embryonic cells.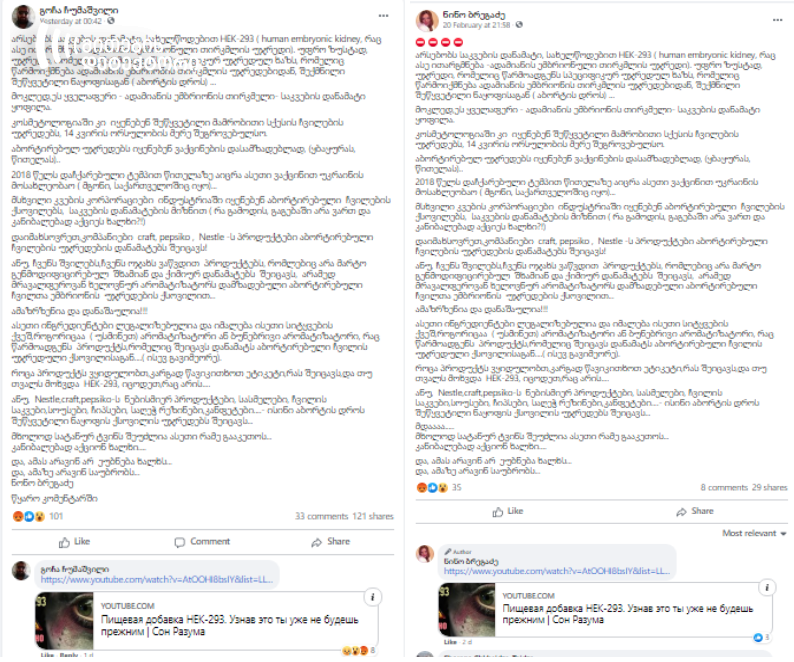 The claim that the food products of the companies, mentioned in the post, contain HEK-293 embryonic cell line, is disinformation that has been around for several years. The information that vaccines contain the aborted embryonic cell line is also false. Scientists have been using the HEK-293 embryonic cell line for various lab research for more than 4- years, but it is not an ingredient of any vaccine or a food product.
Food companies do not use aborted embryonic cells as food additives.
Disinformation that food companies use human embryonic cells in their food products, including Kraft, PepsiCo, and Nestle, mentioned by Gocha Chumashvili, has been disseminated on numerous occasions by English-speaking (mostly anti-abortion) webpages and social media accounts. According to fact-checking organizations Politifact and Snopes, the myth initially appeared in 2011 and is connected to an anti-abortion organization Children of God for Life's conflict with an American food additives company Senomyx. The organization boycotted Senomyx and its partner food companies (Kraft, PepsiCo, Nestle etc.) after finding out that Senomyx was using embryonic cell line HEK-293 in their research on flavors.
While Senomyx did indeed use the embryonic cell line during the research on flavors, this does not mean that products of Senomyx, or of any above-mentioned food companies, contain embryonic cells and that customers consume human embryonic cells together with food. As a Senomyx representatives explained in 2011, they used the HEK 293 cell line in its flavor research to function as the mouth's taste receptor cells to see how the human palate will react to synthetic flavors. In fact, the HEK-293 are not an ingredient of a food additive, they are rather used to test the effect of a flavor on a cell. Therefore, the claim that food flavors and the products created using them contain human embryonic cells is not true.
FullFact directly contacted the companies to test the widespread disinformation that food companies, within the framework of cooperation with Senomyx, were using HEK-293 as food additives. According to Kraft, they are not using Senomyx products at all. PepsiCo claimed that they cooperate with Senomyx with regards to sweetening products research, but they are not using embryonic cells or other human tissues in their joint research. Nestle did not respond to the organization.
HEK-293 is also widely used for vaccine research, but the vaccines do not contain aborted embryonic cells.
Just like the food products, aborted embryonic cells are not in the vaccines either, even though the embryonic cell line is widely used in vaccine research. Scientists use HEK-293 at a pre-clinical stage of creating vaccines against measles, mumps, Ebola, flu, and coronavirus to observe the effect of the vaccine on human cells and their genomic structure. This does not mean that the embryonic cells are an ingredient of the vaccine and that after a vaccination they enter the human body – embryonic cells are used merely at a lab testing and research stage of the vaccines, not during their production. At the production stage, the vaccines are cleared of all additives that do are not ingredients of the vaccine.
Disinformation that coronavirus vaccine contains aborted embryonic cells has also been disseminated earlier. Read more in an article by Myth Detector:
About HEK-293
Embryonic cell line HEK-293 is made of clones of an original cell secreted by a kidney of an embryo. The original cell was isolated by a Dutch scientist in 1970s (the embryo he used was aborted legally, but not for the research purposes). Cell researchers and microbiologists have kept and multiplied the HEK-293 cells in lab conditions for decades, as this cell line is widely used for biological and medical research, such as cancer, drug, or vaccine lab research. Scientists explain that HEK-293 cells reproduce rapidly in lab conditions (every 36 hours) and create a lot of clones, so the HEK-293 research does not require new abortions and obtaining cells from other embryos. Every research, that is based on HEK-293, uses the cell line of that one aborted embryonic cell obtained 40 years ago.
---
The article has been written in the framework of Facebook's fact-checking program. You can read more about the restrictions that Facebook may impose based on this article via this link. You can find information about appealing or editing our assessment via this link.
Read detailed instructions for editing the article.
Read detailed appeal instructions.