On June 26th, Facebook user Natia Colussi shared a video named "World Future/Governance/ Georgia." The video discusses the Vision 2050 project, which according to Colussi, represents one of the signs of the Second Advent and aims to establish a new World Governance. The author also links Vision 2050 with the global pandemic, claiming that the plan of creating a new world order has already commenced, while global pandemics are being part of it. Colussi also mentions the Paris Agreement and labels it as the primary document for the new world governance. The video has been widely circulated on social media, shared by pro-Kremlin media outlets.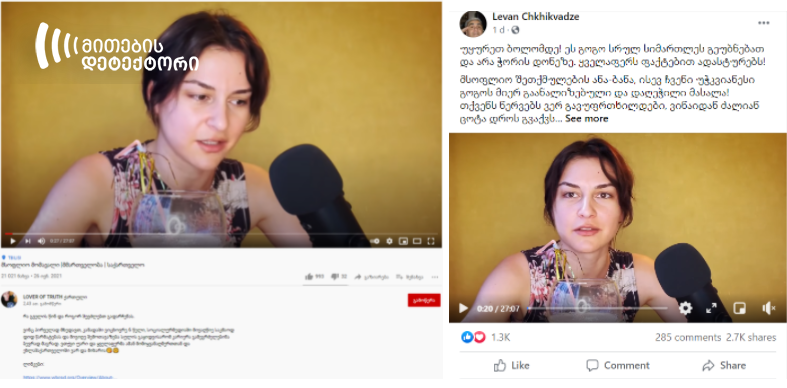 In a post published on her personal Facebook page on July 2nd, Colussi further claimed that the Georgian government had received 1 million EUR to fight against climate change.

The statement that Vision 2050, together with the Paris Agreement, aims to establish new world governance is a conspiracy theory. In reality, Vision 2050 represents a development plan for private businesses, while the Paris Agreement is a document aimed at reducing the "Greenhouse effect" on earth.
The World Business Council for Sustainable Development was founded in 1995 and aims to create mechanisms that would correspond to the emerging challenges and help businesses develop resilient environments and ensure their long-term sustainable development. Colussi does not indicate that the WBCSD does not operate on the state level and only concerns its member organizations.
As for the Paris Agreement, the document was signed by more than 200 countries in 2015 and aimed to decrease the "greenhouse effect" on earth.  The main idea behind the Paris agreement is to make sure that the average change in the temperature does not exceed 2 degrees. Georgia signed the agreement in 2016 and ratified it on June 7th, 2017.
The screenshot attached to Colussi's post, on the other hand, showcases the EU funding statement directed at a Georgian NGO – CENN, which aims to establish a general climate change policy in Georgia through the involvement of civil society. The project has nothing to do with governmental funding.
---
The article has been written in the framework of Facebook's fact-checking program. You can read more about the restrictions that Facebook may impose based on this article via this link. You can find information about appealing or editing our assessment via this link.
Read detailed instructions for editing the article.
Read detailed appeal instructions.