On November 6th, the Facebook page "Dzala Simartleshia" [The Power Lies within in the Truth] posted a photo with the logo of the "TV Pirveli," claiming that the members of the European Parliament joined the hunger strike of Elene Khoshtaria. The photo is accompanied by the following caption: "I will not be the first or the last member of the European Parliament to do so." stated Ms. Cunni Lingus."


The post published by "Dzala Simartleshia" is fabricated, depicting not the MEP but the Canadian politician Michelle Rempel Garner.
No similar or identical post can be found on the Facebookpage of "TV Pirveli." As for the picture disseminated by the page, instead of the MEP Cunni Lingus, it depicts the member of the Canadian parliament,Michelle Rempel Garner.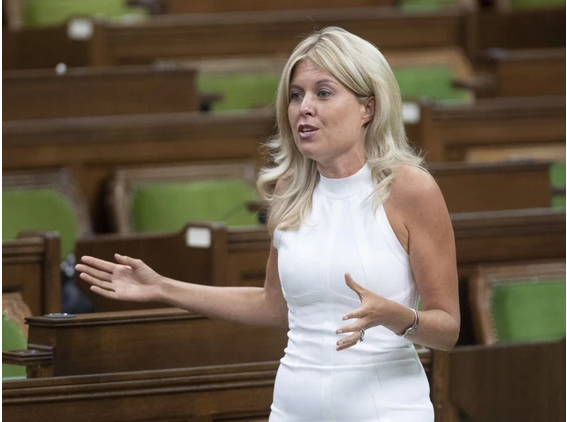 Conservative MP Michelle Rempel Garner in the House of Commons in Ottawa on August 12, 2020
Photo: Adrian Wyld
Noteworthy, the fabricated photo circulated among the following fake profiles:Malkhazi Gogokhia and Kato Barbakadze. The former steals the identity of the VKontakte.ru user Светлана Артемчик, while the latter, similarly, steals the identity ofВиталий Минин. The post itself has been shared into the following Facebook groups:ვახას მეგობრები, მიშა პრემიერად, ირაკლი ოქრუაშვილის მხარდამჭერთა ჯგუფი, მე არ მინდა რუსი ივანაშვილის საქართველო, 🇬🇪ერთიანი ნაციონალური მოძრაობა🇬🇪, Mikheil Saakashvili's Supporters სად წაიყვან სადაურსა. These accounts have been suspected of spreading the posts of "Dzala Simartleshia" in the past as well.
About the Source
The Facebook page "Dzala Simartleshia" aims to discredit the opponents of the "Georgian Dream." The page has published five false pieces of information in October, including fake screenshots with the logo of the "TV Pirveli." The disinformation posts published by "Dzala Simartleshia" are later spread by fake accounts in various public groups.
---
The article has been written in the framework of Facebook's fact-checking program. You can read more about the restrictions that Facebook may impose based on this article via this link. You can find information about appealing or editing our assessment via this link.
Read detailed instructions for editing the article.
Read detailed appeal instructions.