On April 18, 2018, on air at TV Obiektivi, a lawyer, Vaja Abakelia, stated that incest has been legalized in Norway. In addition, the respondent used hate speech towards Norwegians, when stating that it would be better if Norwegians, who "polluted" the world, would not have been born at all.
Vaja Abakelia's statement is disinformation. Incest is illegal in Norway.  The myth about the legalization of incest in the Western countries has been on for years and it has been connected to the threat of losing Georgian identity in case Georgia integrates with the West. Together with several other issues, it represents one of the propaganda weapons in the post-Soviet space.
       1. Incest is illegal in Norway
Norway considers incest a crime. Section 197 of the Civil Code of Norway reads: "Any person who engages in sexual activity with a blood relation in the descending line shall be liable to imprisonment for a term not exceeding five years."
     2. Myths about incest have been disseminated for years
The disinformation about incest has been disseminated in the Georgian media for years. It aims to incite anti-Western sentiments in the population. By disseminating disinformation about incest, the pro-Kremlin groups try to associate European values with crime and sodomy, thereby creating the threat of losing identity in the population. As the infographic below shows, this myth was initially introduced by the Leader of Democratic Movement – United Georgia, Nino Burjanadze: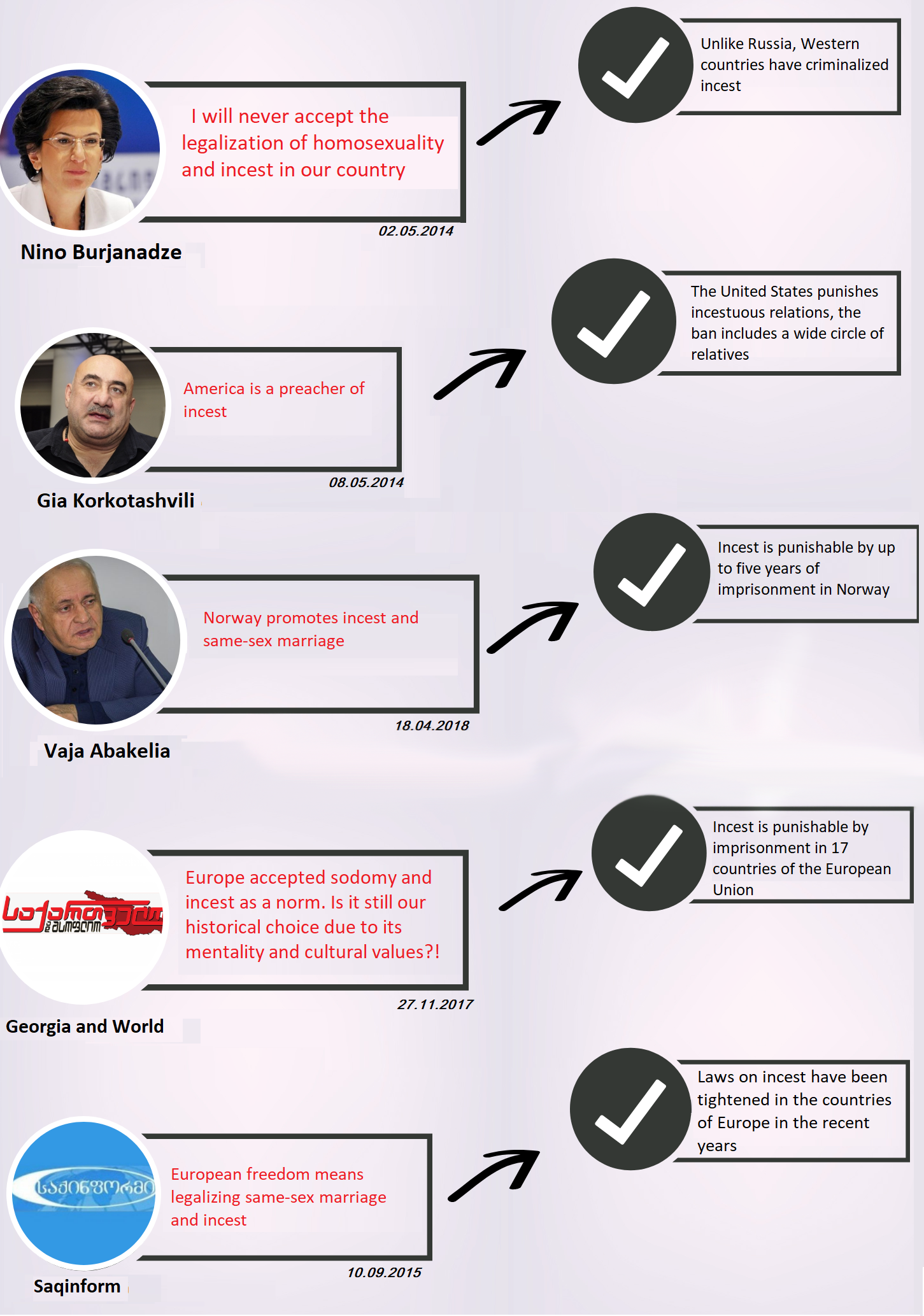 3. How is incest regulated in various countries
Law on sexual relationship between relatives is quite strict in the majority of European countries (Germany, UK, Italy, Austria, Denmark, Sweden, Ireland, Greece, Cyprus, Czech Republic, Slovakia, Poland, Finland, Hungary, Croatia, Bulgaria and Romania). While the pro-Kremlin groups disseminate disinformation about the legalization of incest in the Western countries, Russia itself has not criminalized the incestuous relationships between adults.
| Country | Legislation |
| --- | --- |
| Italy | In Italy, sexual intercourse between relatives is punishable by 2-8 years of imprisonment. |
| France | In 2010, France changed its stance towards incest and qualified it as sexual offence. |
| United States of America | The United States legislation is especially strict in this regard. Apart from restricting marriage on a quite broad circle of relatives, several states punish marriage-like relationships between close relatives. |
| Germany | According to the German legislation, sexual intercourse between relatives is punishable by up to 3 years of imprisonment. |
| United Kingdom | Per 2003 amendments in the Sexual Offences Act, Britain tightened its law towards incest. Spectrum for defining the sexual offences was broadened to protect more people from potential offences. |
| Ireland | According to Punishment of Incest Act, from December 21, 1908, the Republic of Ireland criminalized incest. Ireland tries to protect minors from sexual offence through social services. |
| Georgia | In 2007, per amendments in the Civil Code, Georgia prohibited marriage between biological, as well as non-biological siblings. |
| Moldova | Moldova is the only former Soviet Union country, which punishes sexual relationships between adult family members and close relatives. |
| Russia | Russian legislation still does not ban incest between adults. |
---
Propaganda Method
Ad nauseum approach uses tireless repetition of an idea. This may be a simple idea or a simple slogan that is repeated so often that people begin to take it as the truth.
---
Myth Detector Lab