On February 26th, the information about the capture of an Armenian soldier in Kharkiv went viral on social media. Posts of such content along with a photo of the soldier were published by Facebook user Beso Qatamadze and the publication Pia.ge. According to the descriptions, the Armenian authorities have not yet decided whether to support Russia in the ongoing hostilities in Ukraine, but the first precedent has already been set and "a soldier of the Armenian Armed Forces was captured in Kharkiv."
Pia.ge corrected the post after the Armenian Foreign Ministry issued a special comment on the matter, indicating in the description that the man was allegedly from the Armenian Armed Forces. Pia.ge's post was shared by the Facebook page "Capital", the text of the page can be found without correction in the original format.
The claim that a soldier of the Armenian Armed Forces was captured in Kharkiv is false. In fact, the man in the photo is not a current member of the Armenian Army, he has been in Ukraine since the summer of 2020 and is accused of looting.
The photo that was disseminated in Georgia, was originally published by the Armenian Telegram channel TSEHAKRON at 11:03. TSEHAKRON positions itself as an Armenian patriotic movement. The disseminated photo features the logo of the movement.
In the description, TSEHAKRON asked questions whether the Armenian government was going to say anything to the people, for example, why an Armenian soldier was detained in Kharkiv.
At 11:36, the same photo was posted on the Telegram channel "Реальная Война." The same photo and description of "Реальная Война" were spread on Georgian social networks as well.
The Armenian fact-checking platform FIP contacted the Armenian Foreign Ministry to verify the information. Ministry spokesperson Vahan Hunanyan has denied the fact that a soldier of the Armenian Armed Forces had been detained in Kharkiv. He called the information "complete disinformation."
At 16:00, the telegram channel TSEHAKRON published a video regarding the arrest of a man in the photo.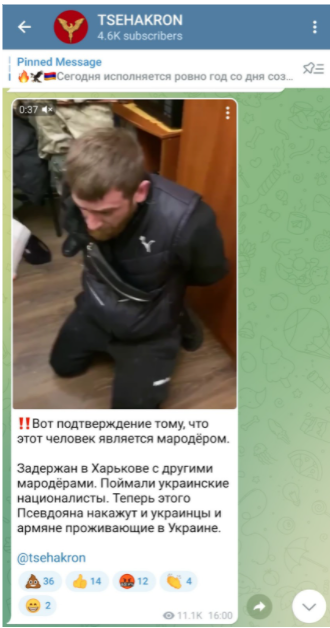 In the video, the man says he arrived in Ukraine in the summer of 2020 and has lived there ever since. It is also noteworthy that he is not a prisoner of war, but was arrested on charges of looting, which he himself admitted and said that he was indeed looting during the Russia-Ukraine war and he is sorry about it.
---
The article has been written in the framework of Facebook's fact-checking program. You can read more about the restrictions that Facebook may impose based on this article via this link. You can find information about appealing or editing our assessment via this link.
Read detailed instructions for editing the article.
Read detailed appeal instructions.