On January 25, a Facebook page "Stalin" published a post, stating that after Latvia's accession to the European Union, each fifth Latvian has left the country, whereas each third Latvian remains unemployed. The post is accompanied by a manipulative photo depicting Catherine Ashton, who served as the High Representative of the European Union for Foreign Affairs and Security Policy in 2009-2014.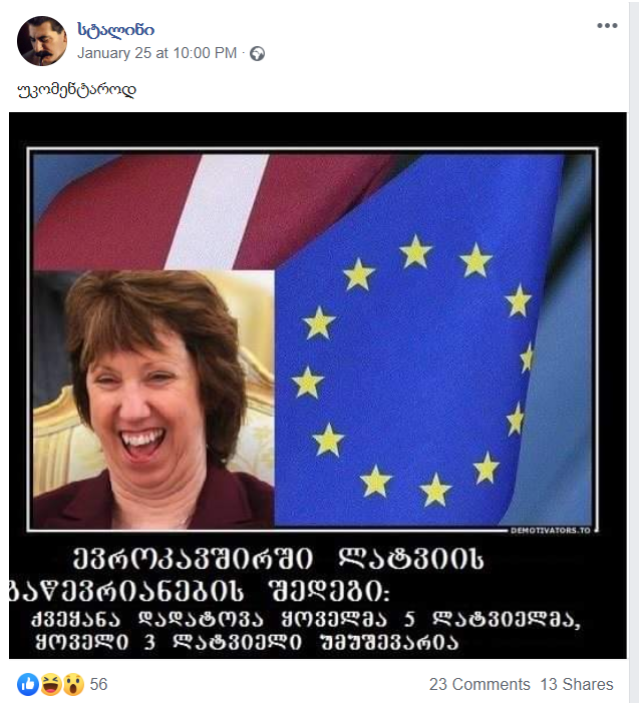 Stalin's information as if each third Latvian citizen is unemployed is a lie. The unemployment rate in Latvia is only 7.8%. 
The unemployment rate in Latvia is 7.8%. 
The pro-Russian Facebook page "Stalin" spreads false information about the unemployment rates in Latvia. In fact, not each third citizen (30%) is unemployed in Latvia, but according to Statista, in 2018, the unemployment rate in the country was at approximately 7.86, declining annually since 2010.
Latvia's economy grew significantly after the country joined the European Union in 2004. According to Eurostat data, since entering the EU up until the global economic crisis (in 2004 -2008 period), the economy of Latvia increased on average by 10% per year. Average wages also increased in Latvia following its accession to the European Union. In 2013, the wages doubled to EUR 546. As of March 2019, an average salary amounts to EUR 791.
The messages about economic collapse in Latvia and population decline are the Kremlin's repeated narratives. Similar narratives can be found in the database of EUvsDisinfo, as well as on the Myth Detector's website. The Kremlin constantly reiterates that the Baltic States lived better under the Soviet rule, while membership to the European Union brought socio-economic crisis to Latvia, Estonia and Lithuania.