Questioning the authenticity of real photos depicting conflicts, disseminating fake photos and manipulations are all well-tested methods of the Kremlin's propaganda, which are used to justify military interventions of the Russian Federation to various countries.
In August 2008, with the aim of justifying the military aggression against Georgia, Russian media was disseminating materials that questioned the photos published by The Reuters that depicted the bombing of Gori. The targeted disinformation campaign was launched on August 10. Russian media outlets,  Комсомольская Правда, Правда.ru, Вести.rupublished materials that mentioned that, according to bloggers from a Russian social network LiveJournal, the footage of bombing of Gori is staged, whereas The Reuters have published fake photos.
The made-up interview, which "proves" that The Reuters faked the photos
The photo, shown below, depicting an inhabitant of Gori with his deceased brother, was taken by a journalist Gleb Garanich. The photo won an international award, however, in August 2008, users of the Russian social network were claiming that the photo is fake. According to them, the authenticity of the photo is questioned by the second photo, in which, as compared to the first photo, the deceased brother's location and condition are changed.
In order to prove that the photos are fake, on August 13, a portal called Newsland published "an interview recorded" by a journalist of "Эхо Москвы", Alexei Venediktov with Gleb Garanich, the author of the photos. In the interview, the Reuters journalist states that the photos are staged, while he himself travelled to Gori to participate in a photo session called "Horrible Days of War".
  A. Venediktov: Who are the people shown on the photos?
      G. Garanich: Ordinary people. Models – as one could also say. People that agreed to help us with our venture.
A. Venediktov: And why did you travel here?
G. Garanich: To shoot a photo session called "Horrible Days of War".
Same day, Alexei Venediktov denied interviewing Gleb Garanich and said that he had never recorded such an interview.
An investigation carried out by The Reuters itself to determine the authenticity of the photos is also important. The edition denied that the photos are fake and published variousversions of the photos to prove their authenticity.
The Kremlin's "arguments" that prove the fabrication of photos
The following two photos, according to LiveJournal bloggers, are fabricated, too, because the woman mourning a relative in the first photo looks calm in the second photo. The additional "argument" that, according to the Russian bloggers, reveals the fake nature of the events shown on the photos, is the facial expression of the man in the second photo, which is too "indifferent", hence putting the authenticity of his wound under question.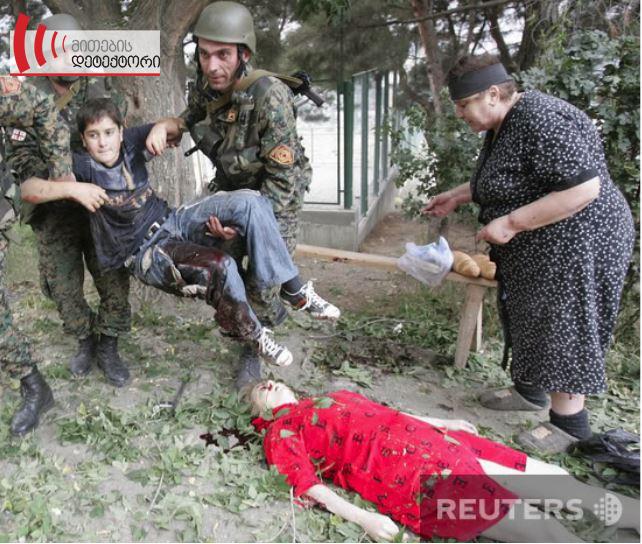 The Government of Russia, just like the pro-Kremlin propaganda outlets, have used "arguments" similar to those mentioned above and has fabricated photos to justify military operations carried out in different regions of the world by Russia.
---
Myth Detector Lab