Were the documents from the Ministry of Health leaked to pro-Kremlin media?
On September 25, 2018, Vladimir Yermakov, Director of the Foreign Ministry Department for Non-Proliferation and Arms Control, said that Russia would never allow conducting biological experiments by the Americans near its borders.
The Russian Foreign Ministry's statement came two weeks after Igor Giorgadze, Georgia's ex-security chief, said at a news briefing in Moscow on September 11 that the Tbilisi-based Lugar Laboratory conducts experiments on people and creates biological weapons. A day later, on September 12, Bulgarian investigative journalist, Dilyana Gaytandzhieva released an article headlined "US diplomats involved in trafficking of human blood and pathogens for secret military program." The article and the accompanying images were released on behalf of Al Mayadeen TV, which is widely viewed as pro-Bashar al-Assad, Hezbollah and their allies. On September 16, the Bulgarian journalist's article was reposted by a web portal, Zero Hedge. Earlier on September 14, Zvezda, a Russian nationwide TV network run by the Russian Ministry of Defense, released an interview with Dilyana Gaytandzhieva, where she again speaks about trafficking of human blood and pathogens to Georgia.
The reemergence of Russian media interest in the Lugar case coincides with charging two Russian citizens by Britain with the attempted poisoning of Sergei Skripal, former Russian GRU officer, and his daughter, Yulia, with Novichok. The two were found unconscious in the southern English city of Salisbury on March 4. To overshadow the accusations against Russia, the pro-Kremlin media intensified its efforts undertaken since 2012 to portray the Central Public Health Reference Laboratory (CPHRL), the so called Lugar Laboratory, as a threat.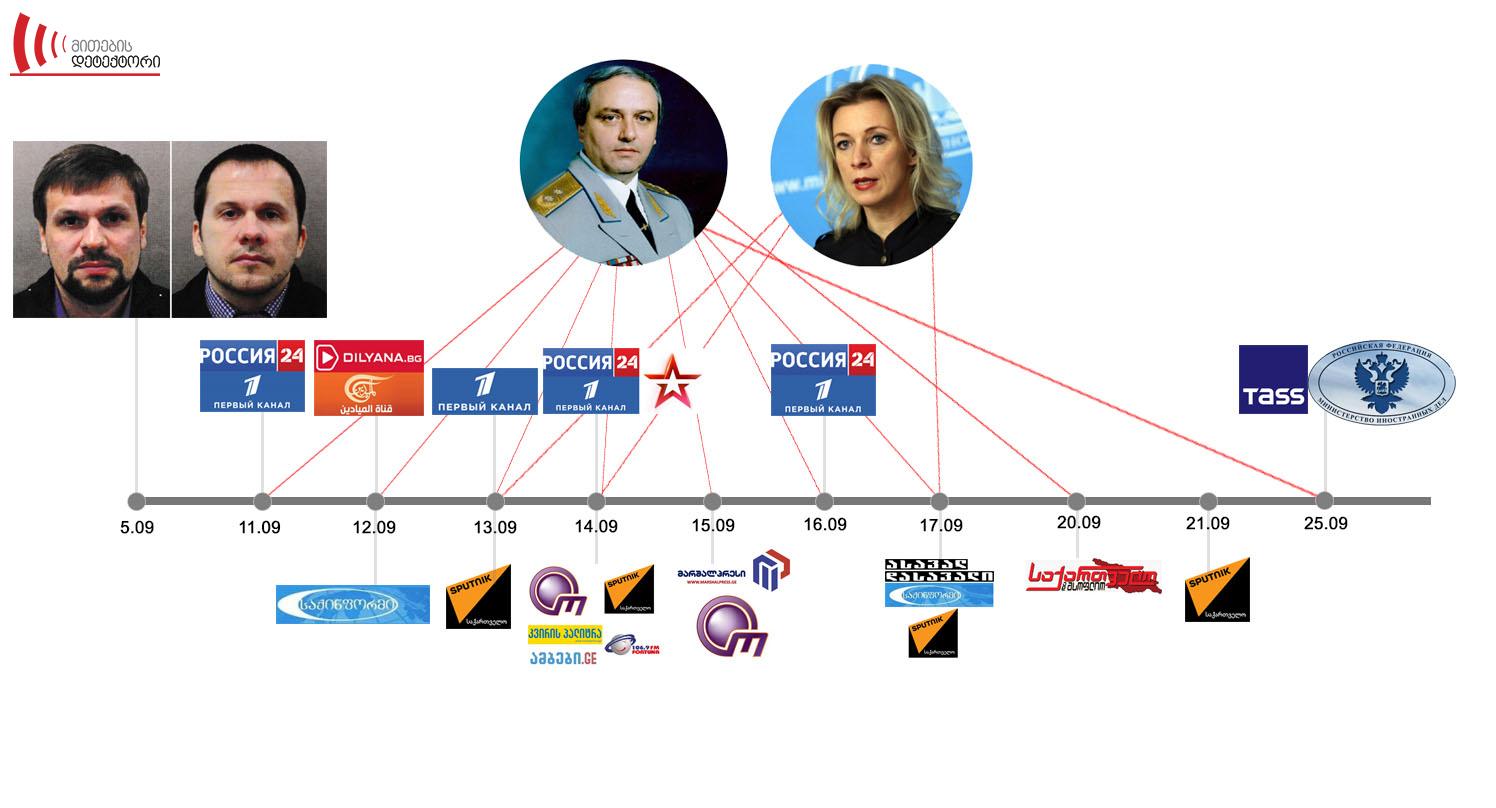 If in its earlier publications, the pro-Kremlin media mostly referred to Russian politicians' statements and fake reports spread by separate respondents, the Bulgarian journalist's article is built on simulation evidence, which, on the one hand, creates an illusion that documents do exist, and on the other, is irrelevant to the accusations for illustration of which this evidence had been used. For this purpose, Dilyana Gaytandzhieva refers to the documents leaked from the Ministry of Health of Georgia, as well as the correspondence between the Minister of Health and separate public officials.
Leaked correspondence
In her article, Dilyana Gaytandzhieva mainly provides the following documents as "arguments":
A letter of the U.S. Embassy in Tbilisi to the Ministry of Health of Georgia on exempting laboratory supplies (pathogens) from customs fees and taxes;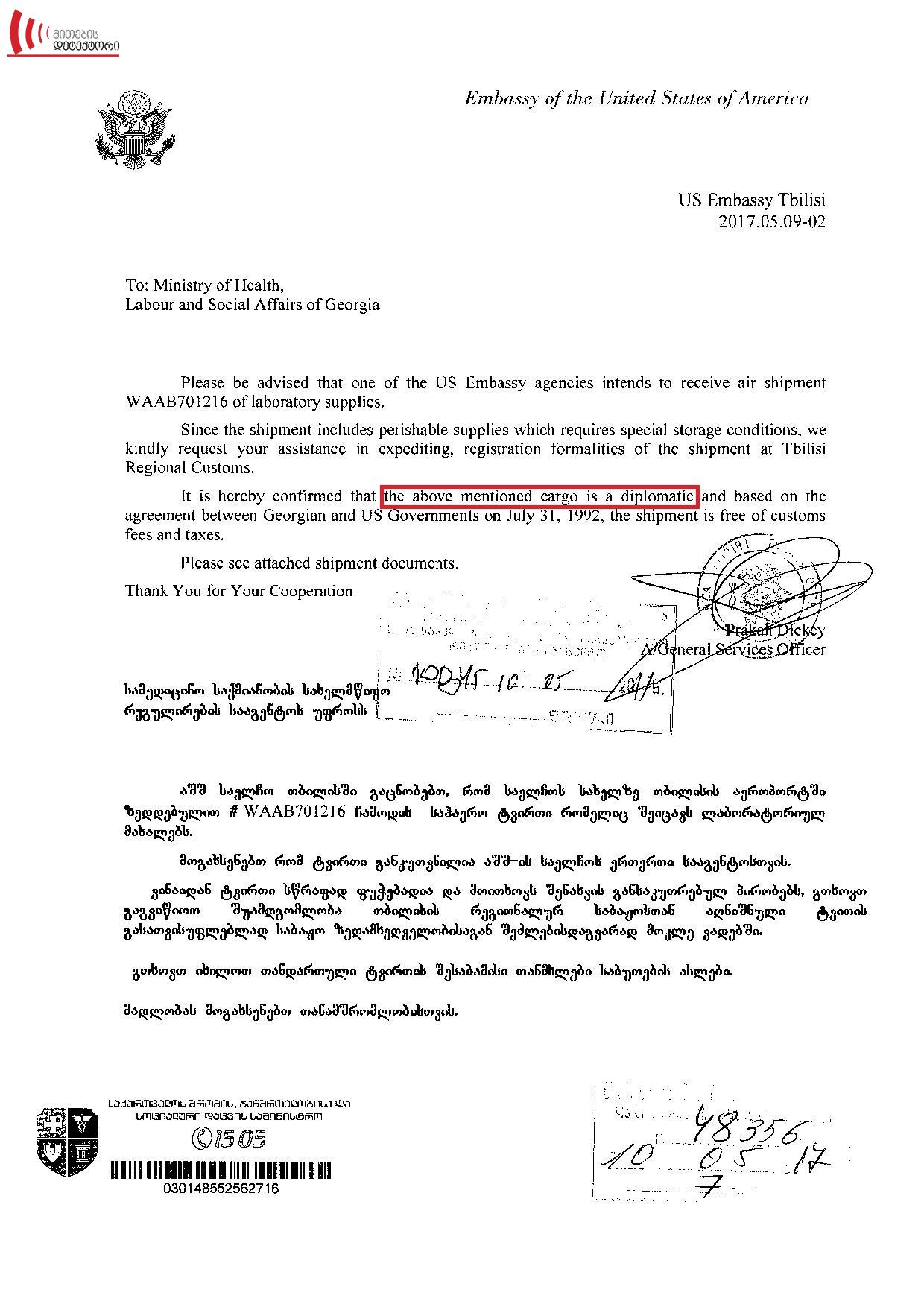 The Ministry's response to the U.S. Embassy, according to which the imported materials are designed for monitoring of Hepatitis C patients in Georgia and that their shipment bypassing inspection is possible only for non-commercial purposes or research activities.
E-mails between the representatives of the U.S. Army Medical Research Directorate – Georgia (USAMRD-G) and the Ministry of Health of Georgia on the list of event attendants, as well as on an alleged meeting between Health Minister Davit Sergeenko and Barbara Holcomb, Commanding General of U.S. Army Medical Research and Materiel Command (USAMRMC).
E-mails between Davit Sergeenko and Amiran Gamkrelidze, director of the National Center for Disease Control and Public Health, concerning the planned meeting with the administration of the   Walter Reed Army Institute of Research (WRAIR), as well as Sergeenko's meeting with Gilead representatives in Paris.
Minister Sergeenko's reaction to the Bulgarian journalist's e-mail, which he forwarded to his press office (with the following words "who is she, where did she come from and how did she find out my e-mail").
The Media Development Foundation tried to verify the authenticity of these documents with the Ministry of Health and in case of their verification, to clarify whether any internal inspection or investigative activities had been launched to find out how private e-mails of the Minister and other officials, as well as other documents appeared in the hands of the Bulgarian investigative journalist.
Minister of Health, Davit Sergeenko commented on the issue in the interview with Rustavi 2 TV on September 27, saying that the correspondence might have been obtained as a result of hacker attack.
Simulation evidence
Among the leaked documents, Dilyana Gaytandzhieva pays special attention to the U.S. Embassy's letter to the Ministry of Health on exempting frozen human blood from customs fees. Based on this letter, the Bulgarian journalist concludes that the U.S. diplomats are involved in trafficking of human blood and pathogens to Georgia.
Noteworthy that exchange of research materials between countries represents no novelty.  According to the 2017 data of the International Trade Centre (ITC), the United States is the largest importer of human blood, animal blood prepared for therapeutic, prophylactic or diagnostic uses; antisera and other blood fractions and immunological products.
According to the same data, top five exporters of these commodity products are:
Countries and their share in the world export
Germany : 16 %
Ireland: 13 %
US: 13 %
UK: 6 %
Italy: 4%
---
The letters and documents referred to by Gaytandzhieva in her article are actually insignificant and cannot serve as proof of the author's conspiracies. Besides the leaked e-mails, the article also provides unclassified documents, such as instructions to U.S. personnel working under the military program, the agreement between the United States and Georgia on Defense Cooperation, Memorandum of Mutual Understanding between the Ministry of Health of Georgia and Gilead Sciences, Inc. The author has turned these unclassified documents into illusory evidence and created a feeling among the readers, as if she had obtained alarming, secret evidence.
---
About Al Mayadeen
Al Mayadeen is a pan-Arabic satellite television channel launched in 2012 and based in Beirut, Lebanon. According to the information provided on the TV channel's website, the key value of this media outlet is the integrity within the Arab world, while Israel is dubbed as an occupying, foreign dominant force. Al Mayadeen's stories reflect the pro-Assad position: Free Syrian Army is referred to as "a terrorist" force, while Assad's violent methods taking away the lives of peaceful population are described as "cleansing." Members of Hezbollah are frequently featuring in the TV channel's programs and interviews.
About Zero Hedge
Zero Hedge is an English-language finance blog, claiming to focus on capital markets and securities trading. The website mainly publishes the articles of unknown authors, under the name of Tyler Durden, a fictional character of the novel Fight Club. In 2016, Bloomberg unmasked the men behind Tyler Durden: Colin Lokey, Tim Backshall and Daniel Ivandjiiski, the Bulgarian-born and U.S.-based former investment banker. Zero Hedge frequently releases pro-Putin and pro-Assad articles. In the interview with Bloomberg, Colin Lokey unveiled a certain formula: "Russia=good. Obama=idiot. Bashar al-Assad=benevolent leader. John Kerry= dunce. Vladimir Putin=greatest leader in the history of statecraft."
About Dilyana Gaytandzhieva
Dilyana Gaytandzhieva is a Bulgarian journalist who released an investigative material titled "The Pentagon Bio-Weapons" on an English-language portal South Front on January 16, 2018. The portal is administered from Russia and it is registered on Russian domain, which frequently publishes conspiracy theories about military issues and intelligence. The same material in Russian was published by a web portal Новостной Фронт (News Front), which recognizes the independence of Donbass and notes that the purpose of the edition is to defend the interests of Russian civilization
Before August 2017, Gaytandzhieva worked for a Bulgarian newspaper Труд, where she released an article on July 4, 2017 about the Bulgarian Foreign Ministry allegedly corresponding with the Azerbaijani Embassy to Bulgaria on supplying weapons to terrorists in Syria through diplomatic flights. She also claimed that the United States, Saudi Arabia, the United Arab Emirates, Turkey and other countries were also involved in the process.
The article by Gaytandzhieva was reposted by Bulgarian print media, 80% of which is controlled by pro-Russian oligarch and member of the Bulgarian Parliament, Delyan Peevski. According to the Bulgarian media outlets, the companies affiliated with Delyan Peevski were involved in the construction of the South Stream, a pipeline projectto transport natural gas of the Russian Federation to Europe via Bulgaria, which actually represented an alternative to a Western-backed proposal for a pipeline, called Nabucco. Nabucco would have reduced Europe's dependence on Russian gas.
Before working for Труд newspaper, Gaytandzhieva worked for the fourth most-watched Bulgarian television channel TV7, which was controlled by Tsvetan Vassilev, the main shareholder in Corporate Commercial Bank. In 2013, 9.9% of Corpbank shares were purchased by Russia's largest bank VTB. In 2016, Bulgaria filed a $1.3 billion lawsuit against Tsvetan Vassilev, accusing him of using bank funds to acquire property and other assets that led to a subsequent liquidity crisis at the bank. In 2015, TV7 was taken over by Louvrier Investment Company, managedby Pierre Louvrier. The latter has links to Russian oligarch, Konstantin Malofeev who has been sanctioned by the European Union for his "financial support to separatists" in Eastern Ukraine. Simultaneously, Malofeev owns a conservative TV channel in Russia, Царьград ТВ with Aleksandr Dugin being its editor-in-chief in 2015-2016.
---
About Igor Giorgadze
In 1973-1995, Igor Giorgadze served on various positions in the Soviet security service. From 1980 to 1981 he took part in combat operations in Afghanistan as a member of the KGB Cascade task group. In 1993-1995, he served as the Minister of State Security of Georgia. After the attempt on President Eduard Shevardnadze's life in 1995, Giorgadze left the country. Interpol issued red notice for the ex-security minister on charges of his involvement in assassination attempts. But it dropped charges against Giorgadze in 2016, after he was granted a refugee status by Russia. In Moscow, Igor Giorgadze founded a party Justice and an organization Anti-Soros.
---
Propaganda methods
Creation of simulation evidence. Use of such authentic documents/facts, which create an illusion of the existence of evidence but are actually irrelevant to the accusations for illustration of which this evidence had been used.
---
Conspiracy Theories: platforms exert huge influence on target audience through using conspiracies and pseudo-science. Similar methods promote sowing fear and doubts among the population. Scientific and expert opinions, as well as authentic scientific papers are totally neglected. It is difficult to break through the circle of conspiracies, because the propagandists depict the facts debunking conspiracies as yet another "proof" of conspiracy.
---
Ad nauseam involves continuous repetition of the same idea so often that people start seeing the falsehood as the truth.