In early December, a number of Georgian (1, 2, 3) and Russian (1, 2, 3, 4, 5, 6, 7) Facebook users shared a photo of a billboard from the U.S. The billboard shows a pregnant man with the caption "ALL men have the right to get pregnant. Support reproductive freedom." The users who shared the photo mocked the billboard, and shared anti-Western sentiments, claiming they preferred to restore relations with Russia and preferred North Korea to the U.S.
The billboard shown is part of a series of political ads by Citizens for Sanity, a conservative non-profit founded by former Trump administration official Stephen Miller. It was originally run in the U.S. state of Georgia. The organisation has previously shared a number of misleading or blatantly false claims, and its ad series was run just before the 2022 U.S. elections in an attempt to influence voters.
Citizens for Sanity emerged in 2022 as a non-profit organisation claiming to "return common sense to America, to highlight the importance of logic and reason, and to defeat 'wokeism' and anti-critical thinking ideologies," that threaten the freedoms foundational to the American Dream. They have created a series of campaign billboards and TV ads throughout the U.S. mocking so-called liberal views, as well as targeting democratic politicians.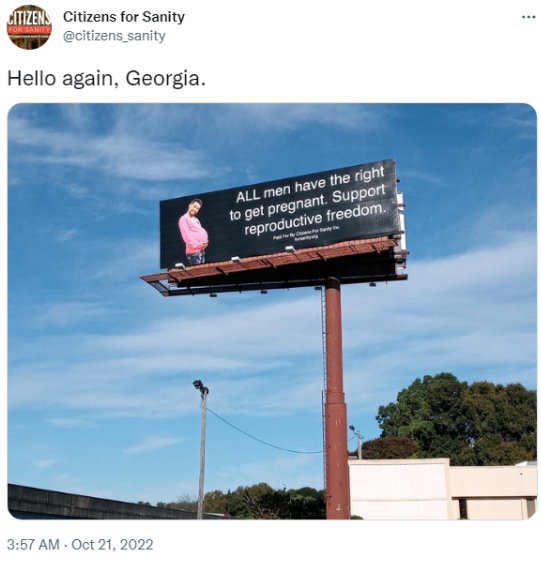 Their ads have repeatedly been called out for misrepresenting the facts, as well as sharing homophobic, transphobic, and racist talking points. For example, Politifact by the Poynter Institute examined an ad by Citizens for Sanity in November that claimed President Joe Biden and the Democratic party "send a fortune to Ukraine but nothing for our children." However, as noted by Politifact, Congress has only approved around $66 billion in assistance to Ukraine since it was invaded by Russia in February, as compared to $482 billion in proposals supporting U.S. children, motions which won the support of only the Democrats in Congress. Similarly, FactCheck.org, a project of The Annenberg Public Policy Center, investigated another Citizens for Sanity ad that claimed "every Senate Democrat voted against deporting criminal illegal immigrants." However, it is an official policy of the Biden administration to prioritise the deportation of immigrants in the country illegally who are convicted of aggravated felonies, and Democrats have consistently supported ICE funding. 
In addition to spreading misleading and false claims, the organisation also has ties to the America First Legal Foundation (AFLF), a group founded by Stephen Miller, a former Trump administration official who has repeatedly been involved in election misinformation. The AFLF aims to challenge the Biden administration's policies in court. According to a report by OpenSecrets, a non-profit organisation that tracks data on campaign finance and lobbying, the Citizens for Sanity's board also includes three former Trump administration officials and AFLF affiliates: Gene Hamilton, John Zadrozny and Ian Prior.
Gene Hamilton is the treasurer for Citizens for Sanity, as well as being the vice president of the AFLF and a former top aide in the Trump administration. He was influential in setting the Trump administration's immigration policy and has strong contacts with many anti-immigrant groups. John Zadrozny is AFLF's deputy director of investigations and formerly served as special assistant to Trump on the White House Domestic Policy Council. He also has strong ties to anti-immigrant groups, and was labelled as a refugee sceptic by Foreign Policy. Finally, Ian Prior serves as a strategic consultant to Citizens for Sanity as well as a senior adviser to the AFLF. He is most known for making critical race theory the focus of the 2021 Virginia election.
---
Alexandra Kuenning
Erasmus CEERES Master's student, Intern at Myth Detector
---
The article has been written in the framework of Facebook's fact-checking program. You can read more about the restrictions that Facebook may impose based on this article via this link. You can find information about appealing or editing our assessment via this link.
Read detailed instructions for editing the article.
Read detailed appeal instructions