On April 30, an article claiming that a Georgian man's blood had been used to treat a COVID-19 patient in one of the hospitals in Germany was disseminated on social media. The information was published by bdd866.creatium.site/saixleyoveldge and included a photo depicting a man, whose blood is being taken. According to the website, the blood was taken from Hubert Kemoklidze, a Georgian man who lives in Germany.
A Facebook user Natia Adamia shared the article from the aforementioned website.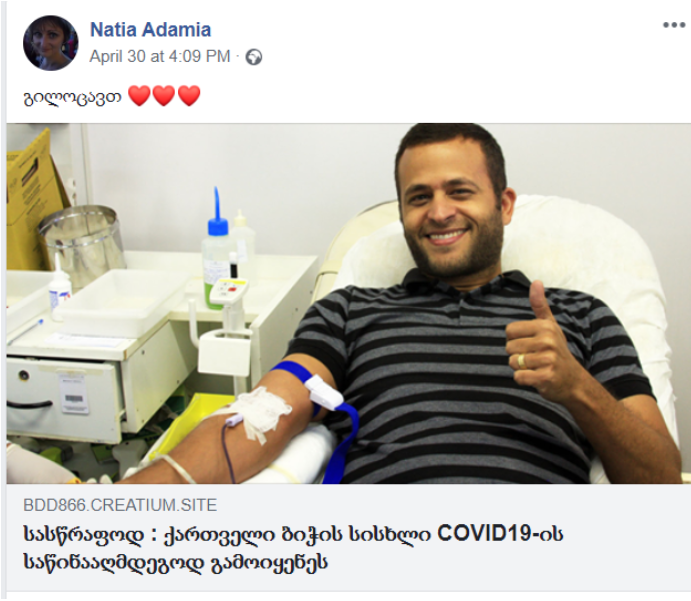 The information on treating coronavirus with the "Georgian man's" blood is fake. The treatment for novel coronavirus does not exist yet, and several countries are developing a vaccine.
Moreover, the photo does not depict a Georgian man. Google Image Search did not confirm that it is Hubert Kemoklidze, a Georgian man living in Germany, on the photo. The photo was used as an illustration of a publication by Pan American Health Organization (PAHO) that reviewed the importance of blood donation and ways to improve it.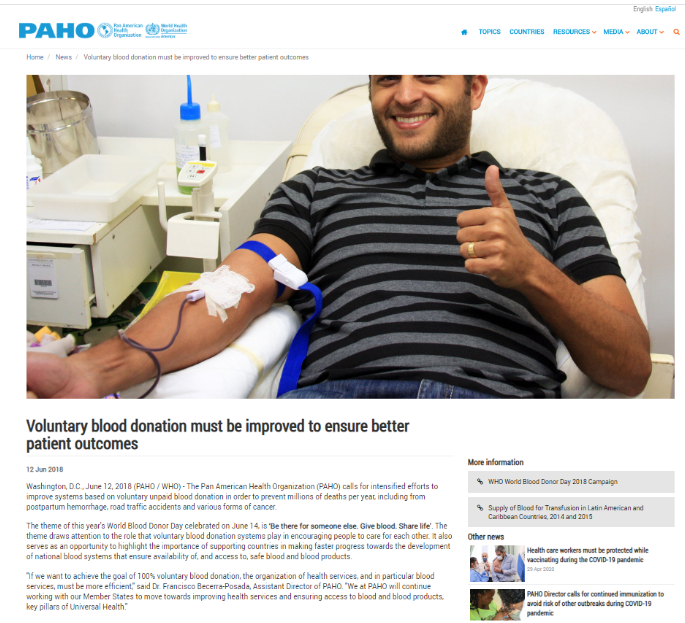 In addition, a city called "ეფლოშტურდი" ("Eploshturd") and a university clinic of "ფლებარი" ("Flebarry"), mentioned by the website, disseminating the fake information, do not exist.
The website that disseminated the information about the "Georgian man's" blood, is clickbait, as can be seen from the advertisement on the website. It has been registered on a Russian portal Creatium.
The Facebook account that disseminated the article – Natia Adamia, is a fake account. The oldest activity on the account dates to March 3, 2020, indicating that the account has been created recently. The profile photo is taken from a user Elena Glazkova, who lives in Moscow.
---
Student of "Fact-Checking and Verification Technique" course at the University of Georgia