On January 5, 2021, Facebook page Georgian Tik-Tokers shared a Russian-language video. The video involves a scenario about how things will develop after the coronavirus vaccine is approved. According to the video, world population will decline to one billion as part of the plan to establish the world government. It also notes that the vaccine will decompose the human internal body system within several months after injection and cause mass mortality worldwide. The video stresses that a real and safe coronavirus vaccine will become available only after the depopulation plan is implemented. According to the same video, coronavirus mutations will be blamed for increased mortality caused by a lethal vaccine. To back up this claim, the video offers a brief fragment from the interviews with Bill Gates, an American business magnate, software developer and philanthropist.
As of 16:00, January 12, 2021, the post published by Georgian Tik-Tokers has 120 shares. The post refers to the video shared by Russian-language Facebook page Радость жизни / The joy of life  on April 24, 2020 as its source.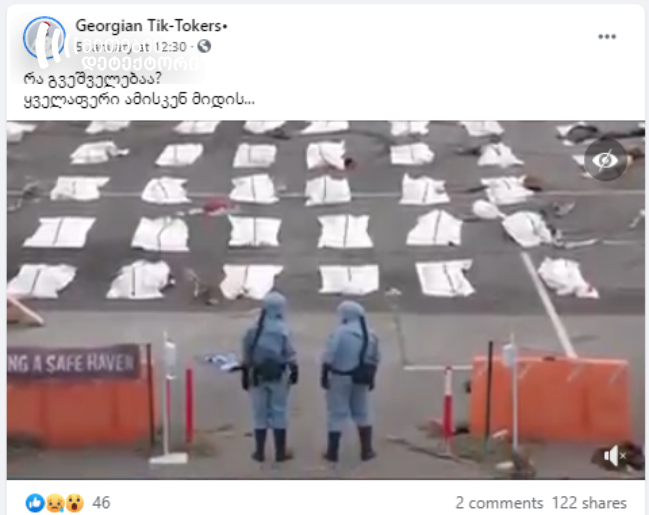 Facebook page Georgian Tik-Tokers actually spreads a conspiracy video. The claims as if people will get a lethal injection instead of the coronavirus vaccine and world population will decline artificially lack evidence. Moreover, a brief footage featuring Bill Gates talking about the new pandemic has been torn out of context and used manipulatively.
A fragment from the interview with Bill Gates has been used manipulatively. In its full version, Gates says nothing about virus mutations and lethal strains.
The claims voiced in the video as if virus mutations and its lethal strains will be blamed for mass mortality are backed up by a brief fragment from the interview with Bill Gates, where a reporter asks Gates how the world will change because of the pandemic. Gates responds that people will take warnings about other pandemics more seriously. This brief fragment from the interview cannot serve as an argument for any conspiracy theory voiced in the video. Gates gave the interview to German Tagesthemen on April 12, 2020 and it has nothing to do with "lethal vaccines," mutated strains and depopulation plans.
In the interview, Bill Gates spoke about global challenges persisting at the initial stage of the coronavirus pandemic, as well as the importance of cooperation. He noted that he warned the world about the possibility of global pandemic and unpreparedness of healthcare systems back in 2015. As for the reporter's question voiced in Georgian Tik-Toker's video, Gates made hopeful predictions about the future:
Bill Gates: "I think, warning about 'let's get ready for the next pandemic' will be taken quite seriously and so, the rapid diagnostics, drugs, vaccines will have their preparedness and the platforms [created during the coronavirus pandemic] would be beneficial to the existing diseases…"
Conspiracy theory: The coronavirus vaccine will cause mass mortality and a safe vaccine will appear only after world population declines to one billion.  
There is no evidence to prove that any COVID-19 vaccine or generally vaccines are lethal injections that will cause mass mortality with time.
This conspiracy theory emerged amid misinterpretation of various public speeches by Bill Gates, where the latter talks about population growth control and the role vaccines play in this process. But in fact, "slowing population growth" does not imply causing mortality artificially through vaccines or drugs. Gates noted that vaccines will become available, child mortality will decline and more children will survive and when more children survive, parents will choose to have a number of children they can support, send them to school and take care about their health. Ultimately, it will become a precondition for overcoming poverty and improving living standards. Moreover, it will reduce birth rates and the speed of world population growth will decrease.
Below we offer Myth Detector's articles about conspiracy theories related to depopulation:
What do we know about safety of the coronavirus vaccines?
In November 2020, three vaccine manufacturers – Pfizer/BioNTech, Moderna and Oxford/AstraZeneca announced about successful completion of phase three clinical trials of the coronavirus vaccine. By the end of phase three clinical trials and after testing the vaccine on tens of thousands of volunteers, RNA-based vaccines manufactured by Pfizer and Moderna showed 95% protection, while the vaccine developed by the University of Oxford under traditional technology – 70% efficacy. From December 2020, several countries, including the United States and the United Kingdom launched the vaccine approval process. A UK citizen became the first person in the world to be given the Pfizer COVID-19 jab on December 8. The first COVID-19 vaccination involving risk groups started in the United States on December 14. Later on December 31, 2020, the World Health Organization issued its first emergency use validation for Pfizer's RNA-based COVID-19 vaccine.
Despite accelerated development, the above listed vaccines went through all necessary phases of trials and showed high efficacy and safety. As for human trials, vaccine safety was tested on thousands of volunteers and none of these vaccines caused serious complications and side effects.   Scientists continue to closely monitor people who have been vaccinated, to quickly identify any potential side effects. Due to safety considerations, anyone who has a severe allergy to any of the Pfizer/BioNTech vaccine ingredients should not receive this vaccine.
The process of vaccination launched in various countries has prompted the spread of disinformation about its side effects and deaths. Below are Myth Detector's articles covering this issue:
---
Archive link: –https://archive.ph/B97lu
---
The article has been written in the framework of Facebook's fact-checking program. You can read more about the restrictions that Facebook may impose based on this article via this link. You can find information about appealing or editing our assessment via this link.
Read detailed instructions for editing the article.
Read detailed appeal instructions.