On May 14, 2017, Politicano's Facebook page published a material, attributing the construction of Chiatura to the Soviet Union.
Politicano: the construction of Chiatura started during the Soviet Union. After discovering the manganese reserves, Chiatura became one of the greenest, beautiful and industrial cities in Georgia.
Politicano's claim is a lie, as the construction of Chiatura started in 1879 through the initiative of Akaki Tsereteli and was connected to the mining of manganese.
1.A German geologist, Herman Abich, initiated the scientific study of the Chiatura's manganese in 1840. In 1845, a Russian "Mountains Journal" was the first to print the information about Chiatura ore, and Herman Abich, in 1858, publishedthe broader study in the same journal.
2.Manganese processing started in Chiatura in 1879, after Akaki Tsereteli's initiative.
Following his interest in the ore of Chuatura, Akaki Tsereteli submitted samples of manganese and Tkibulis's coal to European countries and Russia and in 1879, representative of Friedrich Krupp's factory, Gutehoffnungshütte iron mines in Westphalia and trading house "Wachter & Co." of Peterburg visited Chiatura. Society "Imereti" was also participating in the mining process.
A Georgian writer and a public figure, Giorgi Tseretei, wrotethat Georgian "black stone" was being exported to the European market with Tsereteli's franchise:
Giorgi Tsereteli: "It was our poet, Akaki Tsereteli, who initially started the production of black stone… He sent it to Europe and Russia. The first shipment of the black stone that went to Europe had his name on it."
According to Forbes Georgia, Germany was the biggest importer of Chiatura's ore until 1914, with a 43% share of export falling on it; Engand's share of Georgian export was 23%, Belgium – 14%, USA – 6% and France – 5%.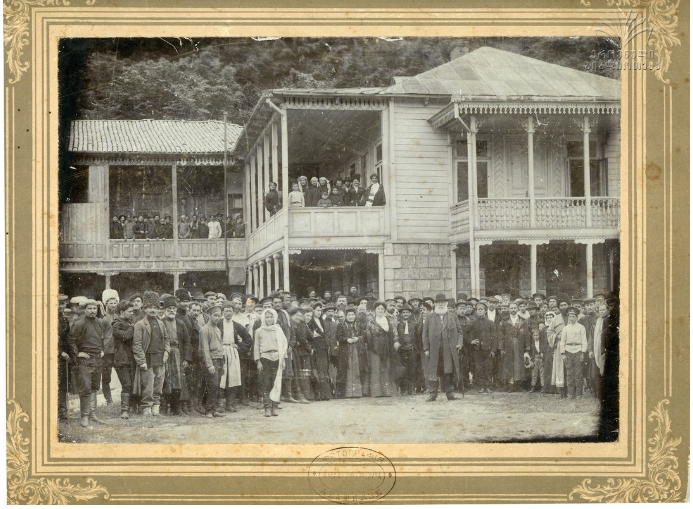 Akaki Tsereteli in Chiatura, 1912. Source: National Library.
3.Construction of Chiatura began in 1879, in parallel with the development of mining.
Together with the development of Chiatura's ore and exporting the manganese, the construction of Chiatura was launched. In 1895, the construction of Chiatura's railway ended and it got connected to the main South Caucasus railway. By the end of the 19th century, up to 6,000 people were working in Chiatura. According to Forbes, manganese accounted for 50% of all the exports in the world, which, in turn, constituted a 75% share of the ore extracted in Russia.
In 1894, a drama theatre was built in Chiatura, which had a permanent troupe since 1910.
Therefore, Politicano's statement about Chiatura's constructions being launched during the Soviet Union, is a lie.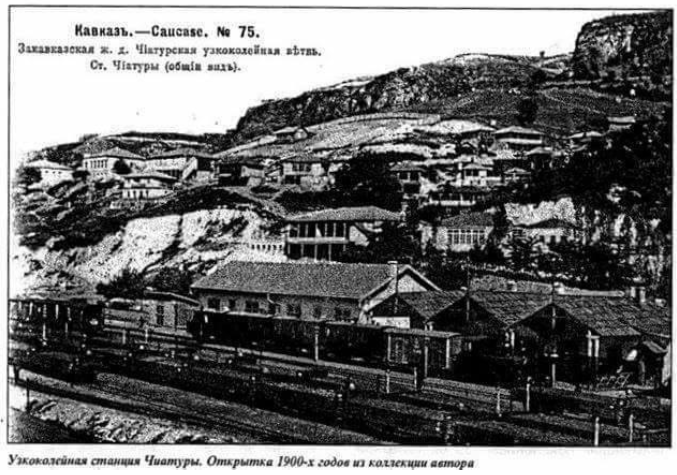 Chiatura Railway. Postcard from 1900's.
Chiatura – Miners.
Photo: Davit Abashidze (1865 – 1922)
Source: National Library
---
Caricature by Sopo Kirtadze