On April 30, a Facebook profile named "Samkaro Samkaro" published four photos with the following comment: "Who to take where, politics is politics and friendship is friendship". All four photos depict the founder of the terrorist organization Al-Qaeda, Osama Bin Laden. The first photo is of him with Condoleezza Rice, the U.S. secretary of state in 2005-2009. The second photo shows a well-known American politician and the U.S. secretary of state in 2009-2013, Hilary Clinton. The third photo depicts Osama Bin Laden and an individual called Tim Osman side by side, which presumably stresses that their visuals are similar. The fourth photo depicts American political scientist and U.S National Security Adviser in 1977-1981, Zbigniew Brzezinski together with an unknown male who is written to be Osama Bin Laden.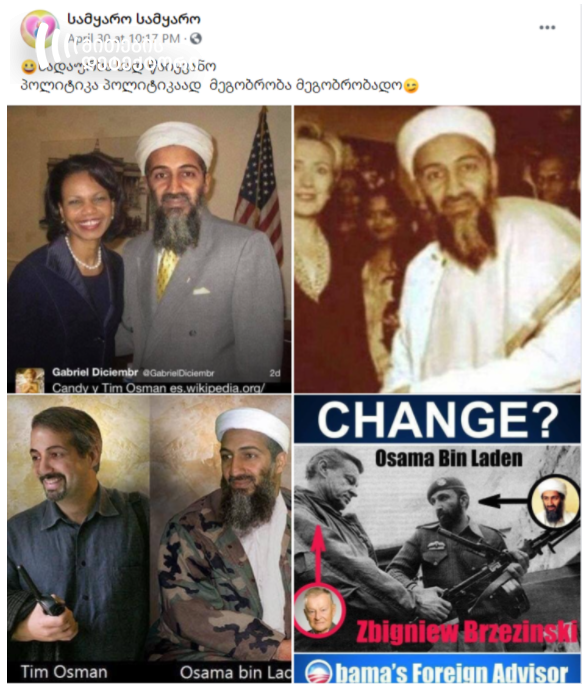 All four photos disseminated by "Samkaro Samkaro" are fake: 1) Bin Laden has never met Condoleezza Rice and Hilary Clinton; photos have been edited in a program. 2) There is no evidence that Bin Laden is Tim Osman and served as a CIA agent; 3) Male depicted together with Zbigniew Brzezinski is a warrior of the Army of Pakistan, not Bin Laden, who was not enlisted in the Pakistan Army in 1980. 
Georgia was not the only country where false information was widely disseminated using this photo evidence. Identical photos can also be found in Arab, Turkish, Russian, and English language webpages.
Photo #1
Condoleezza Rice's appearance with Bin Laden is connected to the 2007 April Fool's joke and Photoshop contest "April Fool's Day". The photo was made for the webpage "Freaking news" and is not real.
Photo of Condoleezza Rice and Osama Bin Laden was also fact-checked by Reuters and Snopes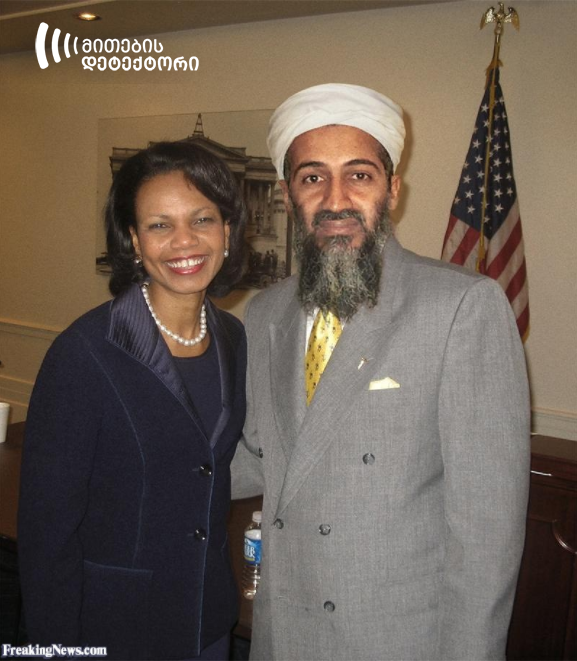 Besides the edited photo of Osama Bin Laden and Condoleezza Rice, other photos related to April 1st joke were also disseminated on FreakingNews.com. For instance, photoshopped People's cover alleging that Paris Hilton joined a convent.

Photo #2
The second photo was also made for the Photoshop contest in 2007.
The original photo of Clinton and Indian musician Shubhashish Mukherjee was taken in 2004 at the annual dinner of the Asia Society Washington Center.

Bin Laden was photoshopped from the following photo: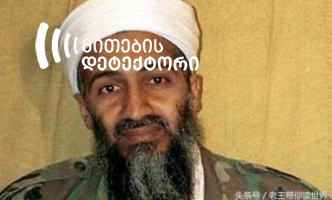 For a long time, an edited photo of Bin Laden and Clinton has been used as a "black PR" against Hilary Clinton alleging that she hosted Al-Qaeda in the White House. This campaign was particularly active during the 2016 presidential elections when Hilary Clinton raced against Donald Trump. The photo was well-utilized during the campaign in the state of Texas. The phrase "Hillary stay away from Texas" was disseminated together with the photoshopped image of Bin Laden and Clinton. Following the Facebook investigation in 2016, the page "Heart of Texas" disseminating the calling was removed alongside 470 other accounts that trace back to Petersburg's Troll Factory. Pages worked on creating islamophobic and racist content.


Source:inquirer.com
The photo also went viral on Russian Twitter accounts. It is worth mentioning that in 2017, Russian Foreign Affairs Ministry Spokeswoman Maria Zakharova commented on the photo during her talk about the U.S government and its lobbying activities on Russian state television: "Recall these fantastic, mind-boggling photographs of how Bin Laden was hosted in the White House."
The photo was fact-checked in Afghan and Pakistani media, as well as PolitFact of Poynter Institute and other fact-checking organizations.
Photo #3
The third photo was utilized as evidence for Bin Laden's alleged cooperation with the U.S Central Intelligence Agency (CIA) under the name of Tim Osman.

Conspiracy webpages disseminate edited photo of Osama Bin Laden under the name of Tim Osman.
Even though the U.S aided Afghan Mujahideen through the Pakistani Inter-Services Intelligence Agency during the Soviet-Afghan war, the CIA had no dealings with "Afghan Arabs". Claim alleging that the CIA funded or armed Bin Laden is a myth and there is no evidence that the U.S even knew who he was until 1993.
Photo #4
Photo claimed to have Osama Bin Laden next to Zbigniew Brzezinski is actually a warrior of the Army of Pakistan, whereas Bin Laden was not a member of the Army of Pakistan by the time photo was taken in 1980.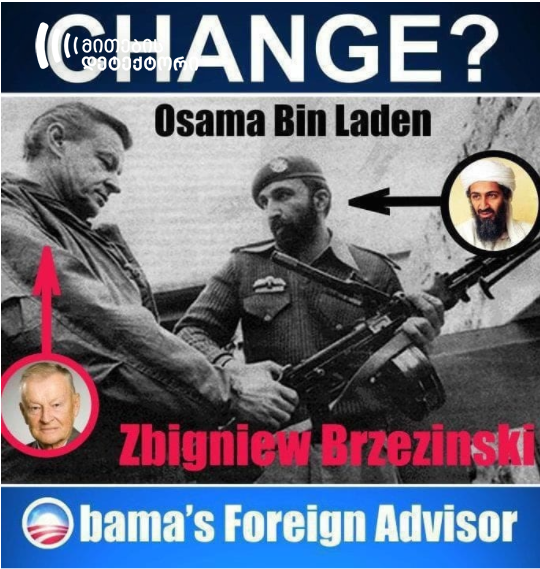 The photo has been previously fact-checked by "Myth Detector". See detailed information in the publication:
---
The article has been written in the framework of Facebook's fact-checking program. You can read more about the restrictions that Facebook may impose based on this article via this link. You can find information about appealing or editing our assessment via this link.
Read detailed instructions for editing the article.
Read detailed appeal instructions.