On October 28, Levan Khidisheli, who is affiliated with the Georgian March movement, posted on his Facebook page a photo depicting a man, who as he claimed, was a Georgian citizen beaten to death just for stealing a jacket in Turkey. The post was accompanied by Turkophobic calls with a hashtag "Turkey is our enemy."
Judging by the backdrop, the photo must have been taken outside Ozsa Hotel at Zeynep Kamil Street in Istanbul. To verify the reports, the Myth Detector contacted the administrations of Ozsa Hotel and its adjacent Berlin Hotel. The administration of the latter rejected Georgian media reports and noted that the photo actually depicts a Turkish citizen, who jumped from the 3rd floor of the hotel. The administration of Ozsa Hotel was reluctant to talk about suicide attempt, but rejected reports on the death of Georgian citizen outside their hotel.
Berlin Hotel administration: "We know what you are talking about. A Georgian woman was staying in our hotel just at that time and she told us about the reports disseminated in Georgia, according to which a Georgian man has died. But this man was ethnic Turk, a citizen of Turkey. He had mental problems and he jumped from the 3rd floor of Ozsa Hotel."

Ozsa Hotel administration: "Nobody has beaten a Georgian. We love Georgian people and frequently host Georgian guests at our hotel."
In its written comments to the Myth Detector, the Turkish Embassy to Georgia condemned the reports disseminated in social networks as "false." It also called on media outlets to verify reports at the Turkish Embassy to Georgia or the Georgian Embassy to Ankara before releasing similar materials.
On October 28, Veysel Minigol, a Turkish-based user, wrote on his Facebook page that a young man jumped from the 3rd floor of the hotel at Zeynep Kamil Street in Istanbul. The location of the photos posted by the user is similar to the location of the photos disseminated by Levan Khidisheli and Georgian media outlets.
Fake news dissemination scheme
Various interested persons frequently use social networks to disseminate fake news. In this particular case, dissemination of disinformation has caused stirring up Turkophobic sentiments on Facebook; on the other hand, various news agencies reposted the same news without verification, thus promoting its legitimation.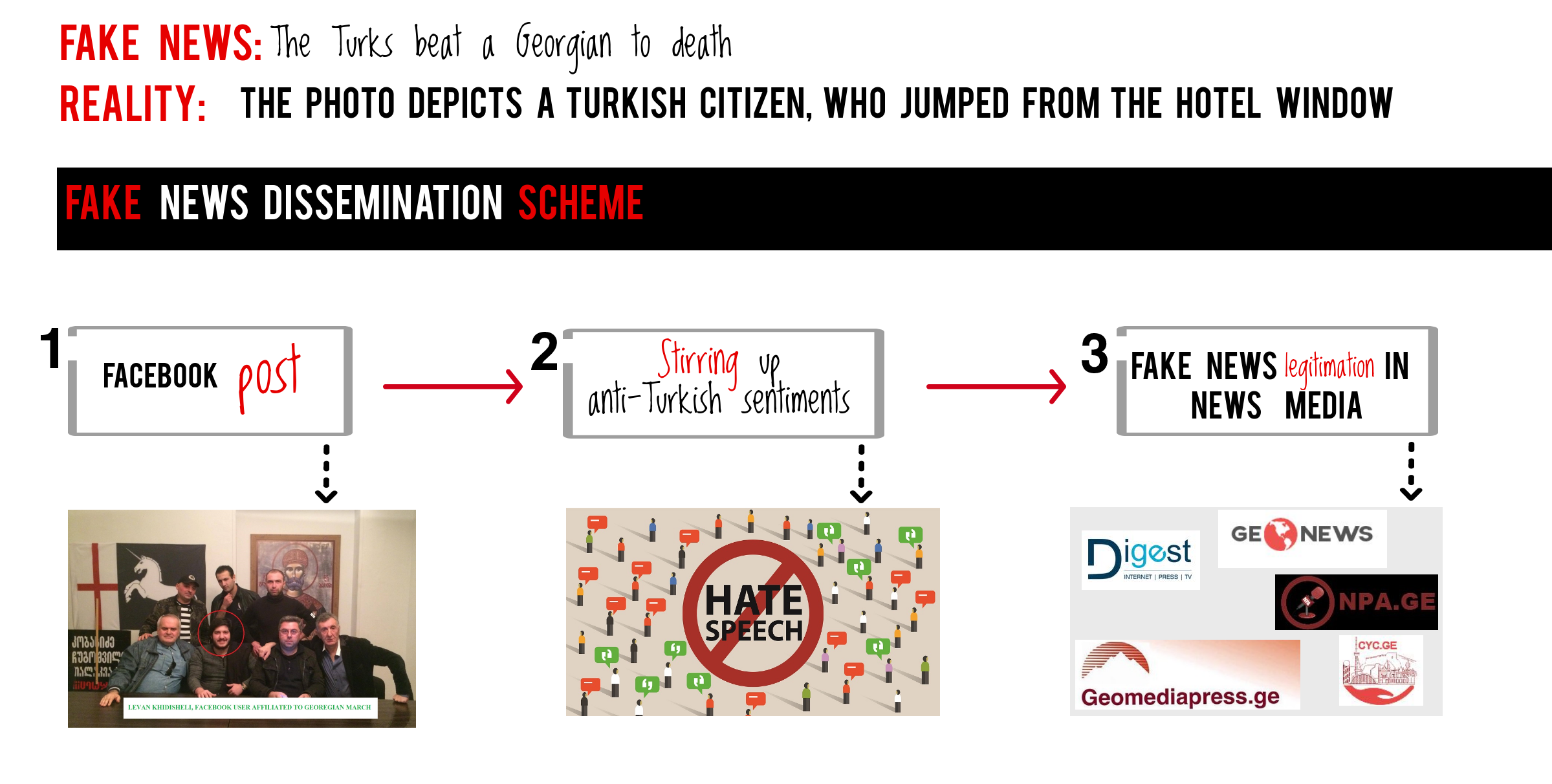 1. Initially, fake news was posted by Levan Khidisheli, who is affiliated with the Georgian March movement, on his Facebook page on October 28.
2. Later, Facebook user, Levan Khidisheli deleted the photo from his page; however, the post became the source of discontent and hate comments in the social network.
3. The fake news was reposted without verification by digest.pia.ge, alia.ge, geonews.ge, geomediapress.ge and cyc.ge on October 28, as well as npa.ge on October 29. By this, they promoted the legitimation of unverified reports. Alia was the only media outlet that refuted the fake story on October 30; however, the old material can still be searched on the Internet.