On February 24th, 2022, the Facebook page "Cardhu" published a photo showcasing a tank. The description of the photo indicated that Russian tanks had appeared on the outskirts of Kyiv.
The photo published by "Cardhu" was taken not on the outskirts of Kyiv, but in Donetsk on February 22nd, after Vladimir Putin ordered the deployment of Russian troops in Donbas and Lugansk.
The photo was taken on February 22nd, two days before Russia launched the full-scale military attack against Ukraine. In fact, the photo was shot in Donbas. The photo was taken after Russian President Vladimir Putin recognized the independence of the two breakaway regions of Eastern Ukraine and ordered the deployment of Russian troops in those regions.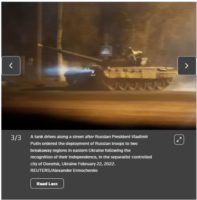 The post creates the impression that Russian tanks are stationed directly near the Ukrainian capital, which was not confirmed at the time the post got published. During the day, it was reported that Russian troops had invaded the Kyiv District. According to CNN, the Russian forces were able to capture Antonov Airport near Kyiv. However, information that Russian troops entered the territory of the Ukrainian capital has not been confirmed yet.
For more information about the local stream of disinformation around the Russia-Ukrainian conflict, see the following materials:
---
The article has been written in the framework of Facebook's fact-checking program. You can read more about the restrictions that Facebook may impose based on this article via this link. You can find information about appealing or editing our assessment via this link.
Read detailed instructions for editing the article.
Read detailed appeal instructions.