On September 24th, the Facebook account "Georgian Emigrant" published a screenshot of "TV Imedi's" post, stating that "Imedi" has acquired exclusive information that the lady who made Gakharia taste cocaine for the first time is none other than the current President of Georgia, Salome Zurabichvili.
As of 14:00, September 24th, the post has accumulated 56 shares.

The screenshot published by "Georgian Emigrant" is fabricated. Similar information can be found neither on the website nor on the Facebook page of 'Imedi TV." The information campaign on cocaine use by Gakharia was initiated by the ruling party during the local self-government elections, although the author of this fabricated screenshot is a profile related to the United National Movement.
The information that Salome Zurabichvili made Gakharia taste cocaine for the first time cannot be found on "Imedi's" Facebook page or the TV Company's website. Within the last 24 hours, the Facebook page of 'Imedi' published two pieces of information on cocaine use allegations on Giorgi Gakharia, the former Prime Minister and leader of for Georgia party. In particular, on September 24th, in the program "Imedi-LIVE," Irakli Kobakhidze, the chairman of the Georgian Dream party, stated that Giorgi Gakharia tasted cocaine for the first time through the encouragement of a woman and that he had problems since then..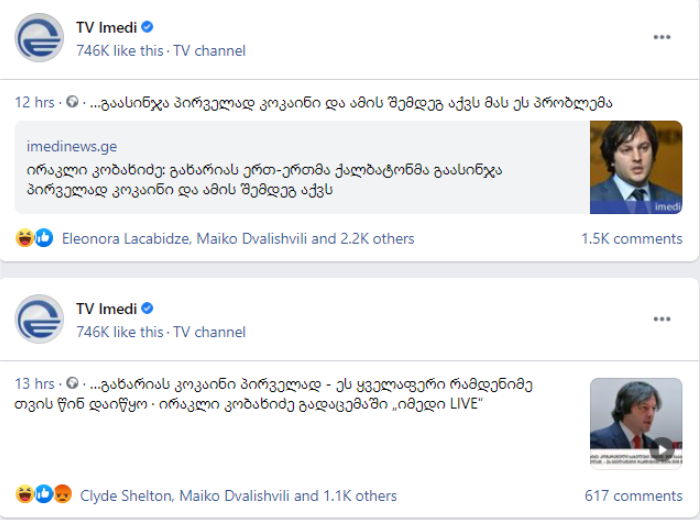 The issue of drug consumption in the 2021 local self-government elections became topical after Kakhi Kaladze, the Tbilisi mayoral candidate of the ruling "Georgian Dream" party, conducted a drug screening and called on his rivals to do the same. In response, former Prime Minister and the current Tbilisi mayoral candidate Giorgi Gakharia said he did not want to embarrass the local forensics and would conduct the screening in a foreign laboratory.
On September 17th, Gakharia published the results of his drug screening conducted at the "Rudolfenhaus" hospital in Vienna, stating that the use of drugs has not been confirmed. However, the state media tried to question Gakharia's credibility in conducting a drug test, and the "Georgian Dream" representatives repeatedly accentuated Gakharia's drug addiction in public pre-election debates.
About the Source
The Facebook account "Georgian Emigrant" primarily publishes content supporting the "United National Movement" and the former President of Georgia, Mikheil Saakashvili. The same account contains satirical posts about the members of the "Georgian Dream."

---
The article has been written in the framework of Facebook's fact-checking program. You can read more about the restrictions that Facebook may impose based on this article via this link. You can find information about appealing or editing our assessment via this link.
Read detailed instructions for editing the article.
Read detailed appeal instructions.