On February 26th, 2023, the propaganda media outlet mk.ru, as well as the Georgian and Russian-language social media users (1,3) have been circulating the screenshot of the Russian-language service of "Radio Liberty". According to the caption, US Deputy Secretary of State Victoria Nuland said: "Zelenskyy's widow will be able to get US citizenship in an accelerated format."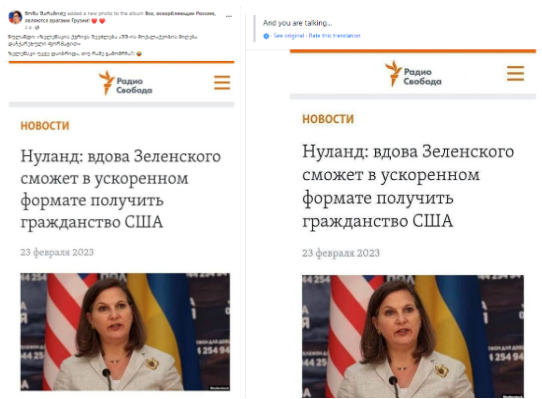 The screenshot disseminated in the name of "Radio Liberty" is fabricated. "Myth Detector" contacted the Russian-language service of the publication, which denied the fact of publishing such information. The information that Victoria Nuland made a statement about the citizenship of Zelenskyy's widow is not found in open sources either.
"Myth Detector" contacted the Russian-language service of Radio Liberty. According to their information, the publication has nothing to do with the distributed screenshot.
Notably, February 23 is indicated as the date on the screenshot. On this day, Victoria Nuland's statement was indeed published on the "Radio Liberty" website, although with a different photo and different content. Nuland was talking about additional aid provided by the US to Ukraine.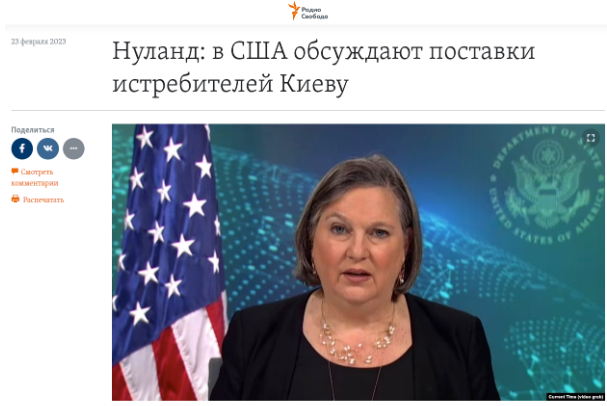 Nuland's photo, which is used in the fabricated screenshot, was also published on the Russian-language website of Radio Liberty on February 17th, along with a statement with a different content. This time, the representative of the US State Department was talking about Ukraine's attack on Russian military facilities in Crimea.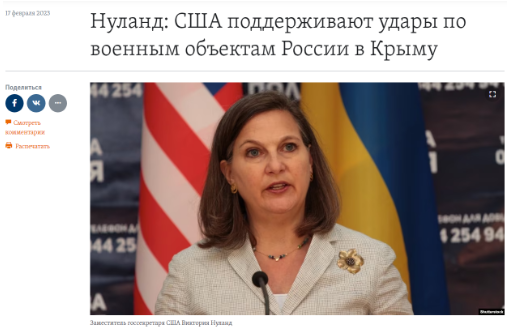 Victoria Nuland's statement that Zelensky's widow will be granted US citizenship in an accelerated manner cannot be found in open sources.
Facebook user Nona Sharabidze, who published the false information in the Georgian language, is a repeated spreader of disinformation. For more information on the user, see the articles prepared by "Myth Detector:"
---
The article has been written in the framework of Facebook's fact-checking program. You can read more about the restrictions that Facebook may impose based on this article via this link. You can find information about appealing or editing our assessment via this link.
Read detailed instructions for editing the article.
Read detailed appeal instructions.