On November 16, the Facebook page "Altnews" of the pro-Kremlin TV channel "Alt-Info," and Shota Martinenko, one of the leaders of the pro-Kremlin "Conservative Movement" party, published a caricature claiming to be the November 16 issue of the satirical magazine "Charlie Hebdo". The authors note that the magazine created the caricature in connection with the Ukrainian missile that fell on the territory of Poland.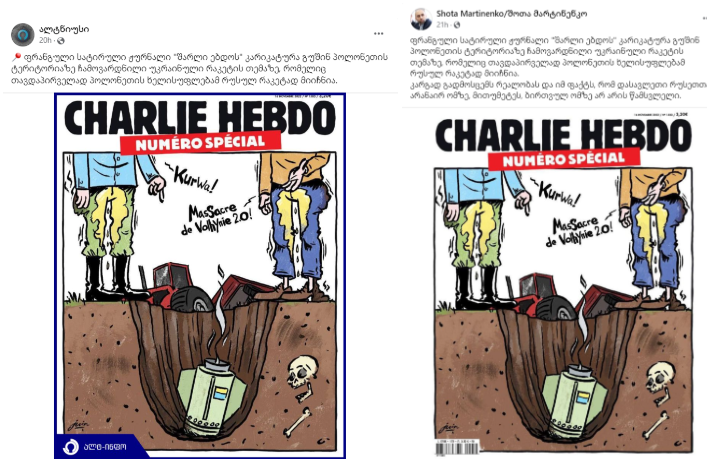 The disseminated caricature is fabricated and does not belong to Charles Hebdo. The cover of the November 16 issue of the satirical magazine is, in fact, not about the current events in Ukraine and its visuals are different.
Neither on the official Twitter and Facebook pages of "Charlie Hebdo," nor on its website can one find a cover which refers to the topic of the missile that fell in Poland.
The circulating caricature, which is, in fact, fabricated, features the date November 16, 2022, in the upper right corner. Notably, the November 16 cover actually looks different and has nothing to do with Ukraine.
The fabricated cover shows an inscription "Volyn Massacre 2.0", thus, the fall of the rocket on Polish territory is connected with the Volyn tragedy in Poland during World War II. Poland recognizes the Volyn events as genocide and claims that Ukrainian nationalists killed 100,000 Poles in 1943-1945. Such a comparison serves to fuel anti-Ukrainian sentiments and stir up historical trauma.
As for the missile that fell on the territory of Poland on November 15, according to the statements of the leaders of NATO and Poland, the rocket that fell in Poland was probably fired by Ukraine at the time when the Ukrainian air defence system was repelling the Russian missile attack.
Fabricated Covers of Charlie Hebdo magazine have been verified by "Myth Detector" in the past as well. For more information, see our articles:
---
The article has been written in the framework of Facebook's fact-checking program. You can read more about the restrictions that Facebook may impose based on this article via this link. You can find information about appealing or editing our assessment via this link.
Read detailed instructions for editing the article.
Read detailed appeal instructions.