Margarita Simonyan, Editor-in-Chief of Russia Today, declared on Twitter on April 26 that a resource funded by the United States Congress predispose Muslims of North Caucasus against her. In addition, Simonyan posted on May 1 on Telegram a comparison of photos showing the broadcast of Russia Today and the Reuters. The first photo showed a Venezuelan demonstration, while the second one showed a boulevard in Paris. According to Simonyan while her channel shows the demonstrations supporting Maduro in Venezuela, Reuters is only limited to Paris events.
Margarita Simonyan: "The US-funded resource calls on Caucasian men to teach me a lesson so that I take back my words that I wish to preserve Russia as a multiconfessional country, peace of which is guaranteed by the Russian Orthodox majority."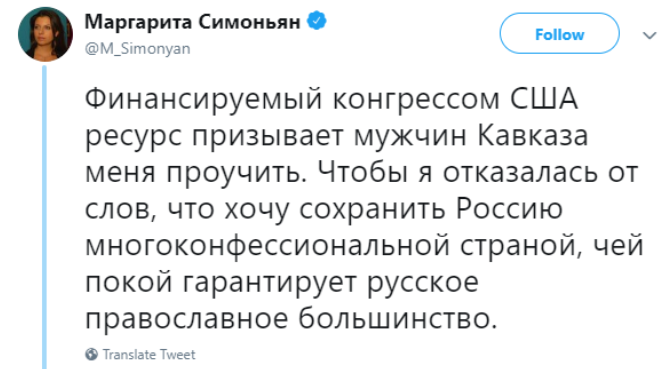 Margarita Simonyan: "We show a rally supporting Maduro in Caracas and Reuters shows a green boulevard.
The information spread by RT editor Margarita Simonyan, as if a resource funded by the US Congress, calls on Russian Muslims to punish Margarita Simonyan, is manipulative. A journalist of Radio Liberty has posted a critical statement on his personal Facebook account and it does not express either the position of Radio Liberty or that of the US Congress, especially. As for the Reuters' broadcasting policy, they covered a rally in Venezuela on April 30 and after temporarily broadcasting Paris demonstrations on May 1, they resumed showing the rally in support of Maduro.
Who is the journalist of Radio Liberty and what kind of post did he publish on his personal account?
Ramazan Alpaut is a Radio Liberty correspondent from Tatar-Bashkir Service. On April 25, he posted a comment in response to the statement by Margarita Simonyan, the Editor-in-Chief of RT, on granting citizenship to ethnic Russians:
"I believe that North Caucasian activists should force Margarita Simonyan to take her words back and apologize for setting the ethnic majority on Muslims and channeling aggression towards them. This is the case when you have to show how much of men you really are. "
Which statement, made by Margarita Simonyan, Editor-in-Chief of Russia Today, led to the outrage of Radio Liberty journalist?
Margarita Simonyan stated that she supports the decision by Vladimir Putin, on granting citizenship to residents of the breakaway republics of Donetsk and Lugansk. Simonyan mentioned that she welcomes this decision and more – all ethnic Russians should be granted Russian citizenship. According to Simonyan, "Russia welcomes home the people of common culture, history, language and past" and that it is vital for the country, because "if we change nothing, Russia will become a Muslim country in the future".
Radio Liberty Journalist Ramazan Alpaut's statement is not an official media position.
The journalist published the above-mentioned post on his personal account, but according to Radio Liberty, this type of emotional message was a violation of their editorial policy, so they reacted quickly by asking the author to delete the post from Facebook. Radio Liberty commented on this fact:
"Ramazan Alpaut's post published on his personal account, in which he expresses his position on RT editor Margarita Simonyan, in relation to granting citizenship to ethnic Russians, is contradicting the editorial policy of Radio Liberty according to which journalists are required to remain balanced and objective. Ramazan Alpaut removed the post following to the decision of the editorial board."
What did Reuters broadcast in live on May 1?
Reuters was broadcasting live from 7 A.M. on May 1 not just a green boulevard, but also a protest rally in the streets of Paris, which turned into an act of violence. On April 30, Reuters covered the ongoing events in Caracas and resumed its broadcast on May 1 at 12 A.M. Polygraph.info published a rendition of a rally in Venezuela.
---
Prepared by Maiko Ratiani
Myth Detector Lab