On September 13, Levan Chachua, chairman of Georgian Idea public movement, published a post on his Facebook page about the coronavirus vaccines. Chachua claims that the United Nations Children's Fund (UNICEF) is involved in the purchase of vaccines to ensure that children in Georgia are subject to mandatory vaccination. Chachua notes that vaccination has been imposed by the government and UNICEF supports it through regulating logistical issues. Levan Chachua plans to hold a rally outside the UN Office in Tbilisi and demand UNICEF's expulsion from Georgia. A day later, on September 14, an identical post was published by zneoba.ge, Stalin and Georgian Idea's website; the latter's article is accompanied by the photo depicting Bill Gates.
As of 11:30 on September 15, Levan Chachua's post has 911 shares. Facebook page "საქართველო უპირველეს ყოვლისა (Georgia First of All)" is among those pages that have shared the post. In total, the post has been shared in 12 Facebook groups for 16 times.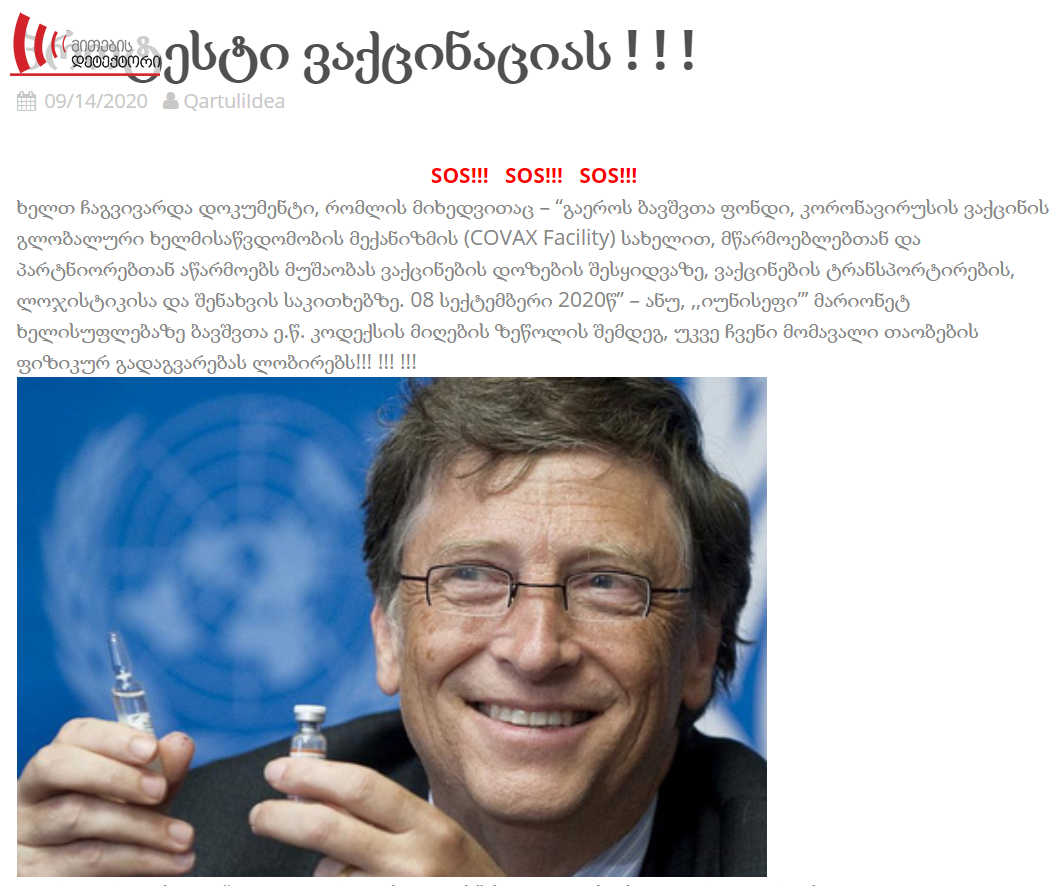 The document (COVAX Facility) Chachua claims to have obtained is publicly available. UNICEF does not promote mandatory vaccination, but rather ensures global equitable access to COVID-19 vaccines for all countries regardless of their incomes. Georgia joined the program upon its own initiative. Thus, any claims that vaccination has been imposed by UNICEF and it is mandatory represent disinformation. Moreover, vaccines will be supplied only after they are proven effective and safe. 
Why is UNICEF involved in the procurement of COVID-19 vaccines? 
The United Nations Children's Fund (UNICEF) is involved in the global vaccine procurement and supply process on behalf of COVID-19 Vaccine Global Access Facility (COVAX facility). This information is public and UNICEF's role in the program is also clarified. It will lead efforts to procure and supply doses of COVID-19 vaccines for 92 low- and lower middle-income countries. UNICEF will undertake these efforts in close collaboration with the World Health Organization (WHO).
UNICEF's initiative aims to guarantee fair and equitable access for every country in the world, regardless of their incomes, to ensure that their response to the pandemic is effective. It is worth noting that this initiative has not been imposed on various countries; further, vaccination is not mandatory and countries voluntarily join the COVID-19 Vaccine Global Access Facility.
The Gavi Board approved 92 low- and middle-income countries and economies, which will be able to access vaccines through the COVAX Advance Market Commitment (AMC), which will also cover at least part of the cost. Georgia, however, is not on the list. The list of 92 AMC-eligible economies includes all economies with Gross National Income (GNI) per capita under US$ 4,000. Georgia's GNI is slightly more – US$ 4,740. Besides these 92 countries, other 80 potentially self-financing countries also expressed interest in the Gavi COVAX. Amiran Gamkrelidze, director of the Georgian National Center for Disease Control and Public Health, said that Georgia sent an official application to Gavi regarding the purchase of about 700,000 vaccines.
The World Health Organization will determine how UNICEF and other purchasers will supply COVID-19 vaccines to the participating nations. Initial dose allocations are expected to be scaled to enable countries to vaccinate health and social workers, followed by subsequent tranches of vaccine doses that would enable participating countries to vaccinate populations at higher risk of critical COVID-19 disease.
COVAX Facility works to ensure fair distribution of vaccine doses. But it does not mean that vaccines are ready and their supplies to various countries have begun. Manufacturers note that large-scale production depends on the success of clinical trials, whereas UNICEF will start supplies as soon as the vaccine is proven safe.
Speculations related to vaccination are widely circulating and some messages are being spread as if the coronavirus vaccine will not be safe, but still vaccination will be mandatory. In fact, vaccine testing is underway through observance of all rules and only Russia and China have approved vaccines without waiting for the results of Phase 3 trials. So, these vaccines are not internationally recognized due to the two countries' decision to neglect the WHO procedures.
As of September 15, scientists are testing 38 vaccines in clinical trials and 93 preclinical vaccines are under active investigation in animals. So, it depends on the results of clinical studies when the coronavirus vaccine will be brought to market.
About the sources
The sources spreading disinformation on vaccination, among them Levan Chachua, Georgian Idea's website, Facebook pages "Georgia First of All" and zneoba.ge are interlinked, showing that anti-vax fake news are spread in a coordinated manner.
Levan Chachua is the chairman of Georgian Idea public movement. The latter frequently spreads news articles containing disinformation and manipulations. Levan Chachua himself is known for his homophobic and anti-Western statements. He is closely cooperating with pro-Kremlin actors, in particular the organizations supported by the Russian World Foundation that are involved in organizing Immortal Regiment's events.
Facebook page "Georgia First of All" was created on February 23, 2019. It is a propagandistic and antiliberal page, sharing the narratives spread by Levan Chachua and Guram Palavandishvili, organizer of homophobic rallies. The page was also involved in the campaign of discrediting protests against the Parliament's decision to vote down the constitutional amendment on transition to fully proportional electoral system. The campaign was disclosed by Media Development Foundation in its December 2019 report.
As for zneoba.ge, its Facebook page was created on April 29, 2020 and it mainly shares the posts by Levan Chachua and Director of Georgian-Russian Public Center, Dimitri Lortkipanidze. Zneoba.ge publishes content against UNICEF, vaccination and the Code on the Rights of the Child.
Below are Myth Detector's earlier publications about vaccination: