On July 5th, the Facebook page of "TV Akhali" published a post, which included a screenshot in German and the following description in Georgian: "Austrian Media about the Georgian Hell – Austrians demand the EU to stop the financial support to Georgia."
The post was accompanied by the ZIB logo and has accumulated 47 Likes, 17 Shares and 43 comments, most of which project anti-Western sentiments by accentuating the positive sides of the termination of the EU funding in Georgia.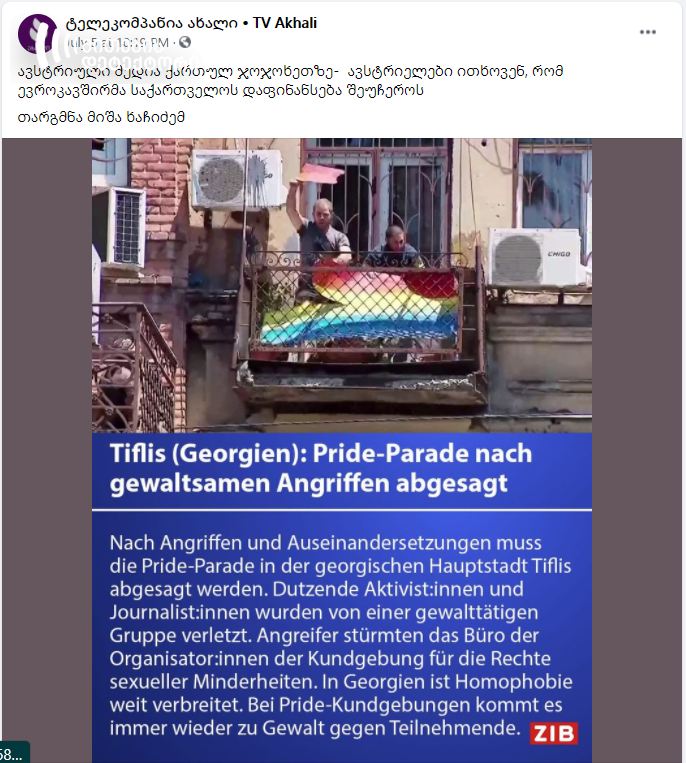 The post shared by "TV Akhali" indeed concerns the Austrian publication "Zeit im Bild (ZIB); however, the Georgian description accompanying it is false. The post by ZIB only discusses the events of 2021 Tbilisi pride and emphasizes the rights of the LGBTQ+ community in Georgia.
The post does not entail any information regarding the demands of Austrians to stop the EU funding in Georgia.

As for the statement made by ZIB regarding Tbilisi Pride, the agency stressed the following:
"After a series of attacks and confrontations, the cancellation of the planned "March for Dignity" has become inevitable in the capital of Georgia. A number of activists and journalists have suffered injuries because of the actions of violent groups. The attackers have infiltrated the office of the organizers for the rally, which was aimed at protecting the rights of sexual minorities. Homophobia is quite rampant in Georgia, while the violence against the pro-LGBT demonstrators is constant."
The ZIB did not publish the post anywhere but its Facebook and Instagram accounts. As mentioned, in contrast to the translation provided by the "TV Akhali", the social media pages of ZIB do not mention anything about the demand for the termination of the EU funding in Georgia. Out of 738 comments made under the Facebook post, only one account demands the termination of the EU funding in Georgia. Nonetheless, the comment was made by a regular user who had nothing to do with the editorial policy of ZIB.
---
Myth Detector Lab
---
The article has been written in the framework of Facebook's fact-checking program. You can read more about the restrictions that Facebook may impose based on this article via this link. You can find information about appealing or editing our assessment via this link.
Read detailed instructions for editing the article.
Read detailed appeal instructions.