On April 2, Facebook page of a clickbait website wnews.ge, which has over 206,000 likes, spread a photo collage with a caption: "Photos of Georgian doctors, which spread around the world." Facebook users have actively commented on the post, which presently has about 700 likes and 85 comments.
On April 4, the same photo collage was published by Facebook page ""კარდჰუ" and a website tvalsazrisi.ge. As its source of information, tvalsazrisi.ge uses the photo uploaded by former President of Ingushetia Ruslan Aushev (1993-2001) on his Facebook page. In his post, Ruslan Aushev praises Georgian doctors for their dedication. The post has over 6,000 shares and over 2,000 comments.
In fact, not a single photo from the photo collage depicts the situation at Georgian medical institutions and some of them even have nothing to do with the novel coronavirus. The collage consists of six independent photos, which were taken at various places of the world at different times.
Photo No.1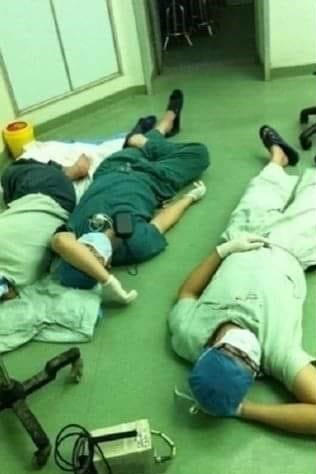 The first photo, which depicts the doctors lying on the hospital floor, has been spread by a number of media outlets with different captions and in different contexts.
Photo No.1 was published on supchina.com on December 17, 2018 with a caption: "Surgeon dies from working too much, exposing overwork culture among Chinese doctors." The article is about a Chinese doctor from Anhui Province, who reportedly died on December 16, 2017, at age 31, on his shift at the hospital due to constant overwork. However, the photo accompanying the article can also be searched on TinEye, reverse image search engine, in 2014. The primary source of the photo is unknown; however, it has been mainly uploaded on Chinese websites and social networks and has apparently been taken in China. Since the photo first emerged in 2014, it has nothing to do with the novel coronavirus.
Photo No.4
The article published by supchina.com also involves another image alongside the above mentioned photo, which is No. 4 photo in the collage spread by Georgian Facebook pages.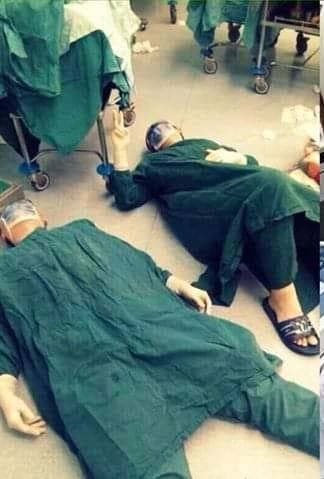 According to the article published by Globaltimes on June 24, 2014, the photo shows Chinese doctors lying on the floor at Fujian Medical University Union Hospital. The article reads that the 32-hour operation involved three surgeons, six anesthesiologists and eight nurses conducting six separate surgeries to remove a series of brain tumors from a single patient.
Photos No.1 and No.4 of the collage are spread together by other media outlets to illustrate doctors' dedication.
Photo No.2
Photo No.2 used in the collage of the Georgian Facebook page has been taken in Hubei province and not in Georgia. The photo shows the doctors in a hospital of Wuhan following a difficult day amid the coronavirus outbreak. The photo was spread on Twitter and in January-February 2020, various online media outlets published it.
Photo No.3
The photo dated 2017 has been taken at Dingyuan County General Hospital of Anhui Province. Initially, the photo was spread through Chinese social network Weibo. According to People's Daily Online, the photo depicts Chinese doctor Luo Heng, who worked for 28 hours and performed five surgeries to save the patients' lives and then decided to sleep on the floor in the hospital corridor.
Photo No.5
The primary source of this photo is unknown; however, it is very popular on the Internet and in January-February 2020, it was spread alongside the photos depicting the doctors fighting against the virus in China.
Photo No.6
This photo, which according to the Facebook page depicts a Georgian doctor, has been used in various materials at different times and in different contexts. According to TinEye, the photo was first modified on June 17, 2013. Other photos with the same doctor can also be searched on stock.adobe.com. According to the latter, the photo belongs to WavebreakmediaMicro.
---
About the sources
wnews.ge, which spread the photos depicting doctors on its Facebook page, is a clickbait website. Its Facebook page was created in November 2014. However, according to registrator.ge, the website of wnews.ge was registered on June 6, 2019.
Such websites publish news articles and position themselves as media outlets, but actually they are clickbait websites. They try to attract readers' attention with sensational headlines and photos and most likely, by visiting such websites, readers help their owners earn money. The website offers tabloid content, 18 plus ads and suspicious statements.
Facebook page "კარდჰუ" is known for spreading antiliberal content and it is not the first time tvalsazrisi.ge spreads unverified reports or photo/video manipulation. The Myth Detector periodically verifies manipulations and disinformation spread by tvalsazrisi.ge. See its publications at the following link.
---
Prepared by Tamar Chkhikvadze
Myth Detector Lab