On April 29, the Kremlin's media portal "Georgia and World" published an article, headlined "Bill Gates creates vaccines to cause human infertility and destroy their ability to reproduce". "Georgia and World" relies on the material of the information portal "VERELQ" and notes that famous American businessman and philanthropist Bill Gates, who contributes to the development of a vaccine against the coronavirus, aims to cause infertility and reduce human population through vaccination. To prove that involvement of Bill Gates in the process if the development of a vaccine against the COVID-19 is dangerous, the article cites the example of Bill Gates speech at Ted Talk in 2010, where according to "Georgia and World", he stated his intention to reduce the world's population through vaccination.
The article was shared by the Facebook page "Stalin" and was also shared in Facebook groups: Kakha Kaladze Mayor of Tbilisi and Let's dissolve the Parliament.
In addition, the narrative, as if Bill Gates is using coronavirus for his own purposes, is being spread by online media: 2020news, Resonance and Alia. The editions publish Mikheil Tsagareli's statement about Bill Gates on April 29 with identical headlines: "Mikheil Tsagareli's scandalous allegation – The coronavirus pandemic was spread by Bill Gates, he even has a vaccine".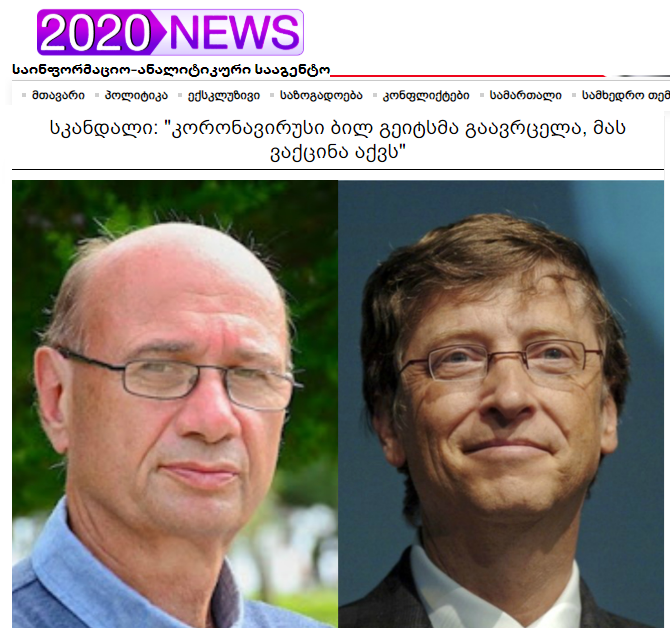 Various conspiracy theories targeting Bill Gates are being actively shared in social networks and various online editions. For instance, on April 24, the Facebook group STOP 5G GEORGIA!!! published a post opposing the vaccines from Bill Gates. The post currently has 316 shares and 220 reactions.
The claim that Bill Gates creates vaccines aiming to cause human infertility, is false. In fact, the purpose of vaccination is to reduce child mortality in developing countries, which, according to Bill Gates, is a precondition for the economic development. In addition, the statement by Bill Gates given in the article was quoted out of context. It should be noted that the topic was artificially linked to the conspiracies about creation of coronavirus by Bill Gates and population chipping. 
What does Bill Gates's sentence "Innovating to zero" mean?
Bill Gates's involvement in the development of a vaccine against the coronavirus was assessed by "Georgia and World" as dangerous and was linked to the public address of Bill Gates in 2010. In 2010, Bill Gates gave a speech "Innovating to zero" at Ted Talks, in which he spoke about reduction of CO2 emissions and noted that vaccination may play a significant role in terms of population growth control.
Bill Gates: "The world today has 6.8 billion people. That's headed up to about 9 billion. Now, if we do a really great job on new vaccines, health care, reproductive health services, we could lower that [population growth rate] by, perhaps 10 or 15 percent".
"Georgia and World" used the quote without taking into account the context, and concluded that Bill Gates was trying to lower human ability to reproduce and consequently, to reduce human population.
In fact, the founder of "Microsoft" speaks about slowing population growth, rather than reduction of the population. This was also confirmed by the famous fact-checking platforms PolitiFact and Snopes that have already checked fake stories on the issue. Gates notes that vaccines are crucial for reduction of child mortality in the developing countries, which, for its part, will slow population growth, according to Bill Gates. More specifically, Bill Gates thinks that when more children survive, parents will choose to have fewer children. Women will have a number of children they can support, send them to school and take care about their health, which is a precondition for overcomming poverty and improving living standards. As for the carbon dioxide emissions, according to Bill Gates, reducing the world population growth will also reduce CO2 emissions. Accordingly, vaccines are not directed against the world's population. Bill and Melinda Gates have been talking about this since 2009.
Bill Gates and his wife Melinda Gates explain this issue in detail in the letter of 2017, stating that "we need to find out what causes these conditions [conditions causing children's and newborns' deaths], so we can find the tools to prevent them". According to them, one of the crucial factors for saving children's lives is accessibility of health care and vaccination.
Identical disinformation in Kremlin media
The narratives, as if Bill Gates is killing people with vaccination programs and causing depopulation, have been circulating for years. The Russian webpage ("Грузия и мир") of "Georgia and World" published an article in this regard back in December 2013.
Of Russian sources, conspiracies about Bill Gates were spread in 2017-2020 by eadaily.com, mnenie.me, tvzvezda.ru, delyagin.ru etc.
About VERELQ
The article of "Georgia and World" on the vaccination plans of Bill Gates, has been translated from the material published by the internet edition "VERELQ". Noted media is an Armenian edition, that states at the end of the web page, that it is based in Yerevan and covers significant social, political and economic issues in Armenia, as well as the role and influence of Armenian diaspora in various countries of the world.
According to Whois Lookup, the site was created on February 3, 2015 and its IP address is in Germany.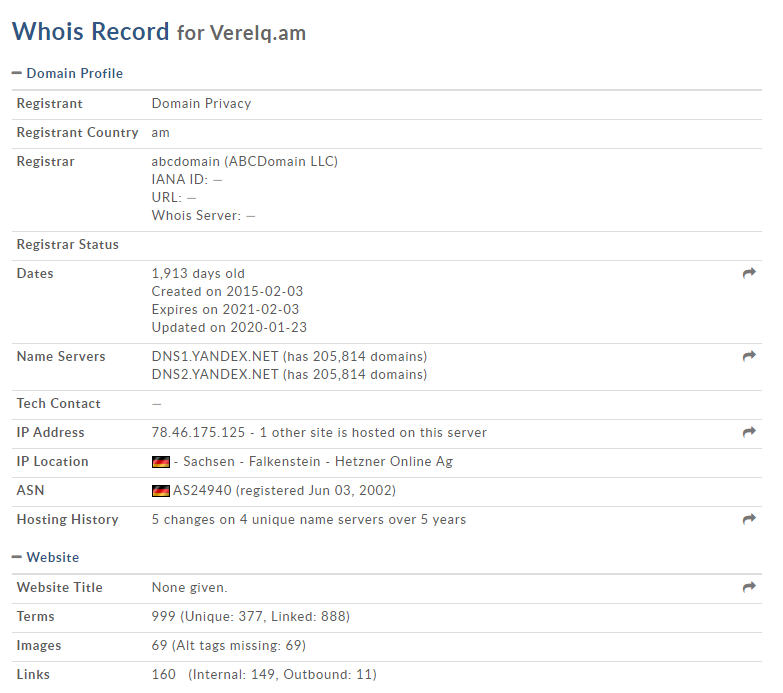 t should be noted that "VERELQ" has a section "Partners' News", where lentainform and SMI2 are among its partners. When we go to their websites, we read the news from the Kremlin's media outlets, such as: Russia Today, Sputnik-Georgia, Tass, tsargrad.tv, Regnum.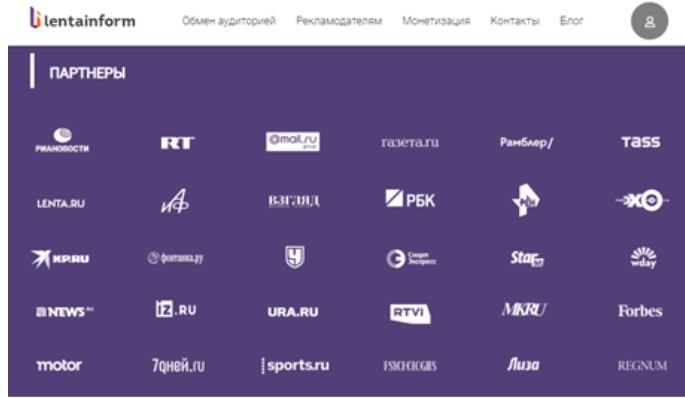 ---
Prepared by Lusine Pichikyan
Regional Network of the Media Literacy Lab