On March 29, 2021, a Facebook user Levan Navi published a video. In the description of the video, he claimed that experiments on creating human and animal clones have been carried out since 1955 and that this is a part of a global conspiracy. The post mentions a "satanic sect" which governs everything, drinks baby blood and holds satanic rituals.
The widespread information that experiments with the aim of creating artificial humans have been conducted since 1955 is disinformation. The video, embedded in the post, shows a prototype of an artificial uterus that aims to save and develop babies born prematurely.
The given video was taken from a TikTok user @vertitas, who mostly disseminates conspiracy content. The video combines footage from a Facebook page Hashem Al-Ghaili and a visual representation by Emanuel Greenberg, who indeed patented the artificial uterus model in 1955. However, there is no evidence that any device has actually been created based on his model. Moreover, it is noteworthy that the artificial uterus model, created by Greenberg, does not envisage creation of artificial humans or their clones, as Levan Navi indicates in his post, but rather to save prematurely born babies. In the model, the artificial uterus has a section for placing fetus, while umbilical cord and placenta are connected to an artificial system that feeds the fetus. The artificial uterus aims to develop the fetus to the stage which will allow it to live outside of the uterus.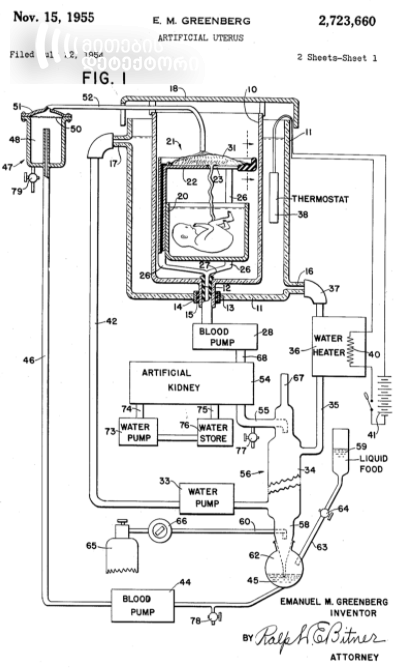 A successful experiment, conducted in 2017 on sheep, was a breakthrough with regards to creating the artificial uterus. In the experiment, scientists managed to save the life of the fetus in the artificial uterus.

Source:The Guardian. ფოტო: Emily A Partridge / Nature communications/CHOP handout/EPA
In 2019, Dutch scientists received a EUR 2.9 million grant for creating a prototype of the artificial uterus in the next five years. Its purpose will be to maintain living conditions for babies born earlier than the 22nd week of pregnancy, until they develop all vital organs. In case of success, the scientists will create the first artificial uterus model for humans. The given study is a part of Horizon 2020, an EU funding program, which aims to support scientific innovations.
---
The article has been written in the framework of Facebook's fact-checking program. You can read more about the restrictions that Facebook may impose based on this article via this link. You can find information about appealing or editing our assessment via this link.
Read detailed instructions for editing the article.
Read detailed appeal instructions.