On October 29, therapist Nona Aghdgomelashvili published a post on her account, where she notes that World Health Organization used so-called Drosten tests as a basis for infection-indicators and announced pandemic right afterward. In reality, according to the post, Drosten tests don't work and it shows false-positive results. Nona Aghdgomelashvili's post cites the example of the Tanzanian president who tested Drosten tests on a goat, papaya, and engine oil and got positive test results. Post also notes that German lawyer Reiner Fuellmich and his colleagues are collecting evidence against Drosten tests to file a lawsuit in U.S. court
Disseminated post about Drosten tests lacks evidence. In reality, Christian Drosten is a successful German virologist who has previously worked on diagnostic tests for other viruses, and COVID-19 tests developed by him are distinguished by high accuracy.
Who is Christian Drosten and what do we know about COVID-19 tests?
Christian Drosten is a German virologist and the head of the Virology Department at Berlin's Charité Hospital, whose research focus is on novel viruses and the studies of it. Drosten is much trusted in Germany and one of the reasons for it is his previous success, in particular, Drosten has developed novel Zika virus and MERS (Middle East Respiratory Syndrome) tests. He was also one of the first professors who discovered the SARS (Severe Acute Respiratory Syndrome) virus in 2003 and also developed the first diagnostic test for it. In times of pandemic, Christian Drosten became a cult figure and a hero for Germans. German media outlet Süddeutsche Zeitung called him the Der Corona-Aufklärer der Nation i.e., "Nation's Spotter for Coronavirus". Moreover, Bloomberg wrote about him as the German Dr. Fauci.
Christian Drosten as an author of the restrictions initiative became a target for hostility from particular groups due to the strict quarantine regime in Germany. Drosten has received a threatening package containing a liquid and a note saying "Drink this and you will be immune".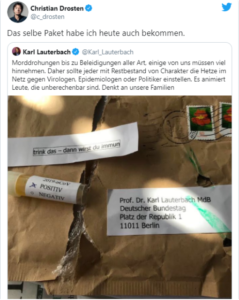 Nona Aghdgomelashvili doesn't indicate any sources as evidence for the information in the post, which would make content about the Drosten tests reliable. Therefore, statements as if Drosten "mixed the test and vaccine, and after becoming obsessed with the idea, he developed a new COVID-19 test in the lab" lacks evidence.
Drosten tests that were developed in one of the best genomic research laboratories in the world was purchased by the World Health Organization. WHO has published a detailed report on the accuracy of the tests and noted that it was validated by three different laboratories.
Experts explain that no test is accurate 100% of the time, albeit the errors are usually introduced by medical personnel who fail to take samples correctly or lab personnel's mistake.
Does the President of Tanzania question the reliability of the test?
Disseminated post contains one more disinformation as if President of Tanzania rejected Drosten tests after the goat, papaya, and engine oil tested positive.
Besides the fact that he was educated at the University Of Dar Es Salaam, in Tanzania and not in England as indicated in the post, president of Tanzania John Magufuli was accused by health professionals of covering up the true infection rate.
Magufuli also stated that he tested the goat, papaya, and quail, and questioned the reliability of tests following the positive results. There's no other evidence apart from this fact to support it. Moreover, it hasn't been clarified which tests the president of Tanzania referred to and does it have any connections with Drosten. Fact-checking platform  Snopes has also written about the mentioned facts.
What do we know about Reiner Fuellmich and what does he state about Drosten tests?
Reiner Fuellmich is a German lawyer and one of the well-known corona-skeptics who believes that PCR tests aren't reliable. As for the investigative committee that Nona Aghdgomelashvili writes about in her post, it was formed on June 10, 2020, by four lawyers and its' primary aim is to consider "lockdown" the greatest crime against humanity in history.
Read "Myth Detector's" article on Fuellmich:
 What does Яков Джугашвили Argue and was a Lawsuit Filed against Coronavirus?
In regards to Drosten tests, Fuellmich refers to scientist's 2014 interview with the Wirtschaftswoche, in which Drosten states that PCR diagnostic tests for MERS-virus are particularly sensitive and respond to even one genetic molecule, which means that mild cases of the disease might be included in the overall count of the disease. Fuellmich disseminated this information about PRC diagnostic tests for COVID-19 and indicated that using such sensitive tests generates false-positive results and groundlessly causes the increase of number of patients tested positive for COVID-19.
Drosten himself states that PRC tests developed by him have passed respective certification and the test results "don't raise any questions".
On September 22, during the Norddeutscher Rundfunk's weakly podcast on coronavirus outbreak and treatment, the head of the Virology Institute at Frankfurt University Clinic Sandra Ciesek stated that PCR test remains a "gold standard" for coronavirus diagnostics.
About the Source
Nona Aghdgomelashvili frequently disseminates disinformation about COVID-19, about which "Myth Detector" has also written before. She was invited to the programs of TV "Obiektivi" and "Ilioni" as a doctor-therapist.
Nona Aghdgomelashvili has disseminated fake news as if wearing a mask does not protect us from coronavirus, but on the contrary, it causes hypoxia. She also incorrectly referred to Donald Trump, as if he called wearing masks a symbol of social slavery and moreover, she disseminated Anthony Fauci's statement without the context as if Fauci referred to wearing masks as an ethical gesture out of respect of others and denied the idea of masks protecting us from coronavirus.
It's noteworthy that as of 14;30, November 5, Nona Aghdgomelashvili's post has 106 shares, the majority of which was by Facebook user Davit Maia Davitlidze Dalakishvili who shared the mentioned post in the Facebook groups: კორონა მაფია" (Corona Mafia), "ბიძინა ივანიშვილის მეგობრები "ფეისბუქზე" (Bidzina Ivanishvili's friends on Facebook" "პრემიერ-მინისტრი გიორგი გახარია" (Prime-minister Giorgi Gakharia) and so on.
---