On November 23, 2018, a website Kartuli Azri (Georgian Idea) released an article titled "All prestigious schools of England have moved to the Soviet education system". The article refers to Russian-language Правда-TV as its source. According to the article, British Education Minister Justine Greening said in the interview with BBC that British secondary schools have moved to the Soviet system of education, adding that the same will happen in higher educational institutions.
The interview released by Kartuli Azri is fake, because no such information can be searched either on BBC or on the website of the British Department for Education. The primary source of the information is a Russian-language satirical website.  
1. The interview with Justine Greening cannot be searched on BBC website.
The interview with Justice Greening on movement to the Soviet education system cannot be searched on BBC website. Moreover, not a single western media outlet spreads this information. Neither does the British Department for Education provide any information about the movement of British schools to the Soviet system of education.
2. Justice Greening resigned from the position of Education Secretary on January 8.
Justine Greening resigned on January 8, 2018 from the position of Education Minister, which she held since 2016. Damian Hinds took the position of the Secretary of State for Education on the same day. Thus, Justine Greening could not have had an interview with BBC in the capacity of the minister.
3. The British Department for Education has not disseminated any information about introducing a concept "A Candidate of Sciences."
Kartuli Azri claims in the fake interview that instead of a PhD degree, there will be two degrees in Great Britain: a candidate of sciences and a doctor. This information is false, because no information can be searched in official British sources to prove it.
4. A satirical humoristic website is the primary source of information. 
It is worth noting that an identical article was released by Russian news agency Панорама on September 30, 2018. The latter is a satirical edition, which claims that all reports published on its website are fabricated.
The Institute of Social and Economic Development (isedworld.ge) posts the same information in English without verifying it. Noteworthy that isedworld.ge uses a manipulative photo depicting John Kennedy with a quotation: "Soviet education – the best in the world. We have to take a lot of it. The USSR won the space race at the school desk." This quotation is fake, as its English analog cannot be searched on the Internet.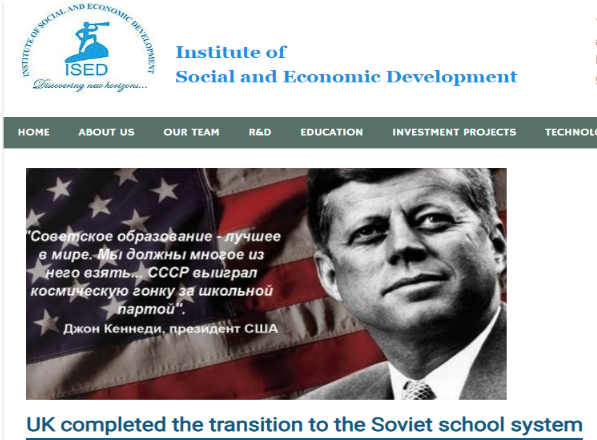 ---
Prepared by Lusine Pichikyan
Media Literacy Lab Regional Network