On May 25th, the Facebook profile "Anti-Liberal" published a video taken at a supermarket showing several cans with Polish inscriptions. According to the post's description, in the supermarket "ATB" in Kharkiv, Ukraine, the humanitarian aid sent by Poland to Ukraine is being directly placed on the shelves.
Identical information was disseminated by the Russian and Ukrainian language sources as well (1, 2).
The claim that humanitarian aid sent from Poland to Ukraine is being sold in the supermarket ATB is false. The company denied the allegations itself, noting that the products shown in the footage were imported from Poland and had nothing to do with humanitarian aid. According to Resolution N234 adopted on March 9th, during martial law, it is allowed to sell imported products labelled in languages ​​other than Ukrainian.
On March 27th, in response to the allegations, the supermarket issued a statement on its Facebook page, noting that the products shown in the videos had nothing to do with humanitarian aid. The supermarket stressed that due to insufficient production in the domestic market, the company started direct imports of food and essential goods from Poland, the Baltic states and Turkey.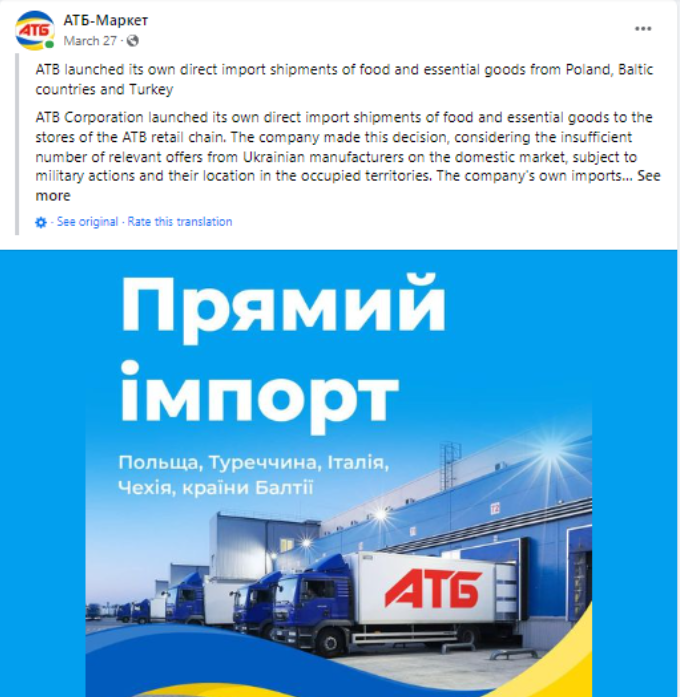 The supermarket also said that in order to quickly replenish supplies in stores and ensure food security in the country, the company imports goods without marking the appropriate label in Ukrainian, which complies with the Cabinet of Ministers of Ukraine Resolution N234 of March 9th, 2022 – "On measures to ensure uninterrupted supply of imported food and feed under martial law."
Some products in supermarkets in the territory of Ukraine may no longer have a Ukrainian label, as this obligation was removed by Resolution N234. The decree states that during a state of war, food market operators have the right to sell imported products labelled in languages other than the state language.
The mentioned information was verified by the Ukrainian fact-checking platform "Vox Ukraine" on April 6th. The article notes that the claim about selling the humanitarian aid received from Poland was denied by the CEO of АТБ, Boris Markov.
For more disinformation regarding the humanitarian aid amid the Russia-Ukraine war, see the articles of "Myth Detector:"
---
The article has been written in the framework of Facebook's fact-checking program. You can read more about the restrictions that Facebook may impose based on this article via this link. You can find information about appealing or editing our assessment via this link.
Read detailed instructions for editing the article.
Read detailed appeal instructions.