On 28 May 2018, a Facebook page named Political Footprint posted a photo depicting an incident of vandalising icons. According to Political Footprint, members of LGBT community damaged icons in the Church of St. Catherine in Thessaloniki, when marking the International Day Against Homophobia and Transphobia (IDAHO) on 17 May. This photo has been shared 241 times, among others, by Head of the Rights Defenders Union, Nikoloz Mzhavanadze. The latter also represents the Georgian March, a far-right organisation in Georgia. The photo and attached information were shared without verification.
The same photo was also posted by Schemamonk Ieronime Katamadze of St. Paul's Monastery on Mt. Athos. The description read as follows: "Icons at one of the chapels in Thessaloniki were repainted by pseudo liberals. Let us recover our senses before the youth becomes so godless among us too that they commit the same here as well." Based on this post, without any verification, the same information titled Liberals Desecrated Icons was disseminated by an online agency Dogma.ge, which covers social and religious stories.

The circulated news that liberal groups and LGBT activists damaged icons to mark the IDAHO on 17 May 2018 in Greece is disinformation. In fact, the photo circulated in 2018 is 8 years old and first showed up on Greek internet forums in 2010. It depicted icons damaged by anarchist groups in April 2010. Greek anarchist groups vandalised the same icons in 2015 as well.
1. The Photo First Showed Up on Greek Internet Forums and Blogs in 2010
The photo at stake has been verified in various search systems and it is confirmed that it first showed up on Greek internet forums and blogs in 2010. The reverse image search engine TinEye dates this photo to as early as April 2010. Accordingly, it is not linked with the events of 17 May 2018.
2. The Photo has been Taken in a Small Church in Front of the Church of St. Athanasius in Thessaloniki
It is revealed with the help of Google Maps that the photo was taken in the Church of St. Catherine situated in front of the Church of St. Athanasius in Thessaloniki.
3. Vandalism Committed not by Liberals but Anarchist Groups
When searching for information about vandalising the icons in the Church of St. Athanasius, Greek internet forums and blogs show up. They, the forums and blogs, criticise vandalising icons on 15 April 2010 by anarchist groups. The fact that the attacks were committed by anarchist groups is also obvious from the symbols painted on those vandalised icons.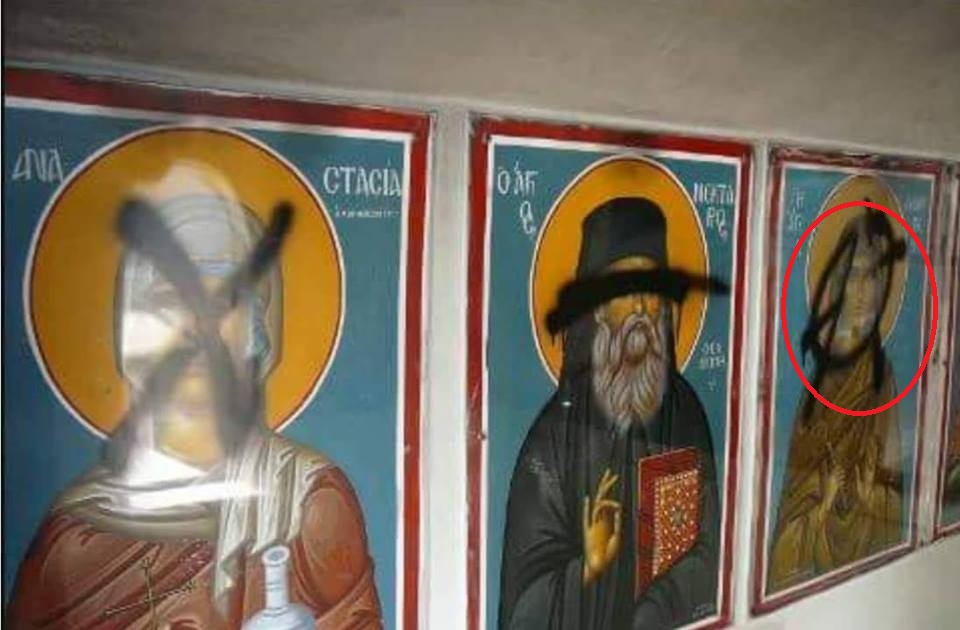 The below photo shows a procession organised by anarchists on 20 January 2010 in the city of Amfissa, located on the North-West of Athens. The banner held by a demonstrator depicts the same symbol.


Photo: Reuters
It seems that the Church of St. Athanasius has been targeted by anarchists on numerous occasions. The anarchist groups damaged the same icons also in 2015 as well.
---
Prepared by Sopo Gelava