On February 24th, the Facebook page "Cardhu" published two posts about the Russian invasion of Odessa by sea and air. The posts are accompanied by photos that allegedly show a Russian landing party appearing on the Ukrainian coast. The first photo was published at 9:24 and was accompanied by the comment "Russian fleet entered Odessa", and the second one was published at 9:07 with the caption "Russian naval and air forces entered Odessa".
The information disseminated by "Cardhu" is false. The General Staff of the Ukrainian Armed Forces called the information about the entry of a Russian landing party in Odesa disinformation.
 According to the General Staff of the Armed Forces of Ukraine, the claim that the Russian fleet landed on the coast of Odesa is false. On the morning of February 24th, Ukrainian and Russian media outlets reported that the Russian navy had launched landing operations near Odesa and the Sea of ​​Azov. However, within hours (09:25), the Ukrainian General Staff called the information disinformation. According to the General Staff of Ukraine, Russia launched a missile attack on Ukrainian positions at five o'clock in the morning on February 24th. The artillery bombardment of Ukrainian territory and settlements along the border has commenced at the same time. According to the statement, Russia launched an aerial attack on the airfields of Boryspil, Ozerno, Kulbakino, Chuguev, Kramatorsk, Chernobyl, as well as military points of the Ukrainian Armed Forces and shelled settlements near the Ukrainian state border.
An operative headquarters was set up in Odessa on the morning of February 24th. City residents are being asked to restrict movement in the city, and students have been transferred to online learning. As of noon, four rockets had landed in the Odessa region, while workshops had exploded in Odessa itself. No casualties were reported.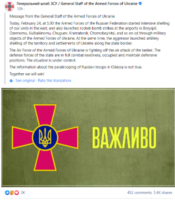 As for the photos attached to the post, the first one can be traced back to 2018, while the second was taken in Nizhny Novgorod in September 2021 during the official closing ceremony of the joint strategic exercise "Western-2021" of the Russian and Belarusian Armed Forces.
The article has been written in the framework of Facebook's fact-checking program. You can read more about the restrictions that Facebook may impose based on this article via this link. You can find information about appealing or editing our assessment via this link.
Read detailed instructions for editing the article.
Read detailed appeal instructions.