On April 17, Prof. Zurab Guruli, U.S.-based Georgian doctor, published a post on his Facebook page, where he voiced his opinions about treating COVID-19 patients with Plaquenil in Georgia. The doctor criticized the virus treatment protocol, noting that asymptomatic patients, as well as patients with mild symptoms are being treated with Plaquenil in Georgia that poses a threat to human health. Guruli's post on whether it is appropriate to use Plaquenil for treatment of COVID-19 patients has prompted antiliberal and pro-government Facebook pages to carry out an organized discrediting campaign against him. Besides questioning his academic competence, various posts were shared, linking him to the National Movement, as well as concerning his religious views about the church and faith that also aimed at discrediting him.
Pro-government groups and pages
A number of pro-government groups and pages were involved in the campaign discrediting Zurab Guruli, which actively shared the doctor's post on Facebook. Among them were "მოგიტყანთ ოპოზიცია", which linked Guruli to the National Movement, "ერთიანი ნაციონალური დვიჟენია" and "Act is stubborn • ფაქტი ჯიუტია", which posted Zurab Guruli's photos with ex-President Mikheil Saakashvili and his wife, Sandra Roelofs, as well as "ნაცების დასაცინი ოფიციალური სააგენტო", which shared Guruli's cartoon with a caption "Misha's personal doctor." It is worth noting that insulting and swear words were used against the doctor.
The discrediting posts were shared by the following pro-government groups: "კახა კალაძე თბილისის მერი" (Kakha Kaladze Tbilisi Mayor), "პრემიერ-მინისტრი გიორგი გახარია" (Prime Minister Giorgi Gakharia) and "ბიძინა ივანიშვილის მეგობრების ფეისბუქზე" (Bidzina Ivanishvili's Friends on Facebook).
Online media
Online media outlets also joined the discrediting campaign, among them a clickbait website timesnews.ge, which published a material, slamming Zurab Guruli for his religious views: "The U.S.-based Georgian doctor and active supporter of the National Movement, Zurab Guruli rebukes the Georgian Patriarchate and writes that suicide is not a sin, but rather aims to abate the spirit."

Marshalpress also published a discrediting article headlined "The post encouraging a suicide from Zurab Guruli – he supposes that suicide is not a sin and the church should "remove" it from the list of sins." The article notes that by his posts encouraging suicide, Guruli "was also rebuking the Georgian Patriarchate."
Online edition transazrisi.ge publishes comments made by Nikoloz Mzhavanadze, head of Rights Defenders' Union, about Guruli's posts. The comments are accompanied by the photo depicting Zurab Guruli and Mikheil Saakashvili. Mzhavanadze notes that Zurab Guruli "is fighting against Georgian healthcare system from the United States and dreaming about Misha's return [to power] and the position of health minister."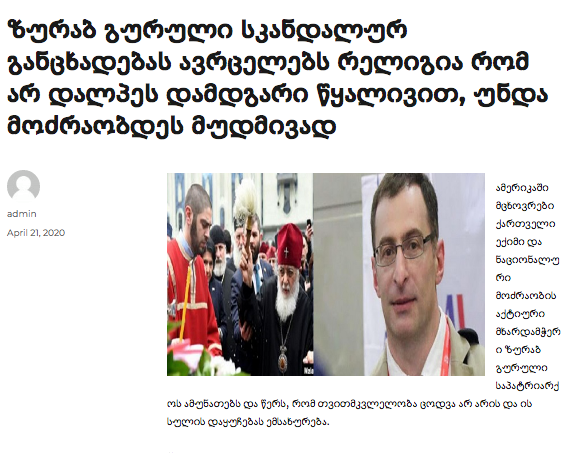 Criticism by antiliberal and pro-government experts
Zurab Guruli's post was shared by those persons, who are known for their pro-government or antiliberal attitudes. Former MP Bidzina Giorgobiani calls Guruli "Sandra's lap dog swindler" as well as a representative of "the Nazi cluster in the United States."
Antiliberal activist Beka Vardosanidze, who is affiliated with the ultranationalist movement Georgian March, links Zurab Guruli with the National Movement. Vardosanidze also shares the post by Levan Chotorishvili, where Guruli's competence as a doctor is questioned.
---
Prepared by Gvantsa Devidze
Regional Network of Myth Detector Lab