On May 24, Facebook user Shako Rou disseminated a photo, which, according to the description, depicts one of the photo models for the photo shoot "Naked Maidens of the Ocean". The author of the post writes that the photo shoot was held for the "Feminist-Vegan-Green Journal" and the photo model, who decided to "become one with nature", sustained severe reproductive injuries during the photo shoot requiring hospitalization. Photo depicts octopus covering model's vagina. Later, the author of the post edited the description adding that information that he translated from one of the Russian Instagram channels might not be true.
Information, disseminated by Shako Rou, alleging that the aforesaid photo shoot was held for the "Feminist-Vegan-Green" journal and the model sustained severe injuries is false. In reality, the photo belongs to the Hawaiian photographer interested in ocean photography, whereas information about someone being injured during the photo shoot cannot be found in any reliable sources.
Who does the photo belong to?
The author of the photo is Hawaiian photographer Musashi671 and the photo can be found online since 2018. One of the first versions of the photo to surface online shows the author's identity, however, no initial version uses the description given in Shako Rou's photo.

In December 2020, Instagram page Clams and Pearls published the aforesaid photo and the author confirmed that it belonged to him in the comments section.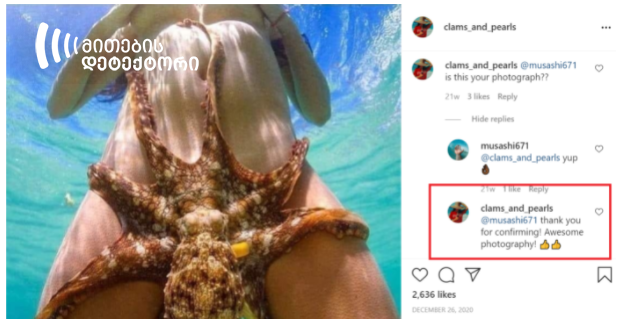 It's noteworthy that one can book similar photo shoots of the photographer, whose webpage and the Instagram account have numerous photos of different people together with the octopus.
For those who are interested, Musashi671 offers six types of photo shoots including weddings, yoga, marine life, and so on:
---
The article has been written in the framework of Facebook's fact-checking program. You can read more about the restrictions that Facebook may impose based on this article via this link. You can find information about appealing or editing our assessment via this link.
Read detailed instructions for editing the article.
Read detailed appeal instructions.