On May 18, an online edition, Progressnews published an article headlined "Why did Switzerland ban human vaccination?" According to the article, the Federal Assembly of Switzerland supported the termination of vaccination for a term of five years, citing adverse health effects of rubella, smallpox and other vaccines as the reason behind its decision. The article notes that the decision came after large-scale protests held by parents in Switzerland, adding that by decision of the Swiss parliament, vaccines will be handed over to African countries.
Progressnews refers to megatv.ge as its source; the latter, in turn, does not provide any source of information.
In both stories, Father Escobar notes that vaccination is the devil's sign by which "Satan inserts its code into human body.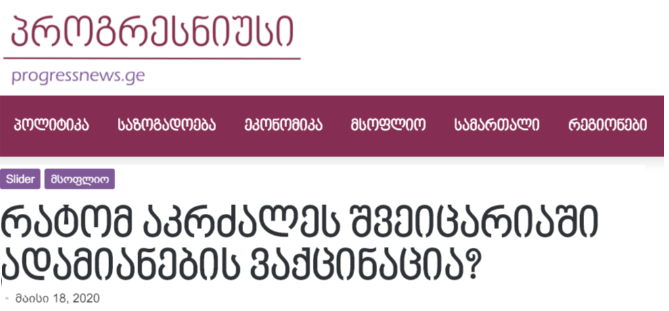 The news spread by Progressnews and Mega TV as if Switzerland banned measles, rubella and other vaccines is fabricated. Switzerland is successfully carrying out vaccination. The primary source of disinformation is Russian satirical edition panorama.pub and Father Escobar quoted by the latter is an unreal cleric.
Information about banning vaccination in Switzerland is the result of panorama.pub's fantasy.
The materials published by Progressnews and Mega TV are identical to the content spread by Russian satirical edition panorama.pub. The latter published the story on May 10, 2020. Panorama.pub indicates in its 'About us' section that it publishes grotesque parodies of the reality seen by them, as well as invented stories.
The edition's satirical nature is also indicated on its logo.
This is not the first time Progressnews passed off satirical stories spread by panorama.pub as real ones, referring to the Russian edition as its source. But this time, it has not indicated the Russian source in its material. The Myth Detector has already written earlier about spreading disinformation by Progressnews through satire. Last October it wrote referring to panorama.pub that Henry Kissinger allegedly called dissolution of the Soviet Union "the biggest crime of the United States." In April 2020, Progressnews wrote that top WHO official died after choking on broccoli.
It is worth noting that just panorama.pub is the primary source of disinformation spread by Georgian media, according to which Pope Francis allegedly called on the parish to get chipped. This scheme of spreading information forms an impression that Russian panorama.pub is a kind of hub, from where disinformation is spread in Georgian media.
Measles vaccination is not compulsory in Switzerland, but it is recommended and evaluated as safe.
The Swiss Federal Office of Public Health recommends a combined vaccine against measles, rubella and mumps (MMR-vaccine). Two doses of an MMR-vaccine are recommended: the first at 9 months, the second at 12 months of age. These vaccines are 97% effective and protection is usually life-long in people who have been fully vaccinated with 2 doses. Other recommended childhood vaccines such as whooping cough, mumps, rubella and tetanus, are safe too. If reactions do occur they are usually mild and short-lasting.
---
Prepared by Maiko Ratiani