On February 18, Facebook page "Stalin" posted an image of the monument to Joseph Stalin, which, as the page claims, is placed in North Korea. "Stalin" claims that on February 14, North Korean leader Kim Jong-un ordered to place the monument made of gold, copper and stainless steel in the Pyongyang Park of War Heroes. "Stalin's" post has 451 likes and 137 shares.
In fact, the photo posted by Facebook page "Stalin" depicts the monument erected in the city of Gori in Georgia rather than in North Korea, while the reports about the monument allegedly placed in North Korea are nothing but a figment of imagination by Russian-language satirical website panorama.pub.
The monument to Stalin is placed in Gori and not in Pyongyang
The monument depicted in the photo, which was shared by Facebook page "Stalin," is not actually placed in the North Korean capital, but rather is erected in the yard of Stalin Museum in his hometown, Gori. The photo depicting the same monument from various angles has been uploaded to various websites, including Netgazeti and wikimapia.org.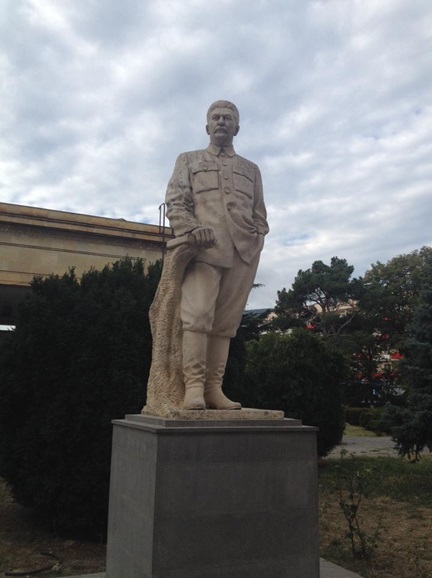 Photo: Misha Meparishvili/Netgazeti
The Russian-language satirical website is the primary source of information
The article headlined "Golden monument to Stalin has been erected in North Korea" was released by Russian-language satirical website panorama.pub on February 16, 2020. The text of the article is identical to the post published by Facebook page "Stalin."
On February 16, panorama.pub's satirical article with the same text and image was published by kolibri.press, which, unlike Facebook page "Stalin," referred to panorama.pub as the source of its information.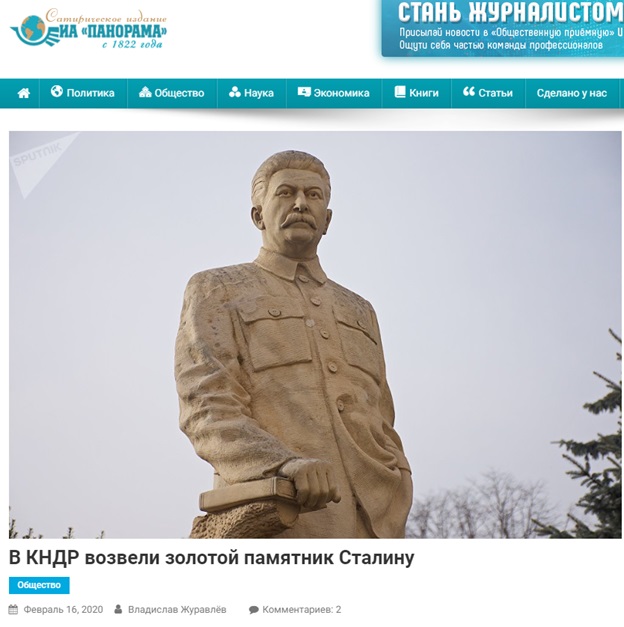 Although panorama.pub warns that it publishes satirical and humorous content and indicates about it in its logo, the website is frequently used as the source of disinformation by Russian and Georgian propaganda pages.
Below are the materials verified by the Myth Detector, which were spread referring to panorama.pub as the source:
We also offer the materials published by various satirical and humorous websites that were showcased as real: