On September 13th, 2022, Georgian-language Facebook users shared a few-second video of US President Joe Biden and Pope Francis. In the video, Biden addresses the Pope as follows: "In America, you are a famous African-American baseball player." The next frame of the video shows a female translator who, according to the credits, addresses the Pope saying: "He just called you African-American."
Russian-speaking Facebook users (1,2,3,4,5,6,7,8,9,10,11,12,13,14,15) have been circulating the same video in 2021 as well, claiming that Biden mistook the Pope for an African-American baseball player. Some of the videos published by Russian-speaking users have the logo of the Kremlin's propaganda program "60 Minutes". On October 29th, 2021, 60 Minutes host Olga Skabeyeva published the video of the meeting between Biden and the Pope on her Telegram channel and captioned it as follows: "Biden to the Pope: 'You are the most famous African-American baseball player in America.' Was grandpa even informed who is he meeting?"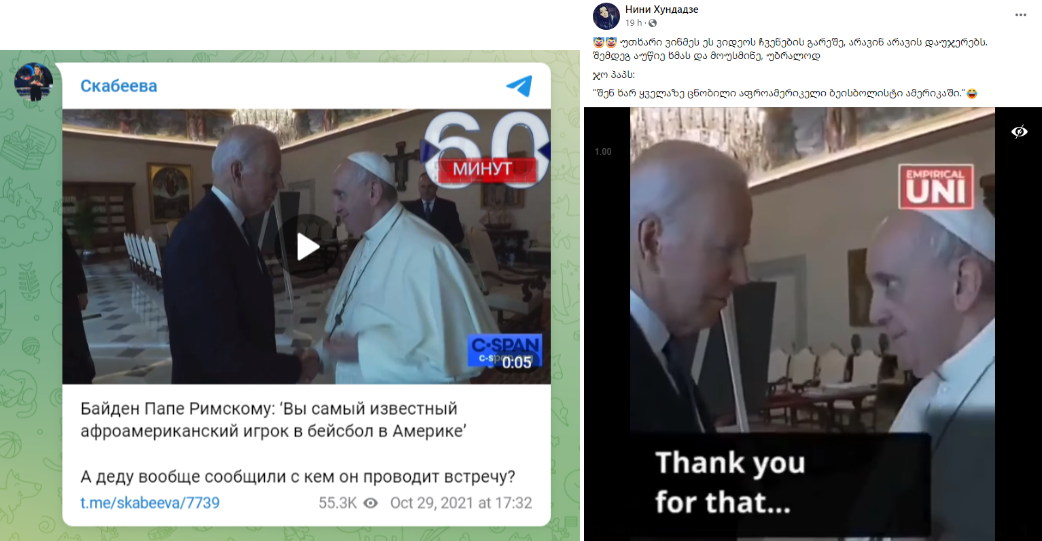 The claim that Biden mistook Pope Francis for a baseball player is false. In fact, the version circulating on social media is cut and edited in a way to change the context, omitting the fact that Biden tells the Pope a story about the age of African-American baseball star Satchel Paige.
Joe Biden and Pope Francis met on October 21st, 2021, in the Vatican.
The circulated video depicts this very meeting. After seeing the extended version of this dialogue between the president and the religious leader, it becomes clear that Biden tells the Pope the story of the famous African-American baseball player Setchel Paige. The president says that Paige won his biggest victory at the age of 47 on his own birthday, which no one has done before. Biden recalled this story in connection with his and the Pope's age. He asked the Pope the same question Page asked the reporters: "How old would you be if you didn't know how old you really are?" Finally, the president turned to the Pope and told him that he was 65 and he was 60, with both men laughing at the end of the dialogue. As for the translator, she translated Biden's speech into Italian and did not say that the president called the Pope an African-American.
Joe Biden, President of the US: "You know, the African American baseball player in America, he didn't get to play in the major league baseball until he was 45 years old because he was black. And he was a pitcher, and pitchers usually lose their arm at 35. He pitched a win on his 47th birthday. The press walked in his locker room and said – the name was Setchel Paige – Setch, no one pitched a win at age 47, how about pitching a win at your birthday? And he looked them and said: "Boys, that's not how I look at age. I look at it this way. How old would you be if you didn't know how old you were? You're 64, I'm 60!"
A few-second-long video, which does not show what the president is talking about, has been disseminated in a few countries worldwide. The video was verified by fact-checkers from Reuters and Raskrinkavanje.
Visual manipulations regarding Joe Biden was verified by "Myth Detector" in the past as well. See our articles:
---
The article has been written in the framework of Facebook's fact-checking program. You can read more about the restrictions that Facebook may impose based on this article via this link. You can find information about appealing or editing our assessment via this link.
Read detailed instructions for editing the article.
Read detailed appeal instructions