Since May 15th, Georgian and Russian-language Facebook pages have been claiming that British Prime Minister Boris Johnson compared the presidents of Russia and Belarus, Vladimir Putin and Alexander Lukashenko, to an old gay couple. The caption to Johnson's photo, published in Russian (1,2,3,4,5,6) reads: "All Putin and Lukashenko's efforts to restore the Soviet Union are like two old gay men trying to conceive a child. The more they try, the more their a** hurts." The Facebook account Irakli Chichka Gvalia posted the photo and caption with a Georgian translation.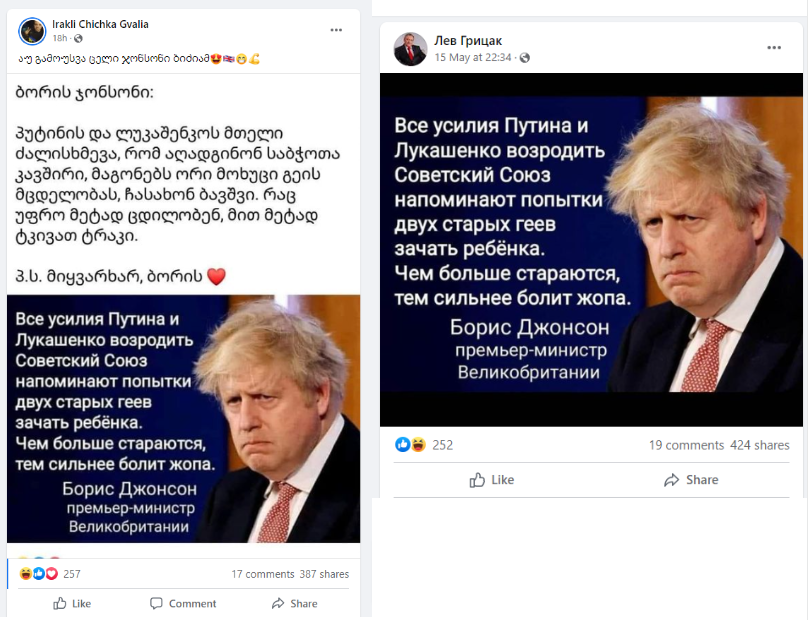 Boris Johnson's quote is fabricated. A similar statement made by the British Prime Minister cannot be found in open sources. The selected phrase was disseminated on Facebook along with various other photos, and in most cases, the Telegram channel – Соловьиный Помёт was named as the primary source.
Boris Johnson's quote in which he compares Lukashenko and Putin to an old gay couple cannot not found in any credible open source. The quote about Lukashenko and Putin, along with a photo of Boris Johnson, was shared on Facebook on May 15th. The same phrase can be found in other posts published on the same day (1,2). Notably, Johnson is not mentioned in those posts at all.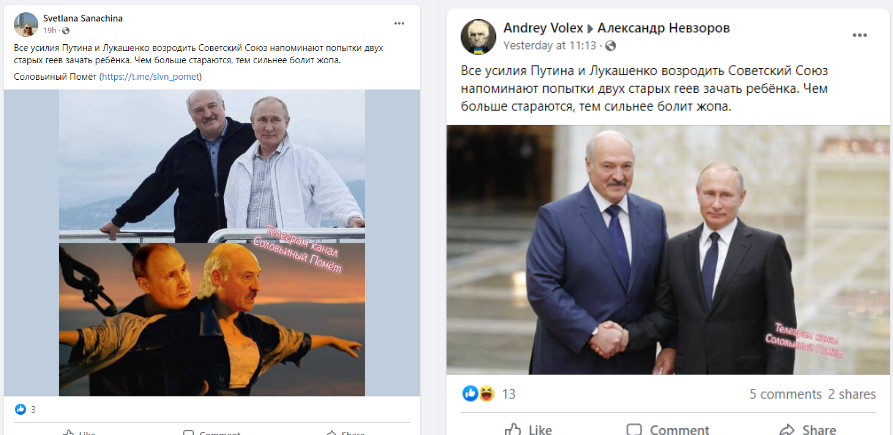 Both posts indicate the Telegram Channel "Соловьиный Помёт" as the source. The channel published the quote about Putin and Lukashenka on May 15th in Russian. (Все усилия Путина и Лукашенко возродить Советский Союз напоминают попытки двух старых геев зачать ребёнка. Чем больше стараются, тем сильнее болит ж…) However, in this case, Johnson was not named as the person making the comparison.
Notably, the Telegram channel "Соловьиный Помёт" often publishes humorous information about high-ranking Kremlin officials and propagandist journalists.
---
The article has been written in the framework of Facebook's fact-checking program. You can read more about the restrictions that Facebook may impose based on this article via this link. You can find information about appealing or editing our assessment via this link.
Read detailed instructions for editing the article.
Read detailed appeal instructions.