On September 14th, the Facebook user Ana Chankotadze published a story about former British Prime Minister Winston Churchill and the discoverer of Penicillin, Alexander Fleming, on her personal page. According to the story, Alexander Fleming and his father saved Churchill twice. For the first time, Winston Churchill was saved from drowning in a swamp by Alexander Fleming's father, and as a token of gratitude, the future Prime Minister's father, Randolph Churchill, funded his son's education. Then, years later, Alexander Fleming's discovery of penicillin saved Winston Churchill once again, this time from pneumonia.

A similar story about the relationship between Fleming and Churchill has been circulating on social media since 2020. At various times, similar stories have been published by a number of Facebook pages (1, 2, 3, 4 ) and groups (1, 2, 3, 4, 5, 6).
The claim that at different times both Fleming and his father saved Winston Churchill's life is false. According to various biographers of Churchill, the story is deemed less credible due to Churchill's use of other drugs instead of penicillin to treat pneumonia and the age difference between Churchill and Fleming.
The Churchill International Society labels the story of both Alexander Fleming and his father saving the life of Winston Churchill as fabrication. According to the Churchill Society, Arthur Gladstone Keane's short story "Dr Lifesaver," which appeared in the December 1944 issue of the Coronet newspaper, has become the inspiration of the disseminated myth. The date of publication of the story is 1943, which coincides with Churchill's pneumonia.
According to the historian John Mather, "a fundamental problem with the story is that Churchill was treated for this severe strain of pneumonia not with penicillin but with 'M&B,' a short name for sulfadiazine produced by May and Baker Pharmaceuticals." Not to mention, the book "Irrepressible Churchill" by Kay Halle emphasizes that while Churchill used M&B to treat pneumonia, in 1946, he consulted with Fleming regarding another, namely staphylococcal infection. Penicillin is an effective remedy against this infection, and maybe Churchill indeed used it to treat Churchill.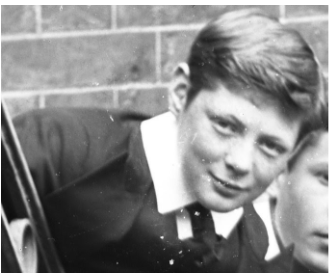 Young Winston Churchill, 1982, Photo: Churchill International Society
According to Sir Martin Gilbert, the biographer of Winston Churchill, one of the main aspects challenging the credibility of the story is the age difference between Fleming and Churchill. Similar texts spread abroad had indicated that Fleming's father saved "Little Churchill" when Fleming was 13 years old. In fact, Winston Churchill, born in 1874, was 7 years older than Fleming, and therefore when Fleming was 13 years old, Churchill would have been 20 years old. There is no evidence that Churchill almost drowned in any of the lakes at the age of 20 or earlier or that his father funded the education of Alexander Fleming.
---
The article has been written in the framework of Facebook's fact-checking program. You can read more about the restrictions that Facebook may impose based on this article via this link. You can find information about appealing or editing our assessment via this link.
Read detailed instructions for editing the article.
Read detailed appeal instructions.