On Christmas and New Year's Eve, millions of children expect to get presents from Santa Claus, who is generally depicted as a white-bearded old man giving presents to good boys and girls. Christmas is considered a family holiday in many western countries. Besides the fact that Christmas is one of the greatest Christian holidays, only few people may know that the true story of modern Santa Claus begins with Saint Nicholas. According to the religious story, Saint Nicholas, Archbishop of Myra in Lucia, was born in 257, in a Christian family livng in Asia Minor. He was absorbed in the study of the Church's sacred scriptures from a young age. His parents died when he was still very young and he inherited the whole wealth belonging to his family. Saint Nicholas was known as a kind man and a lot of legends exist about his charitable activities.
During his service in Petra, St. Nicholas learnt a story of a poor man, who had three daughters of an age to be married. In those days a young woman's family had to have something of value, a dowry, to offer prospective bridegrooms. Without a dowry, a woman was unlikely to get married. St. Nicholas secretly visited the family three times. The daughters had washed out the stockings and hung them right on the chimney. Inspiration struck Saint Nicholas. He took out three little bags filled with gold coins and threw them down the chimney, so they landed in the stockings of the three daughters. This is just where the tradition of hanging up the stocking comes from. Saint Nicholas Day is observed on December 6 (the Georgian Orthodox Church celebrates this day on December 19 OS) that has further associated his name with Christmas and New Year holidays. Even today, people in Croatia and Hungary, as well as in Nethelands give presents to each other on December 6 along with Christmas. Worshiping Saint Nicholas starts in Europe in the 6th-8thcenturies.
In the Middle Ages, all the miracles associated with Saint Nicholas and local New Year traditions got interlinked with each other. St. Nicholas became popular again in the Victorian era when writers and poets rediscovered the old stories. In 1823 a famous poem 'A Visit from St. Nicholas' was published. The poem was first attributed to Clement Clarke Moore. However, some scholars now believe that it was actually written by Henry Livingston, Jr. According to the poem, on Christmas Eve night, St. Nicholas appears in an air-borne sleigh pulled by eight reindeer. After landing his sleigh on the roof, he enters the house through the chimney, carrying a sack of toys with him and filling the children's Christmas stockings hanging by the fire.
Santa Claus has various names in various countries. For example, in Holland he is known as Kerstman, besides Sinterklaas; in Luxemburg – Kleeschen; in Poland – Swiety Mikolaj; in Italy – Babbo Natale; Czech Republic and Slovakia – Mikuláš; Hungary – Mikulás; Ukraine – Mykolaj.
According to German immigrants, Kris Kringle was believed to deliver Christmas presents in the United States. This name is still used today, but it is less popular. Later the Dutch immigrants also brought the old stories of St Nicholas to the continent. The Dutch settlers in New York celebrated St. Nicholas Day every December 6. The English-language population participated in their holidays too.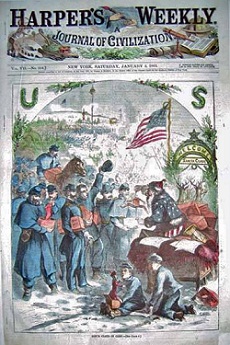 In the Netherlands, St. Nicholas was known as Saint Nikolaas; but when speaking too fast it was heard as Sinterklaas. The English-language population heard this word as Santa Claus (Saint Nicholas; in Dutch – Sint-Nicolaas – Sinterkaas – Santa Claus). Unlike the Dutch, in the United States, Santa Claus is the same as Saint Nicholas and presents are related to Christmas rather than to St. Nicholas Day. Modern image of Santa Claus – a white-bearded old man in a red coat is absolutely different from previous Santa Claus. The name Santa Claus first appeared in the American press in 1773. According to the popular author, Washington Irving, Santa Claus was a fat Dutch sailor wearing a green winter coat. Irving himself was Irish and therefore many think that Santa in green clothes was just invented by him. The first illustration of Santa was drawn by Thomas Nast in 1863. Santa is dressed in striped pants and a coat covered with stars sitting on his sleigh beneath a waving American flag. It should be noted that the United States was fighting a civil war in that period. Nast's drawing became very popular. In the drawing created in 1881, Santa is a kind old man smoking a pipe and handing out gifts.
The modern image of Santa Claus is very much associated with Coca Cola. In 1931, illustrator Haddon Sundblom, inspired by Nast's illustrations, created Santa for a widely-circulated campaign for Coca Cola. Santa is dressed in the official Cocal Cola colours with a Coca Cola bottle in his hand. Santa's image in a red robe became popular all over the world and seared into American pop culture.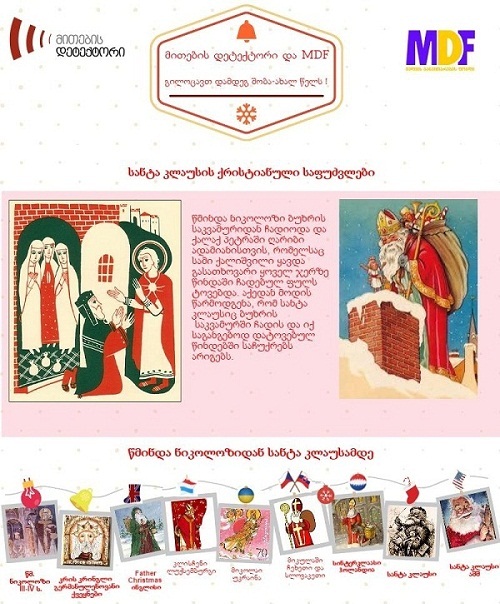 Despite the popularity of the so called Coca Cola's Santa, a number of European countries still use the image of Santa, which is either associated with Saint Nicholas, or where he is a cleric. Although, modern image of Santa Claus originates in the United States and is popular worlwide, a lot of western countries still use Santa's local name, image and clothes. Christmas is unimaginable without a Christmas tale (the Nativity of Jesus), Santa Claus and presents. These traditions have their roots in Christian religion and represent a part of local cultures.
Christmas Traditions
There are a lot of traditions and songs related to Christmas in western countries. Some of them originate from local culture, but most of them are composed on Christian themes. For example, the song "Twelve Days of Christmas" is an English Christmas carol and it is about a famous tradition, when Christmas was celebrated during 12 days – from December 25 through January 6. The song was written in the second half of the 16thcentury. From 1558 until 1829, Roman Catholics in England were not permitted to practice their faith openly. This carol was just written during that era as a catechism song for young Catholics. Each day and figure in the carol has a code word for a religious reality which the children could remember. For example: the first day – true love sent to God; three French hens refers to Faith, Hope and Love; four Calling Birds refers to the Four Gospels; seven swans refers to the seven gifts of the Holy Spirit (Romans 12:6-8; cf. 1 Corinthians 12:8-11), etc.
The British Commonwealth, as well as the Netherlands celebrates Boxing Day on the day following Christmas Day (December 26). It started during the medieval period. It was the day when the alms box, collection boxes for the poor often kept in churches, were traditionally opened so that the contents could be distributed to poor people. In Holland, some collection boxes were made out of a rough pottery and were shaped like pigs, which were broken just on Christmas Day. This tradition has still been preserved in these countries and represents a component of local culture. In Sweden, St. Stephen's Day is celebrated on December 26. He was a Swedish Missionary and was killed in the 9th century by pagans. According to the legend, he loved all animals but particularly horses. There is traditionally horse racing in some German villages on Boxing Day. This and other holidays are part of 12-day holidays after Christmas.
In Orthodox countries like Georgia, Greece and Russia, the Nativity Fast begins 40 days before Christmas Day. Besides religious issues, Christmas is full of secular and local traditions. Celebrating Christmas with a family, preparing stockings with presents, decorating doors and fireplaces with Christmas rings, decorating Christmas tree with miniature elves and ornaments have become an integral part of Christmas Day in many countries.
Information on Christmas issues is concentrated at www.whychristmas.com. Users can familiarize themselves with Christmas traditions of various countries, get acquianted with their culture and learn a lot about Christmas, its significance and symbols. The website also contains Georgia's section, where our Christmas traditions are highlighted. Any user can read about the Alilo tradition, get acquianted with Georgian Tovlis Papa (Snow Grandfather – literal translation), who lives in a tower and visits children on New Year's Eve. This platform aims at popularizing Christmas traditions of various countries and informing the public about them.
Infographics are provided at the following link: http://bit.ly/1mFioOr
Prepared by Zura Tsurtsumia and Dali Kurdadze