On February 7-8th, 2022, Facebook profiles Zviad Gogiashvili, Otar Danelia, Lilu Lilu, Zura, and Nodari Goletiani posted a video showing people wrapped in black fabric behind the journalist during a live broadcast. In the video, one of them opens the material, then a girl runs to him and wrappes him back with the fabric.
Some authors spread the video without any description whatsoever, while others write that the video was taken to showcase the deaths caused by the pandemic and scare the public, although the scene was ruined. In addition, the video has the following Russian caption: "The fight against the deadly virus live on German television."
The online outlet tia.ge has also prepared an article about the video, indicating Mamuka Karchkhadze as the primary source. However, the video can no longer be found on either tia.ge or Karchkhadze's Facebook profile.
Instead of a ruined scene recorded to show the Covid-19 deaths, the video, in fact, depicts a performance held on February 4th in Austria to protest climate policy. By creating imitations of corpses, activists are emphasizing that the release of large amounts of carbon dioxide will eventually lead to human casualties.
Most of the published videos are of poor quality, making it difficult to distinguish the German captions; however, the caption in the video uploaded by 2 Facebook profiles is clearly visible and does not feature a Russian caption either. The video shows several people holding banners behind people wrapped in black fabric. One of the banners displays the following text in German: "AKTUELL KLIMAPOLITIK NICHT", which can be translated as "no to the existing climate policy."
Other captions reveal that the video was shot in Vienna, the capital of Austria, and the story was aired on Austrian television, oe24TV.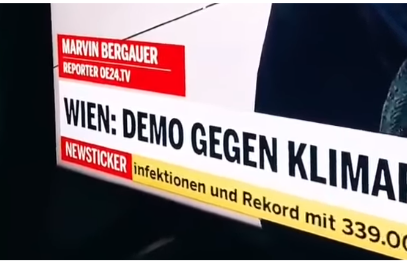 According to the material published on oe24.at, the activists staged a performance in front of the Federal Chancellery on February 4th. The performance aimed to create an imitation of 49 corpses wrapped in black fabric, which is linked to the fact that, according to an international study, every 4,000 tonnes of CO2 will cause the death of 1 person, which means 49 deaths in Austria by 2100. Activists were also protesting the fact that Austria has not set a target for greenhouse gas reductions for more than a year.
photo: © APA/HANS PUNZ
Photo and video manipulations about "corpses" packed in black fabrics have been spread a number of times in the past, which were not actually related to the coronavirus pandemic, but depicted various protests and music videos. For more, see "Myths Detector" following materials:
---
The article has been written in the framework of Facebook's fact-checking program. You can read more about the restrictions that Facebook may impose based on this article via this link. You can find information about appealing or editing our assessment via this link.
Read detailed instructions for editing the article.
Read detailed appeal instructions.