On October 20th, 2021, several Facebook users (Tato Giorgadze, Kogarash II, Andro Andersen and Levan Nakashidze) posted a photo and quote of Gubaz Sanikidze, creating the impression that Sanikidze said that Jesus Christ was starving for 40 days in the desert while Mikheil Saakashvili has been on hunger strike for 20 days, which is not accidental. In addition, the published photos bear the logo of the publication Palitravideo.ge.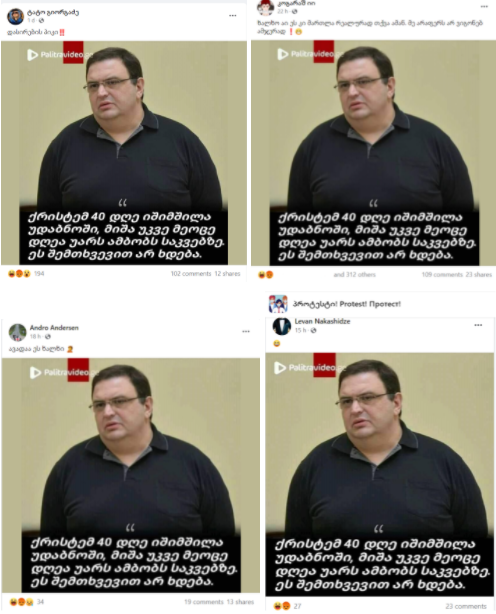 The quote disseminated in the name of Gubaz Sanikidze is fabricated. No open-source contains a similar or identical statement made by Sanikidze 20 days after the start of the hunger strike by Mikheil Saakashvili. The disseminated photo is visually different from the similar types of images published on Palitravideo.ge.
October 20 marked 20 days since the beginning of the hunger strike of the third president of Georgia, Mikheil Saakashvili. The previous day, Gubaz Sanikidze appeared as a guest on the TV program "Reaction" at "TV Pirveli." During the entire conversation, he never commented on identical or similar content to the quote posted by Facebook users. At the beginning of the program, journalist Inga Grigolia asked Sanikidze about his opinion on Mikheil Saakashvili's hunger strike, to which Gubaz Sanikidze refrained from clearly stating his position.
Inga Grigolia: Based on the information you have, if you have any, will Saakashvili agree to hospitalization? And what do you think, should he continue the hunger strike, should he stop, how do you feel about resolving this issue in general?

Gubaz Sanikidze:  Good evening! Greetings to the viewers. I think neither I nor anyone has the right to give any advice on whether he should end the hunger strike or not because it is a moral and political act. By the way, it did not start in Georgia; it is a well-known fact. So, when it comes to moral and political acts, I cannot say anything; I can have my opinion.

Inga Grigolia: Give us your opinion.

Gubaz Sanikidze: No, I can't say it.

Inga Grigolia: Why?

Gubaz Sanikidze: This won't be right; it's Misha's decision. He will continue to the strike; I know he will continue it as he is very serious about it, and when it comes to hospitalization, that is again his decision, of course.
During the interview, Gubaz Sanikidze never mentioned Jesus Christ and his famine in the desert. At the end of the program, he mentioned only one biblical character – Moses, when he addressed Bidzina Ivanishvili and said that "for every Pharaoh, there must be a Moses."
Gubaz Sanikidze: Bidzina, know this, for every Pharaoh, there must be a Moses.

Inga Grigolia: Who is Moses?

Gubaz Sanikidze: he will be revealed by the situation itself.

Inga Grigolia: Who, who is it? How should I not ask this?

Gubaz Sanikidze: I said what I had to say; now it's up to people to understand it.
While it is true that Gubaz Sanikidze's photo and quote were published on the Facebook page of Palitravideo.ge on October 20th, the quote had completely different content and was taken from the October 19th broadcast of "Reaction," where Gubaz Sanikidze stated that Bidzina Ivanishvili's scared of the opposition leaders he couldn't include under his "saddle."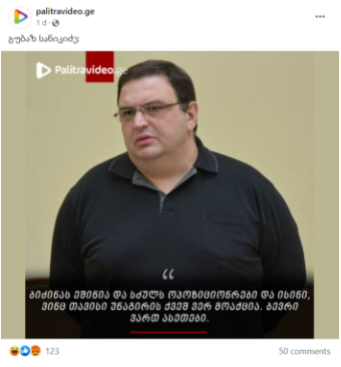 Noteworthy, the fabricated quote spread by Facebook users is visually different from the real one since completely different fonts are used for this type of photos published on Palitravideo.ge Facebook page.

Disinformation related to Gubaz Sanikidze was fact-checked by "Myth Detector" in the past as well. See our article:
---
The article has been written in the framework of Facebook's fact-checking program. You can read more about the restrictions that Facebook may impose based on this article via this link. You can find information about appealing or editing our assessment via this link.
Read detailed instructions for editing the article.
Read detailed appeal instructions.