On January 7, Twitter user Mximilian Hess disseminated a photo where one of the Trump supporters is holding the Georgian flag amid storming the Capitol building in Washington D.C. The said tweet has since been removed.
The same picture together with the second photo of the Georgian flag near the Capitol building has been published by the Georgian Facebook page "Kardhu" as well.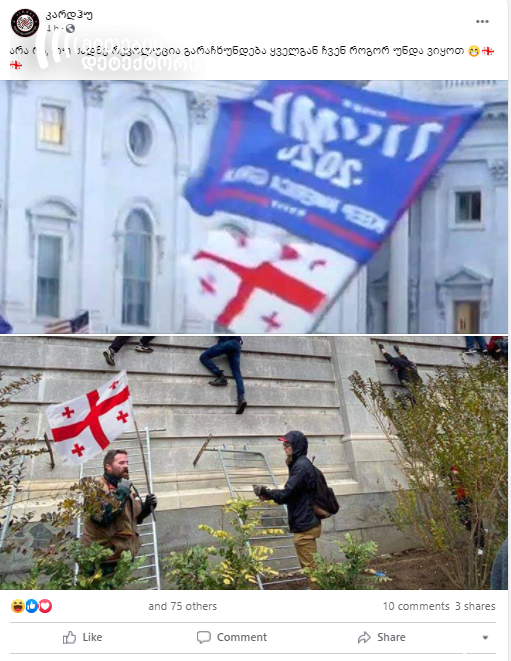 The photo, where a man standing near the wall is holding the Georgian flag, is photoshopped and the original version doesn't feature the Georgian flag. The second picture where the Georgian flag hangs below the Pro-Trump flag is real and is a screenshot from CBS reportage.
Fake photo from Washington D.C.
Verifying the first photo revealed that the authentic version doesn't feature the Georgian flag. On January 6, 23:16 Georgian time (14:16 Washington D.C time), media outlet Washingtonian's Twitter account published a photo depicting the situation outside of the Capitol in lockdown. Evy Mages, Washingtonian's photographer, is indicated as the author of the photo.
The photo presumably depicts protesters, however, one of them isn't holding the Georgian flag.
The second and real photo from Washington D.C
The second photo of the Georgian flag paraded near the Capitol Building was disseminated not only by "Kardhu", but also by the foreigner users on Twitter who jokingly assumed that Trump supporters got the country Georgia confused with the U.S. state Georgia and that's why they paraded the Georgian flag purchased on Amazon.
Photos are real and are a screenshots from CBSnews's reportage. From 4:39:58 on CBS live, we can actually see a person near the Capitol holding the Pro-Trump and Georgians flags.
On January 6, Trump supporters gathered in Washington D.C to protest presidential election results and Trump's defeat while the confirmation of election results were under the process in the Capitol. Later, despite the efforts from the police, protesters broke into the Capitol building and ravaged it. A state of emergency was declared in Washington D.C.
---
Archive: https://archive.ph/kI0HM 
---
The article has been written in the framework of Facebook's fact-checking program. You can read more about the restrictions that Facebook may impose based on this article via this link. You can find information about appealing or editing our assessment via this link.
Read detailed instructions for editing the article.
Read detailed appeal instructions.